MyVoice is to lift up the voices and experiences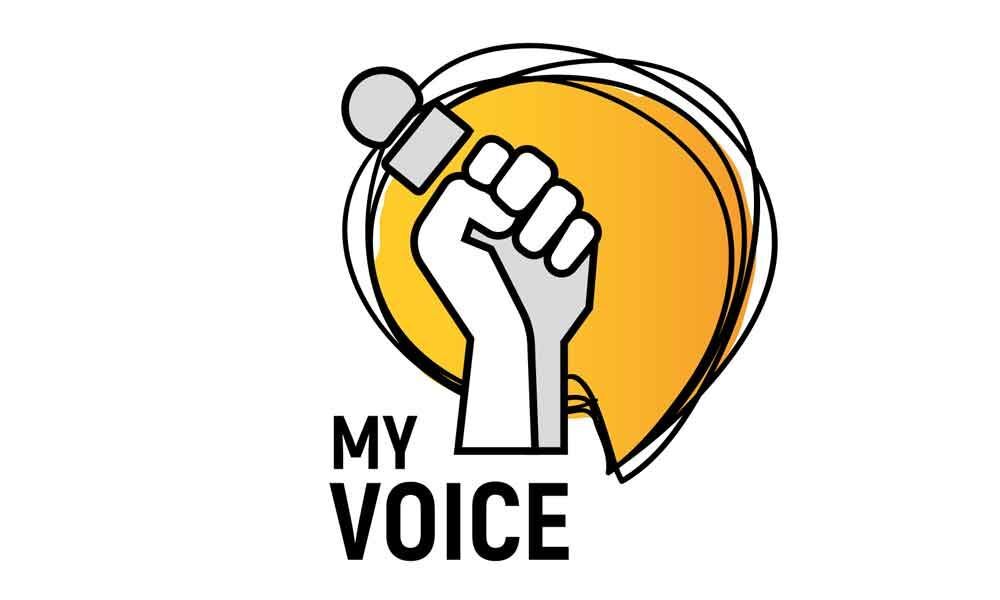 Highlights
MyVoice is to lift up the voices and experiences
Need of the hour is a pressure group to check graft
As convener of Intellectual Forum of Karimnagar, I am seriously contemplating the need of creating a pressure group with professional bodies, NGOs, journalists and prominent citizens of Karimnagar to monitor professionals of Smart City programme of Karimnagar to remove lethargy of administration and fight against corruption in public life.
This designed group would conduct frequent seminars to educate mass about clean and green concept, maintain hygiene in public life, to help traffic police in regulating traffic.
In this deteriorating situation of socio-economic conditions in our country due to the corrupt political system, this pressure groups can only check corruption and correct tainted officers time to time.
It is so unfortunate that any government that is coming into power is working all the time for only one thing - how to remain in power by giving subsidies and spending lot money on the name of welfare programmes at the cost of real growth of nation.
Dr B N Rao, Karimnagar
Auto drivers in AP need awareness, not doles!
It was surprising to read the report on AP State government's move to provide Rs 10,000 annual financial assistance to each auto driver.
I would like to share a bitter experience I had experienced in Guntur recently. I got into a share auto near Ramesh Hospital, Guntur, on October 14 this year at about 8 Pm to get dropped near ITC.
The auto was being driven by a youngster. There were already three young male passengers in the auto, one sharing seat with the driver in the front and the other two in the rear seat.
I was sitting in the rear seat along with two others. After driving for a while, the driver abruptly stopped the auto on the way. The person in the front seat got off and started pushing the passengers in the rear seat to the corner demanding space for him to share the seat.
When I had objected how four would be seated in a three seater, he reasoned saying that the police were booking cases if they had found a passenger sharing seat with the driver. Somehow, he managed to sit along with the three occupants of the rear seat.
We were cramped for want of sufficient space. Again after a while, the auto was stopped. The additional person again got off. Thinking person next to me wanted to get down, I also got down to make way for him.
Then the first person who got down again got into the auto and to my utter confusion, the driver was about to start the auto. When tried to stop the auto, one of the occupants of the rear seat said that something had fallen off my pocket and handed it over to me.
It was my money purse lying on the seat! Immediately thereafter, the driver zoomed off the auto without caring to collect auto fares from me! Being helpless, I had checked up my purse for the contents and found that all other pieces were remaining intact except for Rs 2,000 in five hundred denominations.
It is possible that there are similar organised gangs operating in a similar way in Guntur. If let loose, I am afraid, they may commit even more serious crimes involving vulnerable women passengers.
Almost all auto drivers in Guntur are crude, discourteous and are frequent violators of traffic rules. While driving, their concentration is only on picking up a passenger en route paying no attention to the possible traffic risks.
The YSRCP government instead of doling out Rs 10,000 to each auto owner, would have better spent that money on imparting training to auto drivers on how to be customer friendly adhering to traffic rules.
D V Sankara Rao, Hyderabad
RTC strike, a battle lost
This is with reference to the report 'RTC JAC decides to drop merger demand for now, Oct 14). It is sad to see that the protestors, who underwent a lot of hardships, have to take back their demand.
It may be recalled that 23 RTC employees died of various reasons during the last 41 days, and millions of commuters had been put to umpteen adversities, yet the government was not willing to budge.
It even rejected the High Court's suggestion for a committee of three retired judges of the Supreme Court to help resolve the standoff. Instead of solving a major issue amicably at the earliest, the Chandrashekhar Rao government is trying to suppress the strike by resorting to large scale arrests.
JAC's announcement came on a day when a striking employee died of depression while another was hospitalised after suffering cardiac arrest. A driver had committed suicide on Wednesday.
More than 48,000 employees of TSRTC have been on strike since October 5 to press for 26 demands, the main being the merger of TSRTC with the government so that they are treated on par with the government employees.
However, the government termed the strike illegal, rejected the merger demand and ruled out talks with the employees.
Chandrashekar Rao did not even accept the High Court's suggestion to release Rs 47 crore to meet a few demands of the striking employees, brazenly displaying his dictatorial attitude.
Haritha Palvai, Nizamabad
Subscribed Failed...
Subscribed Successfully...