Fall in veggie prices in Hyderabad spreads year-ender cheer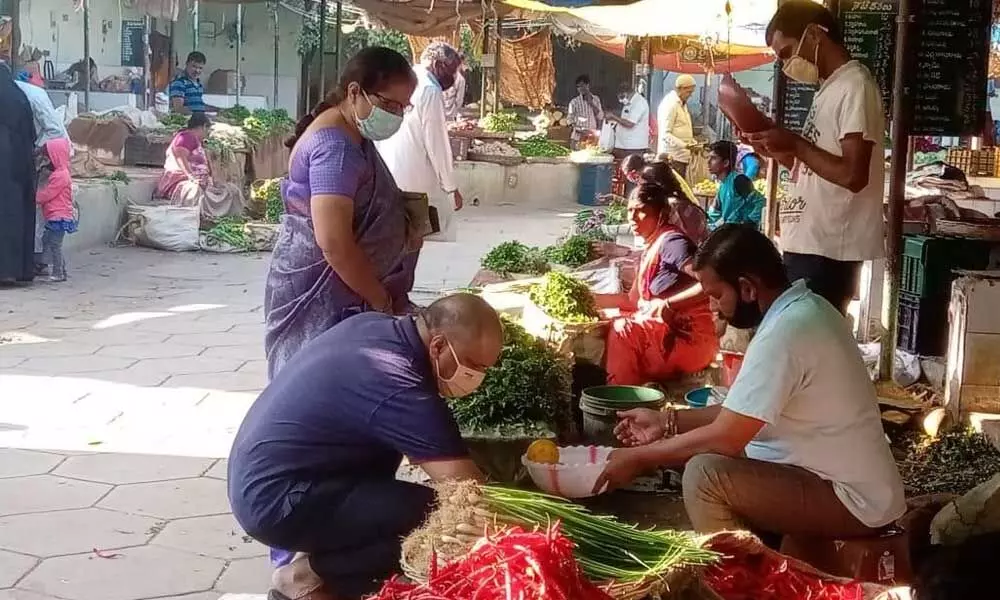 Highlights
Vegetable prices in Hyderabad: Prices dip anywhere between 5 and 10 per cent, compared to last month
The prices are expected to go down further in January
Estate officers at Rytu Bazaars happy with rise in footfalls
Around 3,000 people visiting each of the 11 Rythu Bazaars daily
Hyderabad: Following bountiful harvest, the prices of vegetables are coming down this winter. Within a month, there is a decrease in prices by five to 10 per cent and officials are optimistic of further fall in prices in January. Customers are all smiles and footfall in Rythu Bazaars has increased.
According to officials, the number of customers visiting markets has gone up by 20 per cent this month when compared to last month. Also, in the new year, vegetables prices would further dip if there is enough yield in crops, hoped estate officers of Rythu Bazaar.
There is a sharp dip in prices of essential vegetables including tomatoes, green chilies, cabbage, cauliflower, onion, lady fingers and cucumber in the all 11 Rythu Bazaars that include Kukatpally, Erragadda, Yellammabanda , Alwal, R K Puram, Medipally, Vanasthalipuram, Meerpet, Kothapet, Mehdipatnam and Falukanama.
For instance, price of tomatoes on November 24 was around Rs 24 per kg and now it is Rs 10 per kg. Same goes with green chilies whose price has fallen from Rs35 per kg to Rs 24 per kg.
"Total number of customers visiting our market is around 2,500 to 3,000 per day. The number of footfalls has increased in the last three months. In the previous months, the damaged crops contributed to the price rise," said Sai Kumar, Estate Officer, Alwal Rythu Bazaar.
"Vegetable prices would come down further in the coming days as all the 11 Rythu Bazars are receiving more produce. Last month, we used to receive around 600 quintals of vegetables, which at present shot up to 750 quintals a day. The main reason is that there is good amount of production of seasonal vegetable this month and if there is more production then the prices may dip more. The city receives vegetables from different locations and neighbouring districts that include Rangareddy, Medchal, Medak, Chevella and Vikarabad. Due to increase in prices and lockdown in force, people avoided the Rythubazars, but now we are receiving around 3,000 consumers daily and all the safety measure are being taken at the market premises," said Vijay Kumar, estate officer, Mehdipatnam Rythu Bazaar.
| | | |
| --- | --- | --- |
| Name of the vegetable | Rate per kg on November 24 | Rate per kg on December 24 |
| Tomato | Rs 24 | Rs 10 |
| Potato(local) | Rs 45 | Rs 23 |
| Onion | Rs 35 | Rs 32 |
| Green Chilly | Rs 35 | Rs 23 |
| Carrot(local) | Rs 45 | Rs 28 |
| Cluster Beans (local) | Rs 30 | Rs 23 |
| Cabbage | Rs 20 | Rs 13 |
| Cauliflower | Rs 28 | Rs 18 |
| Lady's finger | Rs 11 | Rs 28 |
| Brinjal(round) | Rs 26 | Rs 23 |