Hyderabad: TSUTF seeks 45 per cent fitment, flays NEP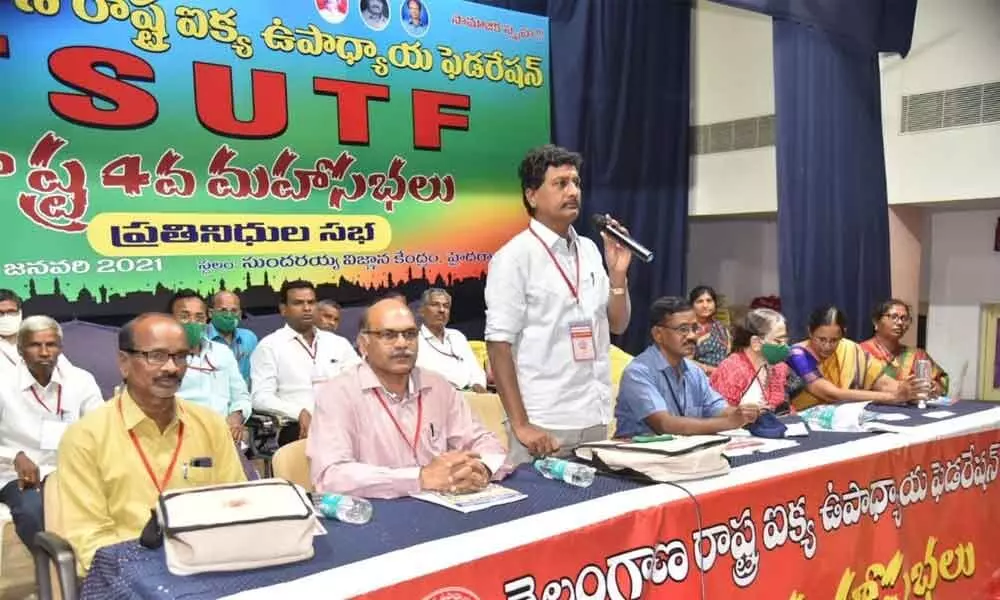 Highlights
K Jangaiah and Chava Ravi have been elected as the State president and general secretary respectively for the Telangana State United Teachers Federation (TSUTF)
Hyderabad: K Jangaiah and Chava Ravi have been elected as the State president and general secretary respectively for the Telangana State United Teachers Federation (TSUTF). A TSUTF statement on Sunday read that the duo have been elected for 2021-22 in the elections held on the last day of the four-day 4th Congress of the TSUTF held at Sundaraiah Vigyana Kendram.
Earlier, the Congress has passed resolutions covering the social, education, service issues placing its demands before the Centre and the State governments.
As a part of the same, they demanded the State government to implement new salaries with 45 per cent fitment from July 1, 2018 and asked to reopen the schools following the Covid-19 precautions. Besides, it asked the State government to provide free Covid-19 vaccine.
Congress had asked the Centre to completely change the New Education Policy-2020 (NEP-2020). It criticised the NEP-2020 for not incorporating the constitutional values of secularism, social justice, scientific temper. Instead, giving space for centralisation, corporatisation, commercialisation and saffronisation, taking the education backwards.
It demanded constituting an education commission for the study of problems faced in the school education to recommend an action plan for the development of school education.
The TSUTF has demanded the State government to notify TRT to fill up 20,000 vacant teacher posts. Appointment of regular DEO, DyEO and MEO and nationalisation of aided educational institutions, improvement of quality in the mid-day meal was among the other demands on which the Congress has passed resolutions.