RUB at RC gate will ease traffic in pilgrim city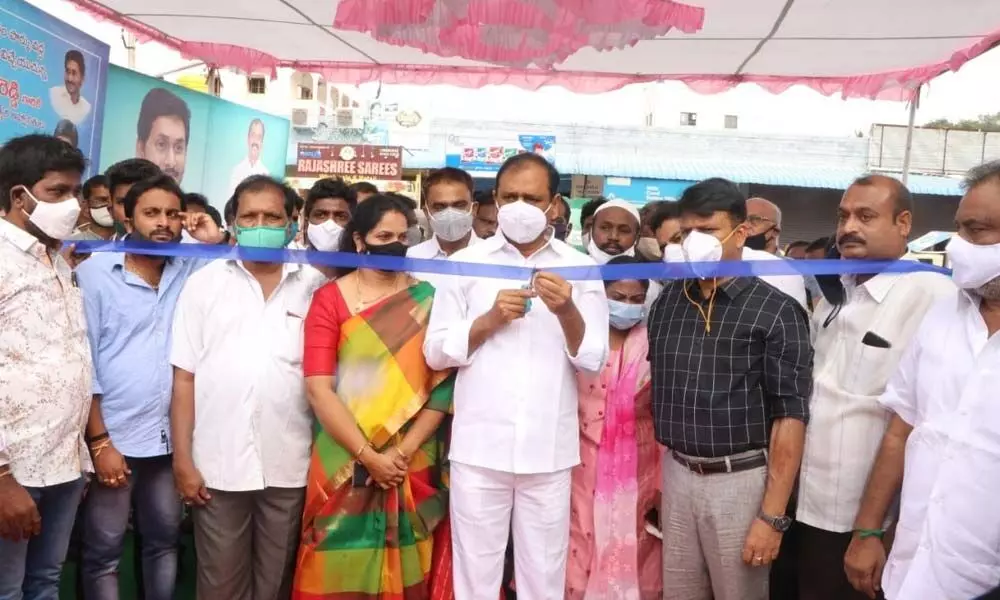 Highlights
MLA Karunakar Reddy participates in groundbreaking ceremony of the works
A new vegetable market built at a cost of Rs 52.68 lakh is also inaugurated by him
Indira Priyadarsini wholesale vegetable market reopened after a gap of 8 months
Tirupati: The much awaited Rs 15.3 crore road under bridge (RUB) works taken up by Railways and municipal corporation at the busy Rayalacheruvu gate in the pilgrim city were launched formally by performing the groundbreaking ceremony on Monday. MLA Bhumana Karunakar Reddy performed the puja in the presence of MLA Y Sreenivasulu Reddy, Corporation Commissioner P S Girisha and railway officials.
Speaking on the occasion, the MLA said that the beginning of construction works of RUB at RC gate was a great step ahead in the city which will alleviate major traffic hurdles for the citizens and the pilgrims. For the convenience of people, the works will be completed within 4-5 months.
Commissioner P S Girisha said the corporation has already diverted the drains and water pipelines to facilitate the works. Guntakal railway divisional engineer (works) P C Rudra Murthy, senior divisional engineer (coordination) Thulasi Ram and others participated.
New vegetable market inaugurated. A new vegetable market built at a cost of Rs 52.68 lakh near Vaikuntapuram park was also inaugurated by the MLA Karunakar Reddy. He said that it will be very convenient for the people of MR Palli and surrounding areas. Commissioner Girisha said that 31 shops were built in the market which can create employment to 100 persons. Wholesale market reopened Indira Priyadarsini wholesale vegetable market which was closed in March this year due to Covid has been reopened on Monday. The MLA said that as the Covid spread has come down, the market was reopened. He advised the traders and people to follow physical distancing and wearing of masks at the market.
It may be recalled that after closing of the main market in March, the corporation has opened several makeshift markets in different areas for the convenience of people during the Covid times. MLC Y Sreenivasulu Reddy, Additional Commissioner Haritha, Deputy Commissioner Chandramouleeswara Reddy, superintending engineer Mohan and others took part.