TTD EO KS Jawahar Reddy kick-starts Vigilance Awareness Week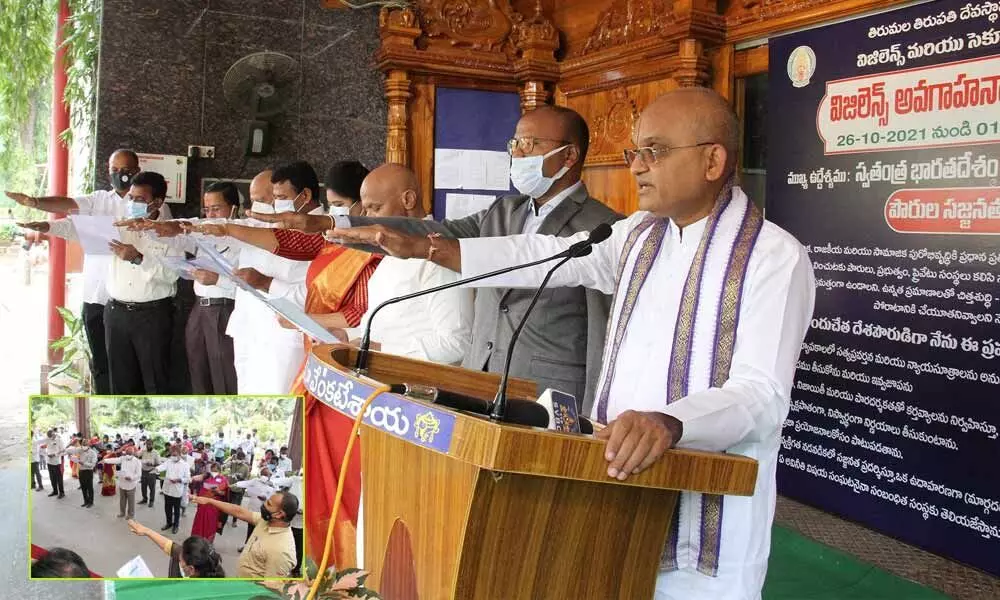 Highlights
The National Vigilance Week will be observed between Oct 26 and Nov 1 to spread awareness on anti-corruption measures and security in society
Tirupati: TTD Executive Officer Dr KS Jawahar Reddy inaugurated the National Vigilance Week (NVW) here on Tuesday.
As per the schedule envisaged by the Central Vigilance Commission, the NVW will be observed from October 26 till November 1 to spread awareness on anti-corruption measures and security in society. The National Vigilance Week is observed as a tribute to the Iron man of India Sardar Patel, the first Union Home minister, on his birth anniversary on October 26.
Marking the occasion, the TTD EO administered the pledge to all TTD HoDs and employees led by CVSO Gopinath Jatti, affirming that they will strive to fight against corruption and protect the interests of the organisation. The pledge also included the promotion of transparency, honesty and equality in their services and in discharging their duties and responsibilities.
TTD Additional EO AV Dharma Reddy, JEOs Sada Bhargavi and Veerabrahmam, DLO Reddappa Reddy, chief engineer Nageswara Rao, FA&CAO O Balaji, Additional CVSO Siva Kumar Reddy, VGOs Bali Reddy, Manohar and others were present.