Vijayawada: Jagananna Vidya Kanuka week celebrations from November 23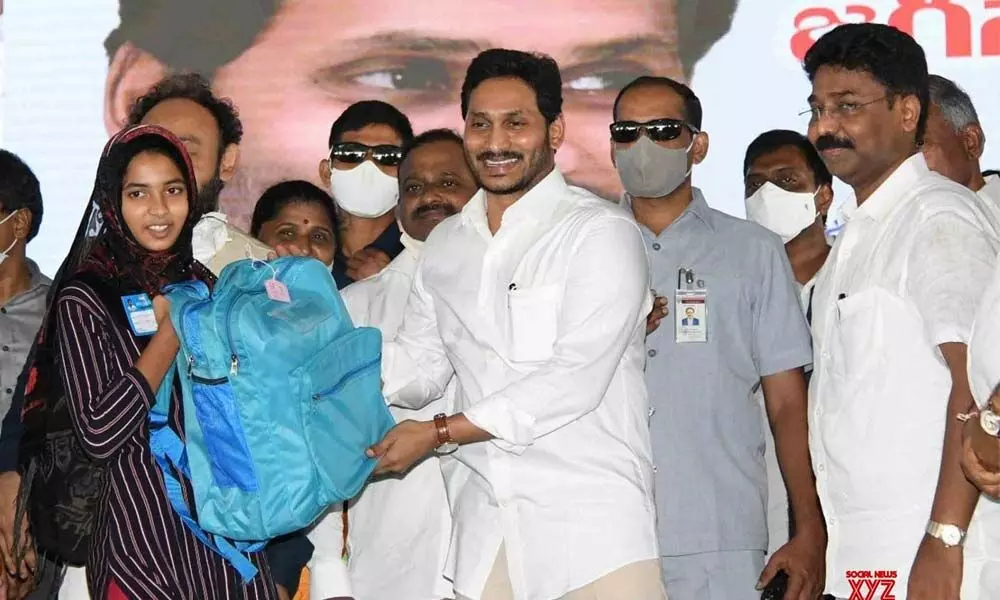 Highlights
The exercise is aimed at helping officials to find out and correct any problems in implementation of the scheme
It will include checking whether all students got the uniform stitched, teaching them how to clean socks
Vijayawada: Jagananna Vidya Kanuka week will be celebrated in all government and aided schools from November 23 in an attempt to improve the implementation of the programme, said director of school education Vadrevu China Veerabhadrudu.
He said in a statement here on Friday that the week celebrations would help the officials to find out any problems in the implementation of the programme and to rectify them while implementing the same in the next academic year.
He recalled that Chief Minister YS Jagan Mohan Reddy laun-ched the programme at the Zilla Parishad High School at Punadipadu in Krishna district on October 8.
As part of the programme, 42.34 lakh students in the 46,593 government and aided schools throughout the state were supplied student kits comprising three pairs of uniform, one set notebooks, textbooks, one pair shoes, two pairs of socks, one belt, three masks.
The week celebrations would help the officials to learn whether all the students had received the kits, and also to find out whether there were any problems the students were facing with the kits.
The celebrations would include biometric identification of all the students, to find out whether the students got the uniform stitched, to inform the parents that the tailoring charge was credited into the mother's bank account, to teach the students the cleanliness of socks and how to put on boots, if there is variation of size of the boots to rectify them, how to use the school bags and if there is excess weight in the bag to rectify them. The officials were instructed to inform the higher officials if they find any problems with the kits.
The government had already credited Rs 120 at the rate of Rs 40 per pair for stitching for the students of 1st and 8th classes and Rs 240 at the rate of Rs 80 per pair for stitching for the students Classes 9 anbd 10.
The director said that already instructions were given to the district education officers, additional project coordinators of Samagra Shiksha Abhiyan, deputy district education officers, CMOs, district sectorial officers, headmasters to take the responsibility personally to make the celebrations programme a grand success.