Vijayawada: 'Music lost in cacophony of orchestras'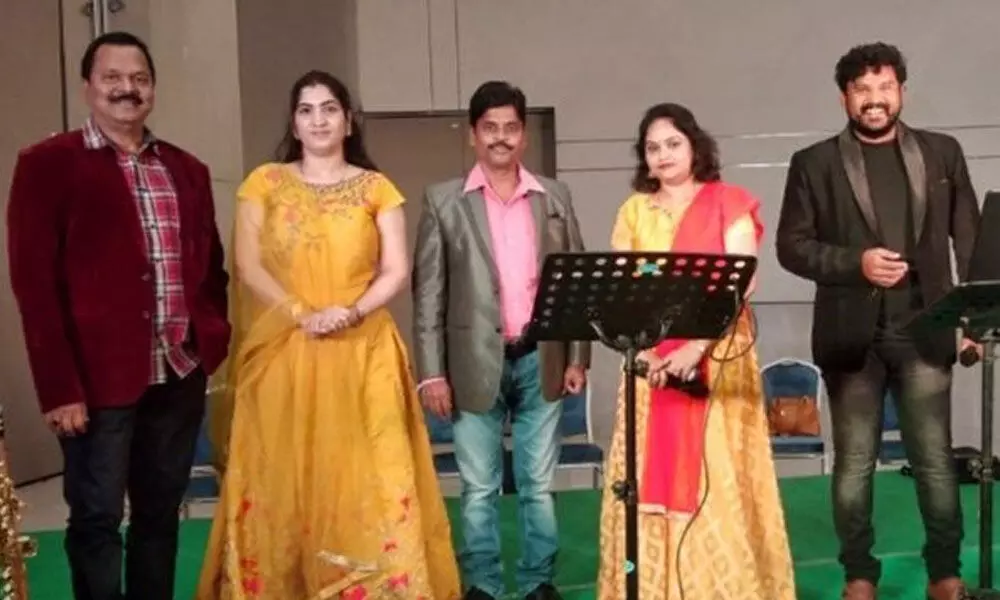 Highlights
Concerts are lacking innovation and variety
There is no creativity of the singers as it is only a reproduction to the original, say music lovers
Organisers are not resorting to innovations as it involves a lot of hard work, time and energy
Vijayawada: In Vijayawada, the organisers are totally engrossed in arranging orchestra programmes with new voices and new faces in order to encourage new talent. The idea is good but it should be implemented sincerely otherwise the programme will become unsuccessful. The new singers are also performing without any fear. The new singers should have proper training before entering onto stage for performance. Unfortunately, most of the singers are singing without training, which is not acceptable, feel music lovers.
Nowadays the organisers of both Telugu and Hindi film songs are not venturing into the new songs and they simply repeat the same songs in every programme. The concerts are lacking innovation and variety.
During yesteryears the orchestras namely 'Bhavana Kala Samithi', 'Blue Bells' and 'Mayur Orchestra' were famous and used to give qualitative programmes to the orchestra lovers. Still 'Mayur Orchestra' is conducting conceptual programmes, opined one critic.
Recently-staged 'Ecstasy', a musical programme by SKS Aria highlighting compositions of new composers and Sufi qawwali in the city have sent a strong message to the music fraternity. Many new Hindi songs sung by present-day popular singers like Atif Aslam, Shreya Ghoshal, Arjith Singh, Lucky Ali, and Mohit Chauhan were sung. There was good response from the audience for the programme as the concept was innovative and they could enjoy the fresh songs.
"There is no creativity of the singers as it was only a reproduction to the original. Though the singers have excellent talent, they are not exposing their originality. To prove their original talent, the organisers can promote light and folk music by adding two or three light music composed by famous musicologists like Balanthrapu Rajanikanth Rao, Devulapalli Krishna Sastry, Naduri Subbarao and others. Such new add-ons will enhance the reputation of the event," felt a music lover.
"Yes, it is true. To prove our creative and talent, we are planning to start some songs in free style in the same raga duly improvising in which the original song was composed," said senior singer and organiser of Mayur Orchestra.
"The organisers are not resorting to innovation as it involves a lot of hard work, time and energy. Performing new songs require a combined teamwork from both instrument players and singers which is not forthcoming," felt Sridhar Jayaram, a singer-turned journalist.
Monotonous events have become the order of the day as around 100 songs are featured in all the events staged in various venues. "It is a mockery of music as the event hardly offers any freshness to the listeners," felt many music lovers.
Many bemoaned the falling in the standards of singers in rendering both Telugu and Hindi songs with the element of money entering the music industry. Anyone who sponsors some money for staging an event can become a singer. No need for Raaga-Thala 'gnanam' and proper pronunciation. There are a handful of organisers who promote such unqualified singers as they are taken care of. Though they are good enough to perform, they simply go ahead with their pathetic singing much to the agony of the qualified and trained singers.
Another nauseating practice is meaningless felicitations and awards to these musicians and singers, which is a clear indication that all is not well with music in Vijayawada.