Greater Visakhapatnam Municipal Corporation records only 56.01% voter turnout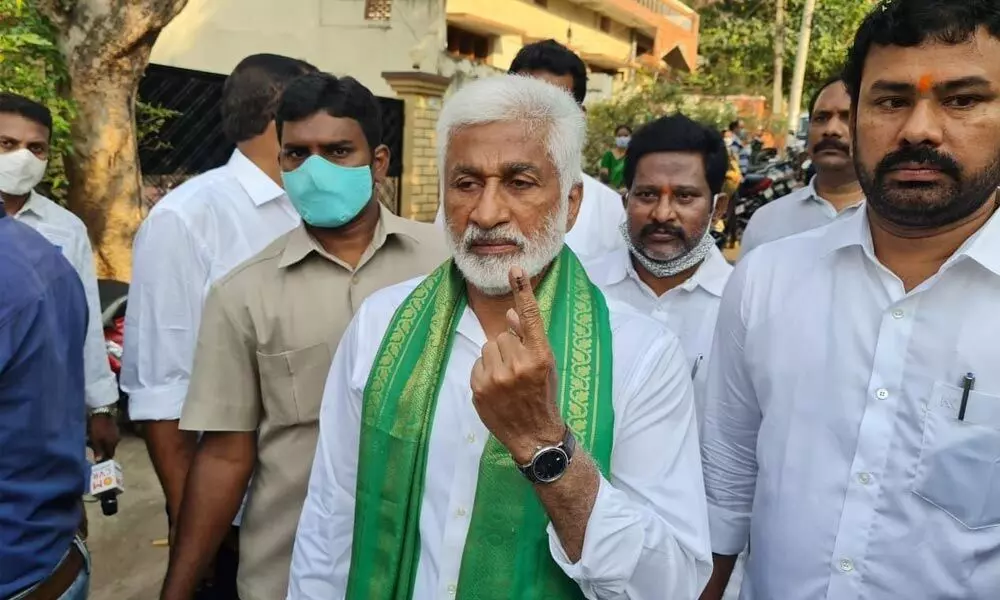 Highlights
9,66,837 people cast their votes in Vizag city
Elamanchali municipality records 75.69% polling and Narsipatnam 73.94%
A few stray incidents have been reported at some polling booths under GVMC and activists of YSRCP and TDP indulged in heated exchanges
Visakhapatnam: The polling to the GVMC and the two municipalities of Narsipatnam and Elamanchili in Visakhapatnam district began at 7 am on Wednesday.
The polling was held in 98 wards in GVMC, 22 in Elamanchili and 28 in Narsipatnam. A total of 1,812 polling stations were set up, including 1,712 in GVMC, 44 in Elamanchili and 56 in Narsipatnam.
Elamanchili municipality recorded 75.69 per cent of voting, Narsipatnam 73.94 per cent and GVMC 56.01 per cent.
While a total of 9,66,837 voters exercised their franchise in GVMC, 35,357 people cast their votes in Narsipatnam.
The total electorate in the three urban local bodies is 18.05 lakh. Of these, 9.04 lakh are men, 9 lakh women and 125 others.
District Collector V Vinay Chand accompanied by his family members, cast his vote at Vidya Nagar Colony in ward No. 21 in the city. Videography and webcasting were also facilitated at the polling stations. Adequate police personnel were deployed at the polling stations.
With the help of cops and volunteers, the elderly and the differently-abled reached the polling booths to exercise their franchise.
YSRCP Rajya Sabha MP V Vijayasai Reddy cast his vote at the 14th ward at Seethammadhara North Extension. He was accompanied by YSRCP leader KK Raju.
Tourism Minister M Srinivasa Rao and his family members exercised his franchise at ward No.3 in GVMC. Among others, former MLA and BJP State vice-president P Vishnu Kumar Raju and his family members cast their votes.
Barring a few stray incidents in some of the polling booths wherein TDP and YSRCP activists engaged in heated arguments, polling went on peacefully in Visakhapatnam. In some areas, voters found it difficult to identify their polling stations. Meanwhile, some of the voters cast their votes and dropped another slip in the ballot box that mentioned 'Save steel plant' in the ballot box.