Typhoon hits Japan, 33 dead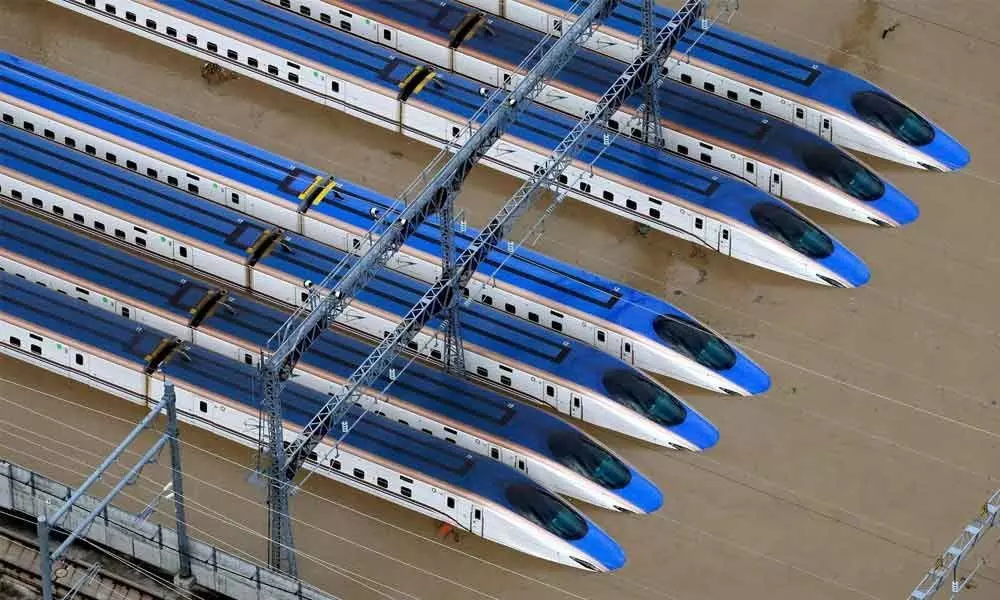 Highlights
INS Sahyadri, INS Kiltan to render assistance to Japan
Tokyo: At least 33 people were killed by powerful Typhoon Hagibis, local media reported Sunday, a day after the ferocious storm slammed into Japan, unleashing unprecedented rain and catastrophic flooding.
The Indian Navy has pressed two of its ships into service to provide assistance to typhoon-battered Japan, it said on Sunday.
The Navy has deployed INS Sahyadri and INS Kiltan to render assistance to Japan. "As Japan battles the devastation and damage from #Typhoon #Hagibis.
#IndianNavy ships #INSSahyadri & #INSKiltan mission deployed in the area are ready to render assistance as requested. @PMOIndia @IndianEmbTokyo @SpokespersonMoD," the Navy said in a tweet.
Prime Minister Narendra Modi on Sunday condoled the loss of lives. More than 100,000 rescuers, including 31,000 troops, were working into the night to reach people trapped after torrential rain caused landslides and filled rivers until they burst their banks.
The destruction forced the Rugby World Cup to cancel a third tournament match, though a key Japan-Scotland fixture was ruled safe to play.
The storm moved off land on Sunday morning, and while it largely spared the capital, it left a trail of destruction in surrounding regions.
The government put the death toll at 14, with 11 people missing, but local media said at least 33 people had been killed, and at least 18 were still unaccounted for.
Rivers burst their banks at nearly a dozen locations, including in central Japan's Nagano, where a levee breach sent water from the Chikuma river gushing into residential neighbourhoods, flooding homes up to the second floor.
Military and fire department helicopters winched survivors from roofs and balconies in several locations. In Iwaki City, Fukushima, a rescue went tragically awry when a woman died after falling while she was being winched to safety.
Elsewhere, rescue workers carried out an hours-long boat operation to evacuate hundreds of people from a retirement home in Kawagoe, northwest of Tokyo, which was flooded up to its top floor.
Subscribed Failed...
Subscribed Successfully...