Another Congress ally backs Kejriwal on Ordinance row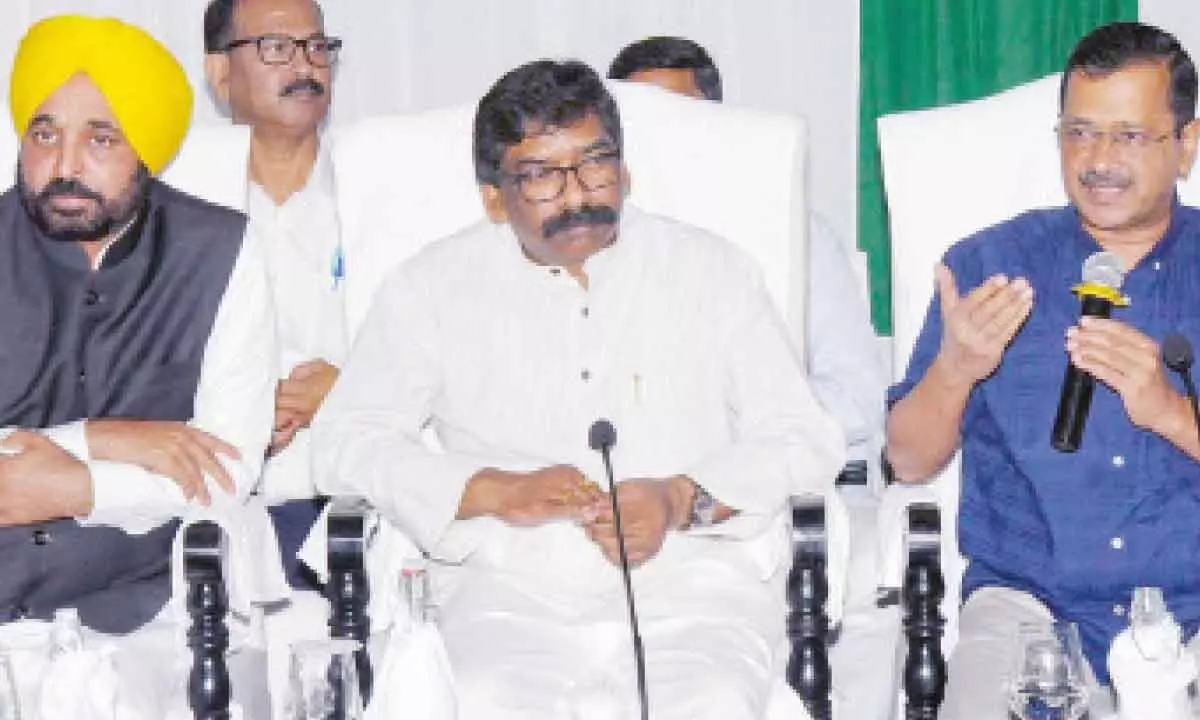 Highlights
The Centre's attack on democracy is a matter of serious concern: Jharkhand CM Hemant Soren
New Delhi/Ranchi: Jharkhand Mukti Morcha formally announced on Friday that it will support the Aam Aadmi Party in opposing the Centre's ordinance on control of administrative services in Delhi after a meeting between Delhi chief minister Arvind Kejriwal and his Jharkhand counterpart Hemant Soren in Ranchi.
Announcing this at a Press conference in Ranchi, Kejriwal said the ordinance must be defeated collectively in Parliament where it is likely to come up for voting as a law in the forthcoming session.
Soren, who accompanied him at the press meet after their meeting where Punjab CM Bhagwant Singh Mann was also present, said, "The Centre's attack on democracy is a matter of serious concern."
Keriwal and Mann arrived here on a special flight from Chennai around 9 pm on Thursday accompanied by AAP MPs Raghav Chadha and Sanjay Singh besides AAP MLA Atishi.
"JMM will support AAP in opposing the Central ordinance on control of administrative services in Delhi. "The Centre is creating a crisis for the AAP and is preventing a duly elected government from functioning independently," the Delhi CM said.
"Despite the Supreme Court verdict in favour of the AAP government (the apex court had ruled that the control over transfer and posting of top bureaucrats in Delhi would vest with the state government), the Centre brought the ordinance," Kejriwal stressed.
He described the movement against the ordinance 'like a fight for independence'. Kejriwal said, "This ordinance should be collectively defeated in Parliament as it is undemocratic, against the federal structure and unconstitutional."
He added, "We will not allow the Central government to suppress democratic rights of people."
On Thursday, both Kejriwal and Mann met Tamil Nadu Chief Minister MK Stalin who accused the Centre of creating a crisis in the non-Bharatiya Janata Party-ruled states.
Kejriwal, the chief of the AAP, has been reaching out to leaders of non-BJP parties to garner support against the ordinance so that the Centre's bid to replace it through a bill is defeated when it is brought in Parliament.
Communist Party of India-Marxist general secretary Sitaram Yechury, Telangana Chief Minister K Chandrashekar Rao, Shiv Sena-Uddhav Balasaheb Thackeray leader Uddhav Thackeray, Nationalist Congress Party chief Sharad Pawar, and West Bengal Chief Minister Mamata Banerjee have so far extended their support to the AAP.
Bihar Chief Minister and Janata Dal-United leader Nitish Kumar, as well as his deputy Tejaswi Yadav, have also supported Kejriwal in the matter.
The Centre had on May 19 promulgated the ordinance to create an authority for the transfer and posting of Group-A officers in Delhi, which the AAP government had called a deception with the Supreme Court verdict on control of services.