Oxygen Less- Nanjundapuram Dam in Tamil Nadu gasps for survival, kills Fishes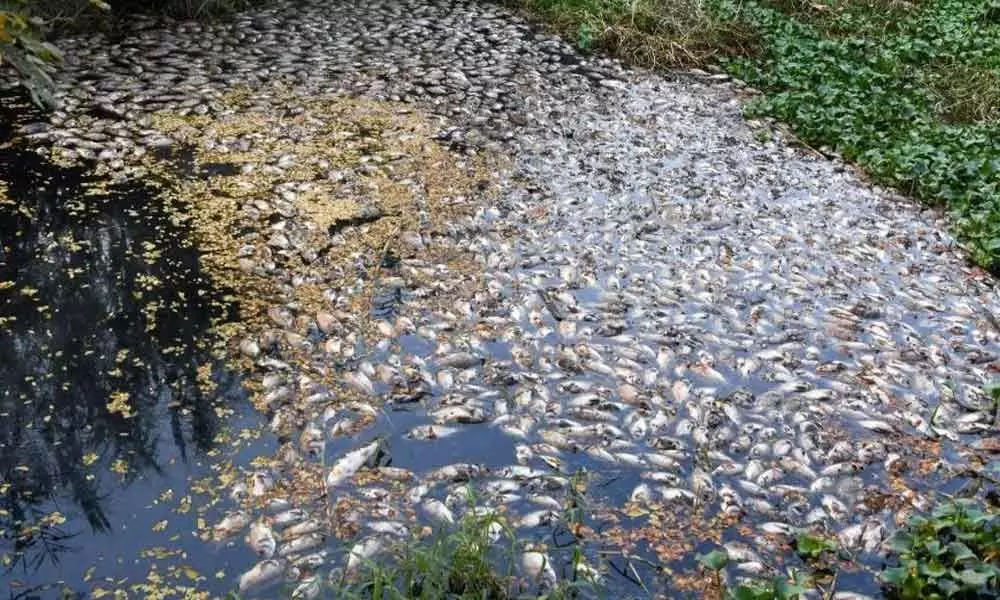 Highlights
Test reports suggests that the deaths could have been caused due to lack of oxygen
*Locals alerted the authorities after they found dead fishes floating on the water surface of the stream.
*Water samples from the stream have been collected and sent for the examination by the TNPCB.
*Test reports suggests that the deaths could have been caused due to lack of oxygen.
Tamil Nadu: Locals in Tamil Nadu have alerted authorities concerned about the deaths on Thursday of as many as a thousand fish found floating in a stream near the check dam in Nanjundapuram, this is one of the few remaining large water bodies in the city, appears to be fast turning into a graveyard for the fish it breeds. Reports suggest that effluents emitted by bleaching systems in Selvapuram into water bodies could have contributed to deaths.
The stream where dead fish can be seen flows from the Vellalore dam and flows through the check dam in Nanjundapuram all the way to the Singanallur tank. A team of Tamil Nadu Pollution Control Board (TNPCB) experts arrived at the site and gathered water samples that were sent for analysis to determine the cause of the deaths.
Residents of areas in and around Nanjundapuram say that on Thursday they first saw dead fish leaping up in the water. Up to a thousand fishes have officially died in almost no time. This has now culminated in a condition where the stench of rotting fish carcasses makes it difficult for the locals to fulfill their daily tasks. Others believe that the loss of marine life could have been the result of a lack of oxygen.