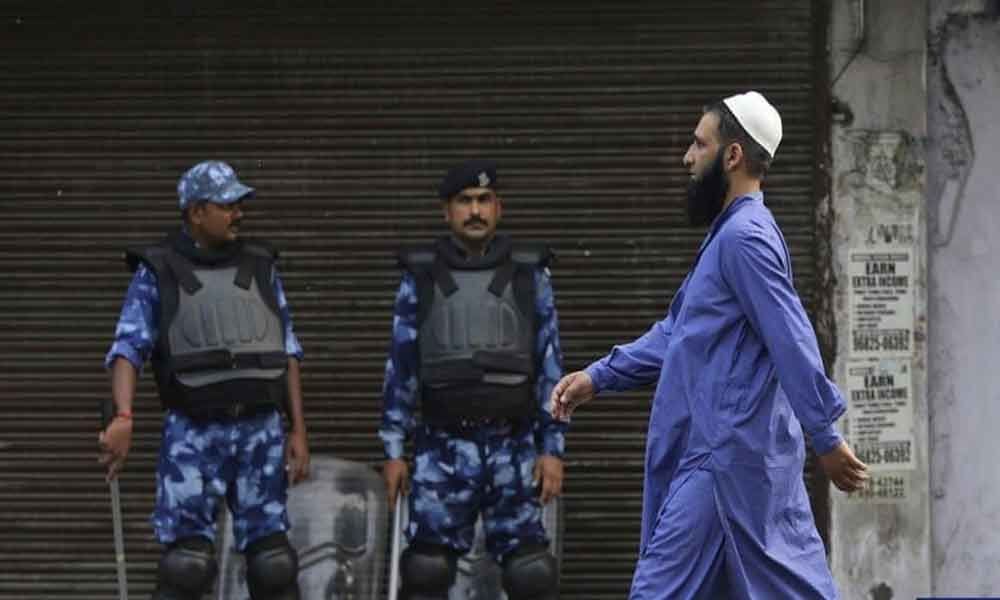 Highlights
Lonely Eid for detained Abdullahs, Mufti in Kashmir
Ex-IAS officer Faesal invites flak for 'no Eid' tweet
New Delhi : The customary exchange of sweets between the BSF and Pakistan Rangers along the International Border did not take place on Monday on the occasion of Eid ul-Azha, officials said.
The unilateral downgrading of diplomatic ties by Pakistan with India in the wake of the Modi government's decision to revoke provisions of Article 370 from Jammu and Kashmir is being seen as a reason for the non-conduct of the ceremony.
They said the Pakistani side refused to attend the ceremony after the Border Security Force (BSF) sent across official communication to exchange sweets and greetings along the IB running through Jammu and Kashmir, Punjab, Rajasthan and Gujarat.
The two forces that are deployed along the over 3,000 kms of this border exchange sweets on major festivals such as Eid, Holi, Diwali and their respective national days.
It is a quiet, lonely Eid for former Jammu and Kashmir chief ministers Farooq Abdullah, Omar Abdullah and Mehbooba Mufti on Monday, quite unlike previous years when their homes were full of celebratory crowds of supporters, friends and family members, officials said.
The three leaders were detained after the Centre revoked Jammu and Kashmir's special status under Article 370 and proposed that the state be bifurcated into the union territories of Jammu and Kashmir, and Ladakh.
On Monday, a week after the government's announcement, their homes in the city's posh Gupkar Road were deserted with only a security vehicle stationed outside.
While National Conference president Farooq Abdullah is under house arrest at his residence, his son and party vice president Omar Abdullah is at the Hari Nivas Palace.
Peoples Democratic Party chief Mehbooba is at the Cheshma Shahi Hut here, officials said.
Several political leaders, who were picked up on August 5, offered prayers at the Centaur Hotel, the officials said. The government provided them with a 'maulvi', they added.
Former Kashmiri IAS officer-turned-politician Shah Faesal has triggered a controversy with his latest tweet that there would be "no Eid till the last bit of insult is avenged and undone" over the "illegal annexation" of Kashmir.
While the J&K residents celebrated Eid with thousands offering prayers at mosques, Faesal tweeted: "There is no Eid. Kashmiris across the world are mourning the illegal annexation of their land. There shall be no Eid till everything that has been stolen and snatched since 1947 is returned."
"No Eid till the last bit of insult is avenged and undone," he posted and has invited strong criticism on social media.
Faesal, who topped the civil services examination conducted by the Union Public Service Commission (UPSC) and inspired Kashmiri youth to aspire for the Indian Administrative Service, has been vocal on Facebook and Twitter in his criticism of the government move to revoke special status for Kashmir.
Karlapu Kiran Kumar, who appeared in the UPSC examination same year as Faesal, tweeted: "We both wrote the UPSC same year. He got the first rank. I was at rank 370. He got the IAS.
I got the Indian Revenue Service (C&CE). And now, I''m here in Mumbai serving the nation that has given me this opportunity. And he..."
Lt Gen (rtd) Satish Dua tweeted: "Sad to see such sentiment from those who could be the new hope for ''A New Kashmir''. Hoping a new breed of leaders will meet the aspirations of Kashmiri people, letting reality speak rather than rhetoric. Please reinvent @shahfaesal & others, don''t fall for past templates of leadership."
Another former army officer tweeted: "Mr Faesal, by encouraging bloodbath & violence you have shown your separatist colours. Whose command are you taking over -- Hurriyat or HM (Hizbul Mujehideen)? Eid will be celebrated in Kashmir with full spirit."
Faesal''s tweets are surprising considering he was in Delhi on Sunday at the time of posting the tweet, according to a journalist.
On August 7, after revocation of Article 370 that gave special status to J&K, Faesal posted on Facebook: "Kashmir is experiencing an unprecedented lockdown. Its entire eight million population has been incarcerated like never before."
Faesal, who quit the IAS in January 2019 citing "unabated killings" in Kashmir, tweeted last Tuesday: "Unprecedented horror in Kashmir. Everyone is heartbroken. A sense of defeat written on every face. Fall."
"From citizens to subjects. History has taken a catastrophic turn for all of us. People are numb. A people whose land, identity, history, was stolen, in broad day light." wrote Faesal.
The former IAS topper had launched his political outfit -- J&K Peoples'' Movement (JKPM) -- in Srinagar in March, promising a youth-oriented politics and to become a voice to help bridge the gap between the state and the Centre, and India and Pakistan. However, it has failed to make a mark.
The BJP termed as "very irresponsible and provocative" Congress leader P Chidambaram's comment that the Centre revoked Jammu and Kashmir's special status because it is a Muslim-dominated state and had not done so if Hindus were in a majority there.
While Law Minister and BJP leader Ravi Shankar Prasad accused the former home minister of making a very irresponsible and provocative statement, BJP leaders Mukhtar Abbas Naqvi, also a Union minister, and Shivraj Singh Chouhan said the Congress was giving the issue a communal angle.