VMC to widen 3 roads in One Town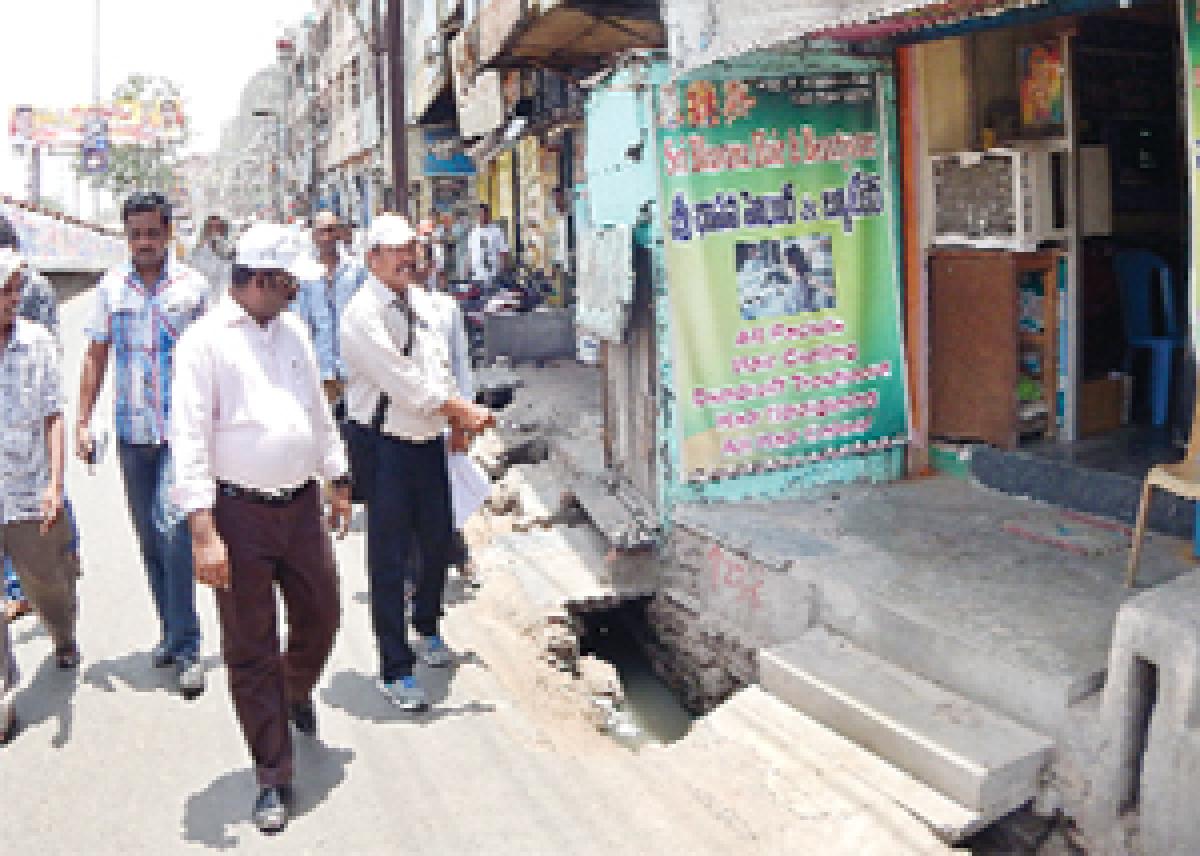 Highlights
Canal Road to be widened to 100 feet to ease traffic congestion. Nehru Road to be widened to 60 feet
Vijayawada: As part of the Krishna Pusharalu preparations, the Vijayawada Municipal Corporation has decided to widen three important roads in One Town and the officials are trying to convince the traders and building owners to cooperate with the VMC to ease the traffic problem on busy road.
Canal Road, which is one of the oldest and important roads in the city, will be widened to 100 feet. Two other important roads are Jawaharlal Nehru road (railway station to KR Market) and Brahmin Street will also be widened before Krishna Pushkaralu.
Municipal Commissioner G Veerapandian on Wednesday inspected the Canal Road and appealed to the traders to cooperate with the civic authorities to widen the road.
Commuters had been facing many problems for two decades due to congestion on Canal Road. The road became very narrow after construction of flyover connecting Vinayaka Temple and Police Control Room.
The road width is less than 30 feet near Vinayaka Temple. The VMC has been trying to widen the road for a very long time. Due to funds crunch and stiff opposition from the local traders, the VMC could not go ahead with its plans.
Now, due to Krishna Pushkaralu, the VMC is widening the Canal Road to 100 feet. Lakhs of devotees will use the Canal Road during the 12-day Pushkaralu in August. The VMC staff have already made marking on the buildings. Jawaharlal Nehru Road, which connects Railway station and K Market, will be widened to 60 feet. The locals strongly opposed to widening of the road up to 80 feet. After discussions and a series of meetings, the VMC finally decided to widen the road up to 60 feet only.
Brahmin Street, which is extensively used by devotees visiting Kanaka Durga Temple, will also be widened to 40 feet. The Commissioner and Town Planning department officials are determined to widen these three roads before Pushkaralu to ease the traffic problem.
Foot over bridge's cement ramp located near KR Market junction was demolished by VMC nearly two weeks ago to ease the traffic problem. The bridge connects Gadda Bomma junction at KR Market and wholesale vegetable market. Now, the VMC is installing iron ramp on a war-footing for the use of pedestrians walking between Market junction and wholesale vegetable market.
Commuters passing from Old Government Hospital to KR Market had been facing many problems for over a decade due to existing foot over bridge ramp near the market. The Commissioner recently instructed the officials to remove the ramp urgently and erect iron ramp inside
the canal.