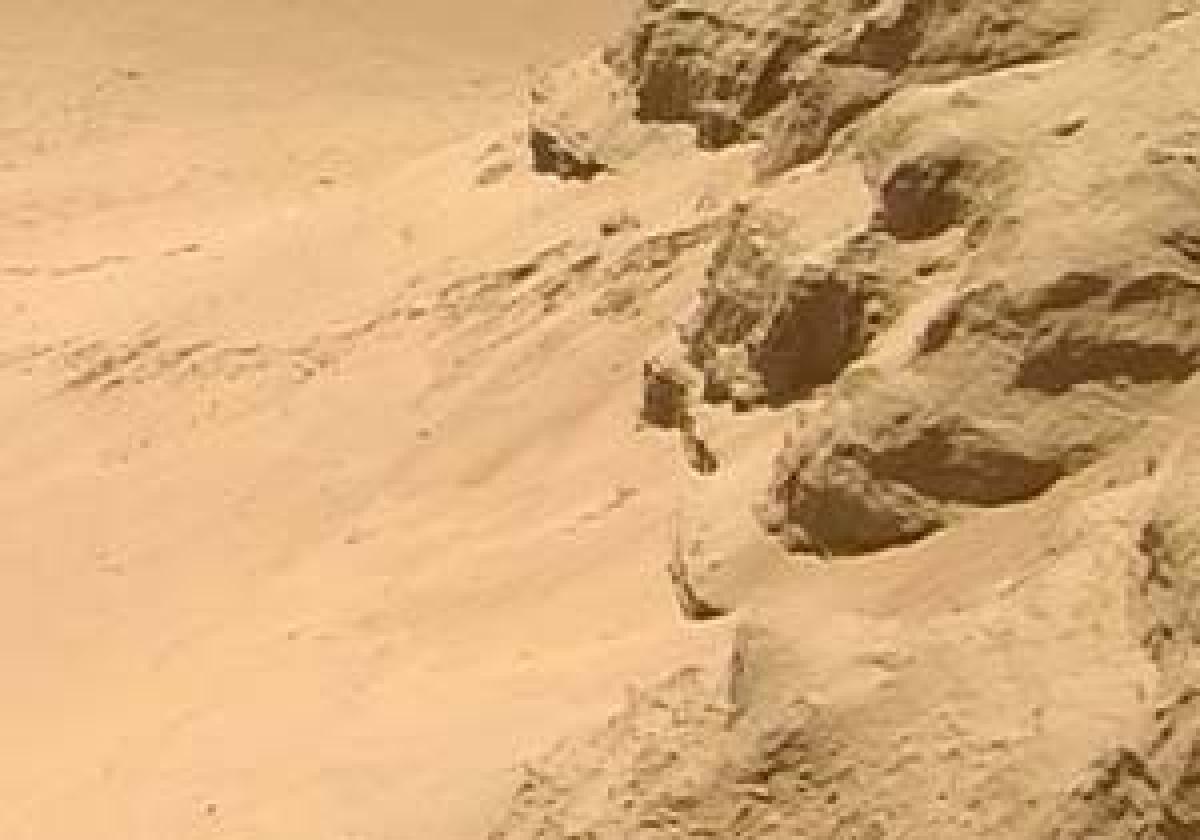 Highlights
Sand dunes spread in 5000 acres and scattered over 12 villages in Kanekal and Bommanahal mandals in Rayadurgam Assembly constituency poses a grave threat to more than 10,000 families living in the region.
Dargahonnur (Anantapur): Sand dunes spread in 5000 acres and scattered over 12 villages in Kanekal and Bommanahal mandals in Rayadurgam Assembly constituency poses a grave threat to more than 10,000 families living in the region.
When wind velocity is at its highest during June to August, people are subjected to a kind of sand storm, when sand waves rise like a towering inferno due to high wind velocity and carry the sand to just everywhere into the houses, roads and public places. During the breezy season, sand rises like a storm and tornado filling the roads and bridges and residential areas with huge sand deposits adversely affecting normal life including vehicular traffic.
While the official version is that the once lively Hagari and Vedavati rivers had brought sand deposits along with storms which plagued the area some 400 years ago, there are other scientific versions which suggest that blazing heat caused by high mercury levels witnessed for over a century had converted the soil into sand through a heat process which took place in the sands of time, and over a period the soil got transformed into sand by the blazing sun rays.
People who buy this school of thought say that these are signs of desertification of the district. The AP Satellite Remote Sensing Agency which shared satellite imagery pictures of the district shows sand dunes expanding year by year. Life is a hell for us during the breezy season when breeze carries sand particles like a wave and dislocates normal life. Our houses and roads are filled with sand deposits.
It is also affecting our eye sight as sand particles enter the eye and adds to suffering, says Venkateshu, a villager of Kalekurti. The government tried many things. Crores of rupees had been spent in the past but there appears to be no lasting solution. The Chief Minister should apply his mind on this as this is not a local problem to be addressed by district officials, he opined.
District Water Management Agency (DWAMA) Project Director A Nagabhushanam told The Hans India that Hagari and Vedavati were once rivers of life flowing in the Rayadurgam region. These rivers during severe storms had brought massive sand deposits to the region and after the disappearance and death of these rivers, they turned into a desert.
In fact every year the sand dunes were expanding by 38-40 square km, thus enlarging the sand dunes base. The sand quality is super fine and silky and is not suitable for construction purpose. Rayadurgam MLA and government chief whip Kalava Sreenivas interacting with The Hans India revealed that a special project involving an expenditure of Rs 28 crore for mass transportation of the sand deposits has been proposed and sent to the state government.
A legal hitch that sand should not be transported beyond 5 km distance came in the way and efforts are being made to relax the norm as the situation here is extra-ordinary, he added. Another proposal for sand transportation, promotion of horticulture and afforestation in sand dunes at a cost of Rs16.78 crore was approved. Recently the 'Water Man of India' from Rajasthan had visited the sand dunes.
He is expected to provide tips and an action plan for addressing the more than two decade old vexed issue of arresting the sand shifting. Some of the suggestions made by him include construction of sub-surface dams which are underground dams for the revival of the dead rivers. The revival of rivers is advocated as a lasting solution for the problem.
A septugenarian Obuleshu Manda of Dargahonnur village said that he had been watching the sand dunes right from his child hood and the area treatment under the Desert Development Programme two decades ago implemented by tree plantation to arrest sand shifting and provide shield to people to neutralise wind velocity had not yielded the desired results. The government of the day spent crores of rupees but the problem remained the same even after two decades, he said.
DWAMA, government whip Sreenivas and Collector Kona Sasidhar are applying their mind on the issue and as part of an action plan are encouraging desert crops including groundnut, maize, musk melon, guva and even casuarinas plantations to arrest sand erosion and neutralise impact of wind velocity.
By Ravi P Benjamin