Judge seeks action on cops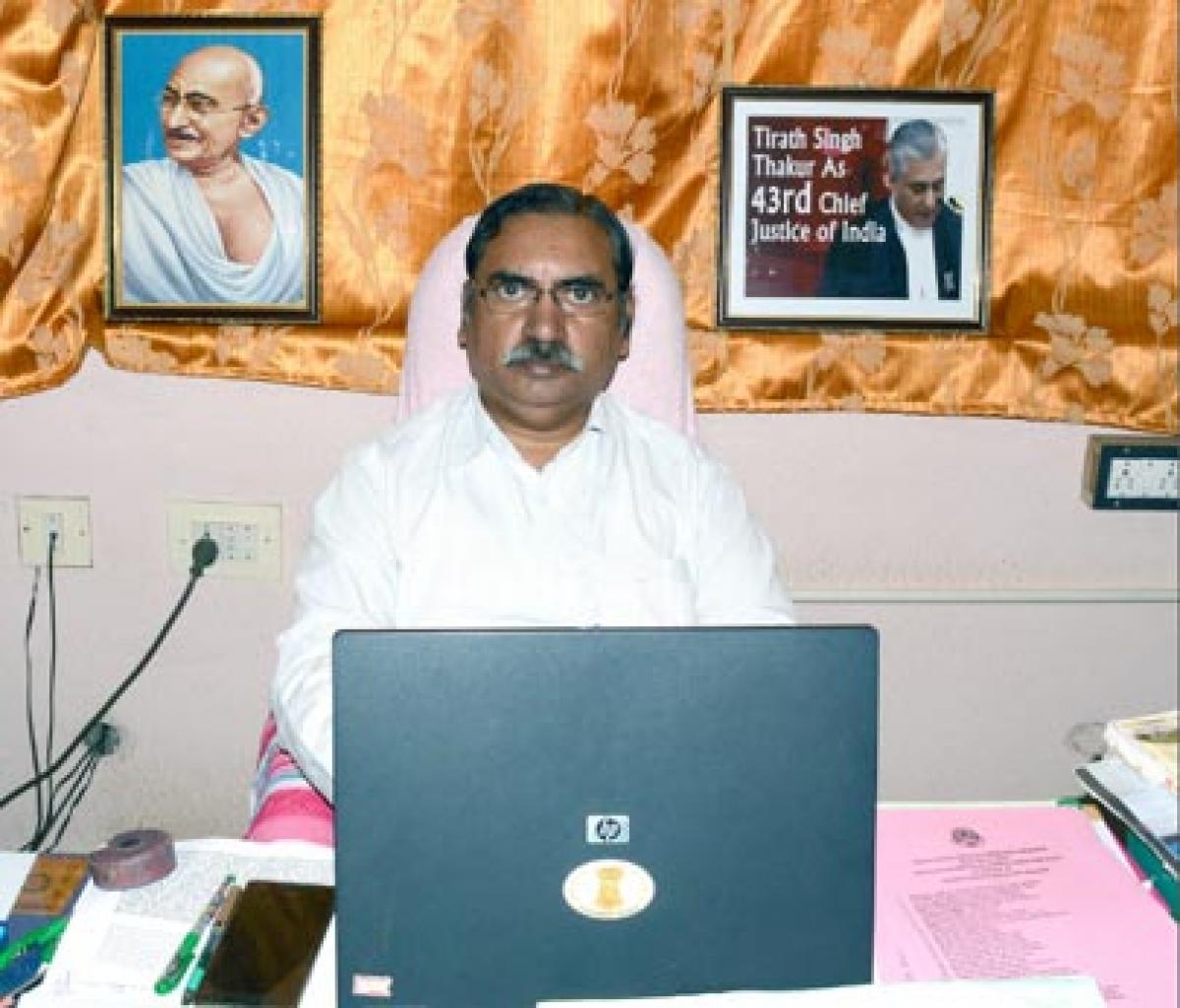 Highlights
The Judge in his letter to the DGP has expressed anguish for the inaction of Narsapuram police for failure to perform lawful duties to make fair investigations and for non-filing of charge-sheet even after 22 months on the incident of attack by MLA Bandaru Madhava Naidu and his 50 followers on advocates, and abusing, scolding and threatening the judge Kalyan Rao on August 15 2014 at Narsapuram cou
​Narsapuram: P Kalyan RaoAdditional Sessions Judge, Narsapuram has asked Director General of Police JV Ramudu to take disciplinary action against Sub-Divisional Police Officer and Inspector of Police, Narsapuram for failure to perform lawful duties. He sent a copy of the petition to the Supreme Court in this regard.
The Judge in his letter to the DGP has expressed anguish for the inaction of Narsapuram police for failure to perform lawful duties to make fair investigations and for non-filing of charge-sheet even after 22 months on the incident of attack by MLA Bandaru Madhava Naidu and his 50 followers on advocates, and abusing, scolding and threatening the judge Kalyan Rao on August 15 2014 at Narsapuram court.
The judge stated that the Narsapram Bar Association gave complaint on August 21 2014 to the Narsapuram town police in this regard. However Narsapuram DSP G Poronachandra Rao failed to protect the prestige of judiciary he stated.
The judge in his letter asked the DGP to take disciplinary action against the DSP and the Circle Inspector P Ramachandra Rao.
The judge has pointed out that the MLA, with 50 followers, had acted with a preplanned object and common intention to attack and abuse a District Judge in the presence of public and advocates.
A criminal case was registered on the complaint in police station.
On the complaint of the advocates, the police authorities shall make a fair investigation and complete the process for filing charge-sheet for necessary action before the court, the judge stated.
He also pointed out that High Court imposed fine of Rs 1,000 on the MLA, Madhava Naidu. He pointed out that the MLA expressed his apology to the court in his affidavit.
However, the police, basing on a letter of a person has closed the case as Mistake of Act, the Judge Kalyana Rao stated in his letter. He said the police had failed to take action against the MLA even as he attacked with his followers. The judge expressed anger over the withdrawal of an attempt to murder and other sections in the case.
In view of all these facts, the judge has asked the DGP to take disciplinary action against the DSP G Poornachandra Rao, Circle Inspector P Ramachandra Rao besides action against the accused under various sections immediately for attack and insulting the national flag.
The judge on Thursday said that he wrote letters to the Supreme Court Secretary General, High Court Registrar General, President of India, Human Rights Commission Chief Election Commissioner Prime Minister Chief Minister and Governor of Andhra Pradesh.
Interested in blogging for thehansindia.com? We will be happy to have you on board as a blogger.