Leading the spirituality brigade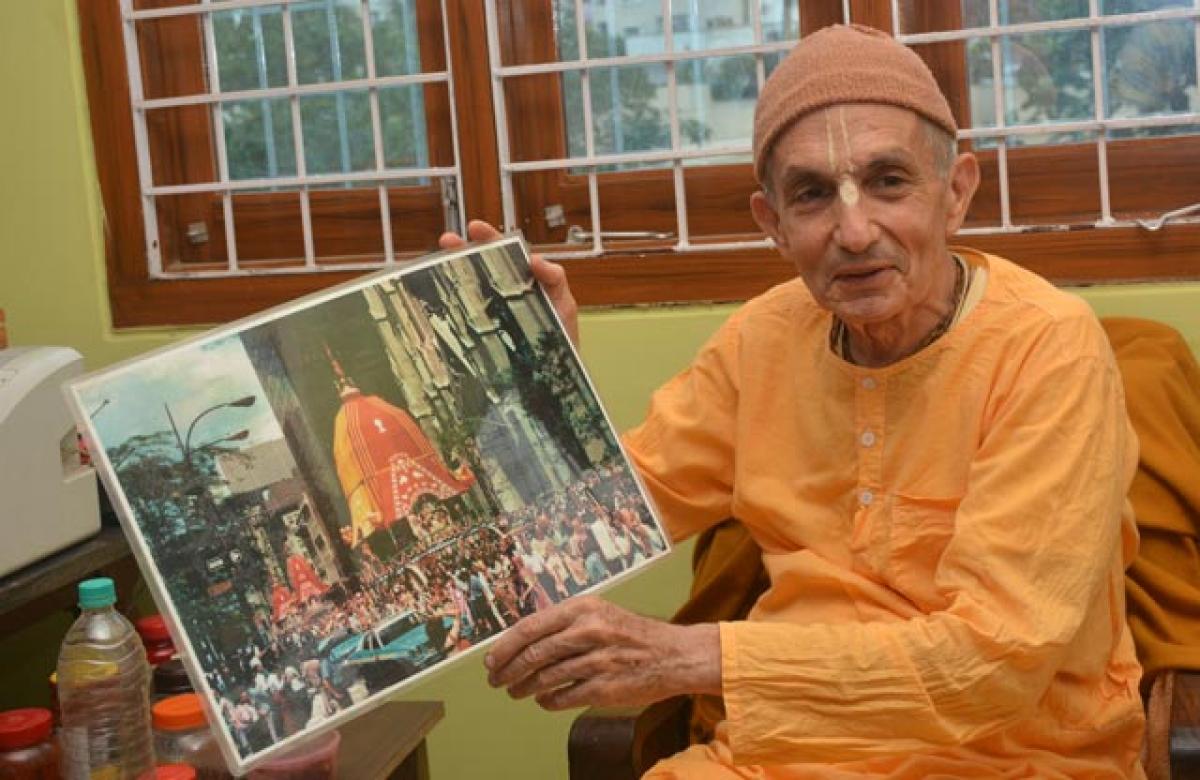 Highlights
Spirituality knows no borders and Swami Rasananda Das stands testimony to this fact. Formerly known as Hyman Zuckerman, who hails from Canada, Swami Rasananda joined 'The International Society for Krishna Consciousness' (ISKON's) in 1969 in Montreal and since then dedicated his life for spirituality.
Spirituality knows no borders and Swami Rasananda Das stands testimony to this fact. Formerly known as Hyman Zuckerman, he hails from Canada. He joined 'The International Society for Krishna Consciousness' (ISKCON) in 1969 in Montreal and dedicated his life for spirituality.
The Swami has been building rathas since 1980. Till now he made 15 chariots around the world and recently made one more for the 'Sri Jagannath Sankirtan Rathayatra', which is scheduled at Neredmet today. The procession will start from Ganesh Temple on Saturday and will conclude at Kushaiguda. Swami Rasananda will be leading the procession.
Recalling his first contact with the Krishna consciousness movement, Swami Rasananda says, "I was passing through the campus and heard the chanting of the 'Hare Krishna Hare Krishna' mantra very authentically being sung in what I later came to know was the most ancient and authentic tune as chanted by Srila Bhaktivedanta Swami Prabhupada who brought the movement to the west three years earlier. I stopped there listening and didn't move for half-an-hour. Practically you could say I became a devotee on the spot. Bhaktivedanta Swami Prabhupada guided me and I am guided by him to this day."
His immense inclination towards engineering pulled him towards making chariots, though he is not a formally trained engineer. "I always had an inclination towards engineering but, for various reasons I did not pursue it, instead going into science... and then medicine. Just after my medicine internship, I heard the chanting and soon after realised that if I became a doctor I might be able to do something to help people with their physical problems but that if I myself became spiritually fit, I could help them in the recovery of their souls," shares Swami Rasananda. "After being in India a few years and being asked to build my first ratha, I did properly learn the relevant engineering," he adds. Swami Rasananda visited many institutions of the organisation pan world and across the nation. He first visited Hyderabad in 1975 and stayed for a couple of years finally settling in the city in 2006.
Giving details about the chariot for the 'Sri Jagannath Rath Yatra', the Swami says, "It took us a bit longer to construct the chariot this time. I am 73-years-old now and building a big ratha requires a lot of money. More design work, raising the money and the work itself took so much time."
The chariot is 26 ft tall; 9 ft wide and 18 ft long and it weighs two-and-a-half tonnes. Rasananda follows Puri (Jagannath Temple, Puri, Odisha) style design for his chariots. He wrote a manual on designing the opulent chariots as well.
"I studied a number of books on Indian temple architecture and met silpis, staphathis and agama vidwans. The Odisha style is very evolved, not to say that South Indian temple and ratha styles are not very authentic and according to sastras," he opines.
Swami Rasananda's dedication is infectious and is mirrored in his followers and the people around him. "My follower, G Anand helped a lot in building the chariot for the Rathayatra. Although we worked on it for five years, in reality our work added up to only three or four months had we worked full time, as I don't drive anymore and Anand has his work and family to look after. When it comes to materials, we asked businesses to donate materials and services. Many people came forward and helped us in completing the chariot," he concludes.
By Navin Pivhal
Interested in blogging for thehansindia.com? We will be happy to have you on board as a blogger.