YSRC MLA Kotamreddy Sridhar Reddy protests for drinking water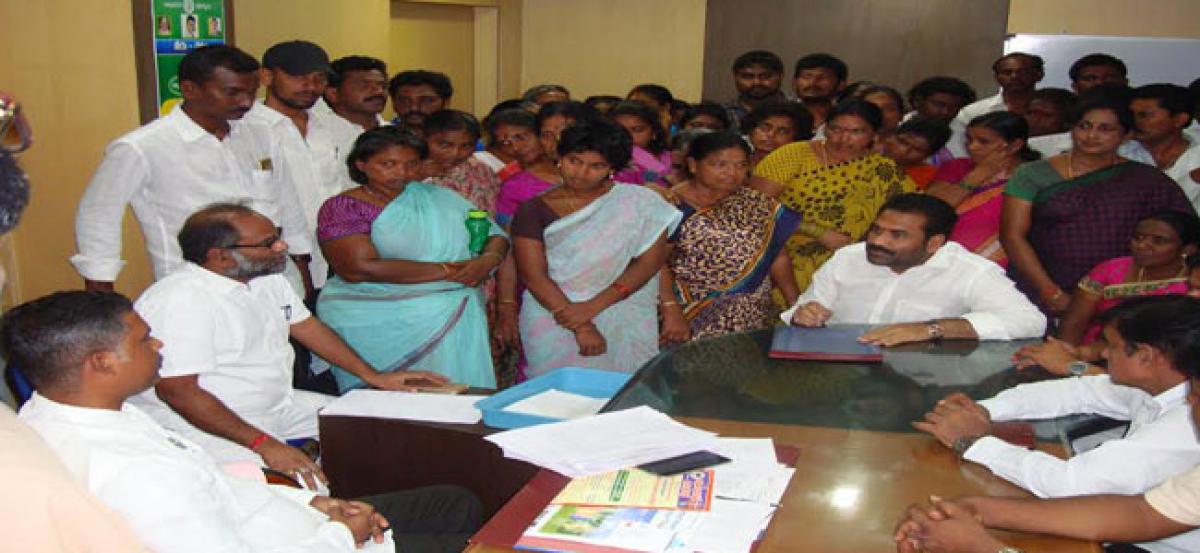 Highlights
Rural MLA Kotamreddy Sridhar Reddy staged a protest in front of the Nellore Municipal Corporation (NMC) office here on Monday, demanding to provide drinking water in his constituency on war foot basis. He along with other protesters raised slogans against the NMC authorities for failing to address the water problem. Later, the MLA handed over a memorandum to the Corporation Commissioner S Dilli R
Nellore: Rural MLA Kotamreddy Sridhar Reddy staged a protest in front of the Nellore Municipal Corporation (NMC) office here on Monday, demanding to provide drinking water in his constituency on war foot basis. He along with other protesters raised slogans against the NMC authorities for failing to address the water problem. Later, the MLA handed over a memorandum to the Corporation Commissioner S Dilli Rao and urged him to resolve the issue on priority basis.
Speaking on the occasion, Sridhar Reddy said that residents of Bujabuja Nellore, Kothur and Kallurupalli were facing severe difficulties to get drinking water due to depleted groundwater levels during peak summer. The MLA said that local corporators, political leaders and others had tried their best to resolve the issue but people are still facing difficulties to get drinking water.
Sridhar Reddy also demanded the officials to conduct a survey in Kothur and Kallurupalli areas to resolve drinking water shortage. He warned that the YSRCP would intensify stir along with other political parties if officials fail to address the issue within next two months. He handed over a proposed plan to the Commissioner for providing drinking water to Bujabuja Nellore area with Rs 82 lakh.