Government to sanction Rupees 1,680 crore input subsidy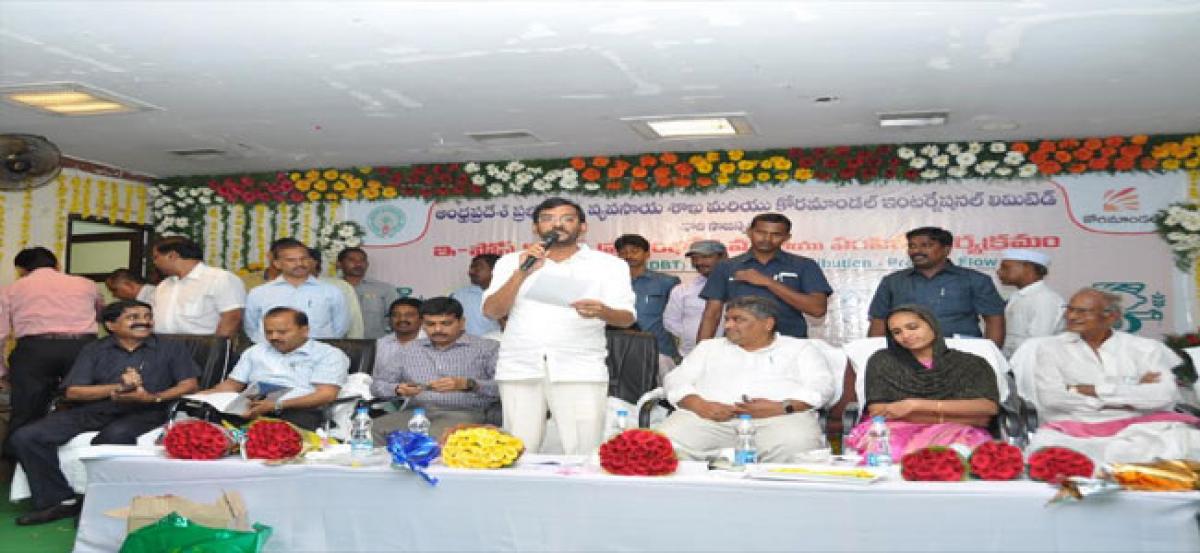 Highlights
Minister for Agriculture Somireddy Chandramohan Reddy said that the government has collected 10.76 lakh soil samples till June 2017 and distributed 15-lakh soil health cards to the farmers so far. He inaugurated e-pos machines scheme and distributed e-pos machines to the dealers at a programme held under the aegis of Coromandel International Ltd in the Revenue Kalyana Mandapam in Guntur city on Th
Guntur: Minister for Agriculture Somireddy Chandramohan Reddy said that the government has collected 10.76 lakh soil samples till June 2017 and distributed 15-lakh soil health cards to the farmers so far. He inaugurated e-pos machines scheme and distributed e-pos machines to the dealers at a programme held under the aegis of Coromandel International Ltd in the Revenue Kalyana Mandapam in Guntur city on Thursday.
Minister Somireddy Chandramohan Reddy distributes e-PoS machines to check misuse of subsidy on fertilisers
Speaking on this occasion, he said that the state government is taking all the steps to reduce of cost of production and to make agriculture viable. He reminded that the government is distributing modern machines to the farmers on subsidy to the farmers. He said there is bright future for agro based industries, he wished, farmers to become industrialists.
He said the government will release Rs.1680 crore input subsidy to the farmers and issued a G.O to this effect. He further said that the aim of introducing e-pass machines is to check misuse subsidy on fertilisers. He said, the government will release subsidy on fertilisers to the fertiliser companies, after farmers purchase the fertilisers. He said, because of new system, there is no need to release subsidy, if fertilisers are used other than agriculture purpose.
He said the government released Rs .650 crore subsidy to fertiliser companies and added that the Central government released 70,000 crore subsidy on fertilisers throughout the country. Later, he released e-pos machines to 1527 dealers.