Private buses go off roads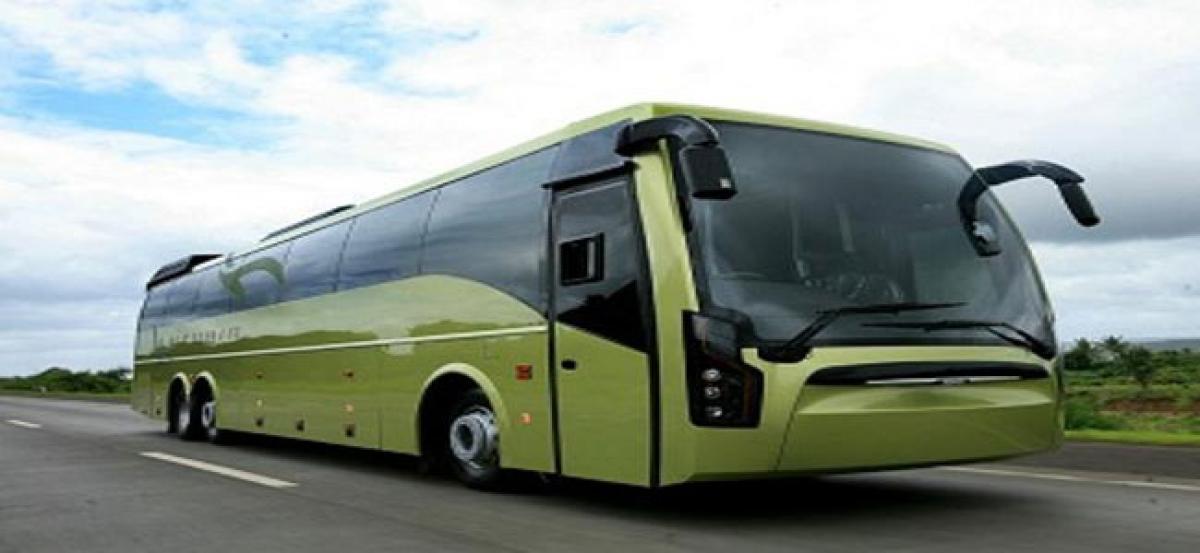 Highlights
The Transport Department booked cases against 16 private buses on Tuesday.The buses include one bus belonging to Komitla travels in Krishna district and six buses in Prakasam district (3 of Komitla travels and 3 of Morning Star travels). Another five buses were booked in Nellore district, of them 2 belonged to Komitla travels, 1 of HP Travels, 1 of Morning Star and one belonged to Pervin Travels
Vijayawada: The Transport Department booked cases against 16 private buses on Tuesday.The buses include one bus belonging to Komitla travels in Krishna district and six buses in Prakasam district (3 of Komitla travels and 3 of Morning Star travels). Another five buses were booked in Nellore district, of them 2 belonged to Komitla travels, 1 of HP Travels, 1 of Morning Star and one belonged to Pervin Travels.
Highlights:
Over 400 buses were stopped on Tuesday

Transport Dept seizes 16 buses in different districts

Registration of several private buses were cancelled by Arunachal Pradesh government a few days ago

There have been allegations that the private buses were not following Central Motor Vehicle rules

Transport Commissioner issued orders to DTCs not to allow private sleeper coaches on roads

Private bus operators plan to meet Transport Minister K Atchannaidu
It also booked cases on Kallada travels in Kurnool, Manish travels in Anantapur and two buses in Chittoor (Manish and Manish travels). The department said that alternative arrangements were made for passengers before the buses were seized.
Around 30 passengers in a private bus were shifted to RTC bus in Vijayawada. Majority of private travels closed online ticket bookings from Tuesday and the buses were stopped at travel offices. Over 400 buses were stopped on Tuesday, as per transport officials.
Travel operators reportedly held a meeting to discuss and find out ways to overcome the crisis. They are planning to meet Transport Minister K Atchannaidu and higher ups of the department to explain their plight.
The Transport Department, following the directions of the Chief Minister, has decided not to allow private buses even as court stayed the orders of Arunachal Pradesh government. Transport Commissioner N Bala Subramanyam sent a circular on Tuesday to all Deputy Transport Commissioners and Regional Transport officers instructing them not to allow State contract carriage buses, particularly sleeper coaches which are having all India transport permits to ply in the State.
He said the buses are violating Central Motor Vehicle Act and Central Motor Vehicle rules which specify that the tourist vehicles either commence their journey or end the journey in Home State (Arunachal Pradesh). He said the all India sleeper buses registered in other States are violating the above rules and certain other conditions of tourist permit. He instructed the officials not to allow such buses to ply in the State and that they can be detained whenever such violations are noticed.