Sand mining goes unabated in Kurnool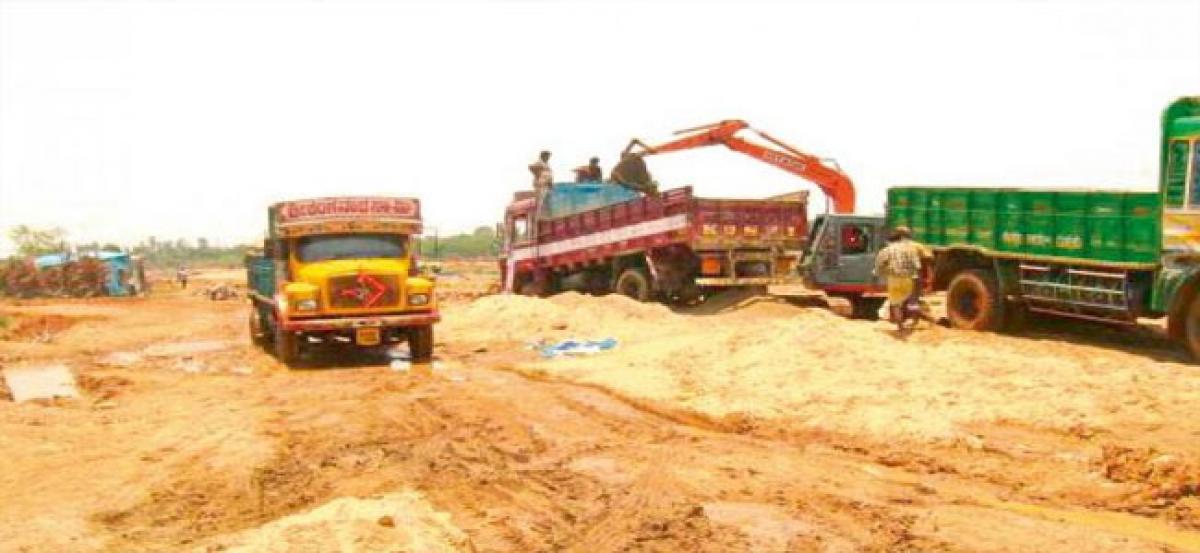 Highlights
Illegal sand mining goes unabated in the district during night times with the official's concerned turning a blind eye. In blatant violation of norms, the traders are transporting sand to other parts by allegedly bribing the officials. Recently the State government has constituted a committee involving Collector, SP, Revenue and Mining department officials to check the illegal sand mining from th
Kurnool: Illegal sand mining goes unabated in the district during night times with the official's concerned turning a blind eye. In blatant violation of norms, the traders are transporting sand to other parts by allegedly bribing the officials. Recently the State government has constituted a committee involving Collector, SP, Revenue and Mining department officials to check the illegal sand mining from the river belts.
The government also directed the committee members to ensure transportation charges as they are known to be charging beyond the stipulated price. Even the Chief Minister himself said that mining of sand to be allowed from the identified reaches and not beyond that. When asked about the mining, the officials of Kurnool mandal said that they are not aware of such activities and would depute machinery to check the same.
Illegal sand transportation was evident at Panchalingala and Munagalapadu, Nidzur and Singavaram villages in Kurnool mandal. The government has identified two reaches, one at Pooduru and the other at R Konthapadu village and there is no permission to excavate sand more than the permited limit for construction activity.
But, majority traders in Kurnool division are extracting sand using machinery and directly transporting it to other parts via Panchalingala and Munagalapadu check posts. Mining should not be done in the areas close to culverts, bridges, irrigation and drinking water sources, irrigation structures, state and national highways, railway lines within 500 meters.
But, the traders are violating all these norms. Many miners extracting sand indiscriminately from Tungabhadra river closer to National Highway bridge and railway line. A trader charges a tractor load of sand between Rs 1,500 to Rs 2,000. Majority of sand is exploited from Panchalingala and Munagalapadu reaches.
Further, there are no barriers to mine from Hundri river too. Traders are openly saying that there are no restrictions at any reach and people can mine as they wish according to their need. No official is taking necessary action despite the mining would impact on water bodies.
A woman from Panchalinga said construction of small portion is nothing but a dream to people of this village. She said we would have to pay Rs 1,500 to purchase a tractor load though the government told to give it at free of cost. She urged the concerned department officials to initiate stern action on the illegal sand miners.