BJP betrayed people of AP: TD MLA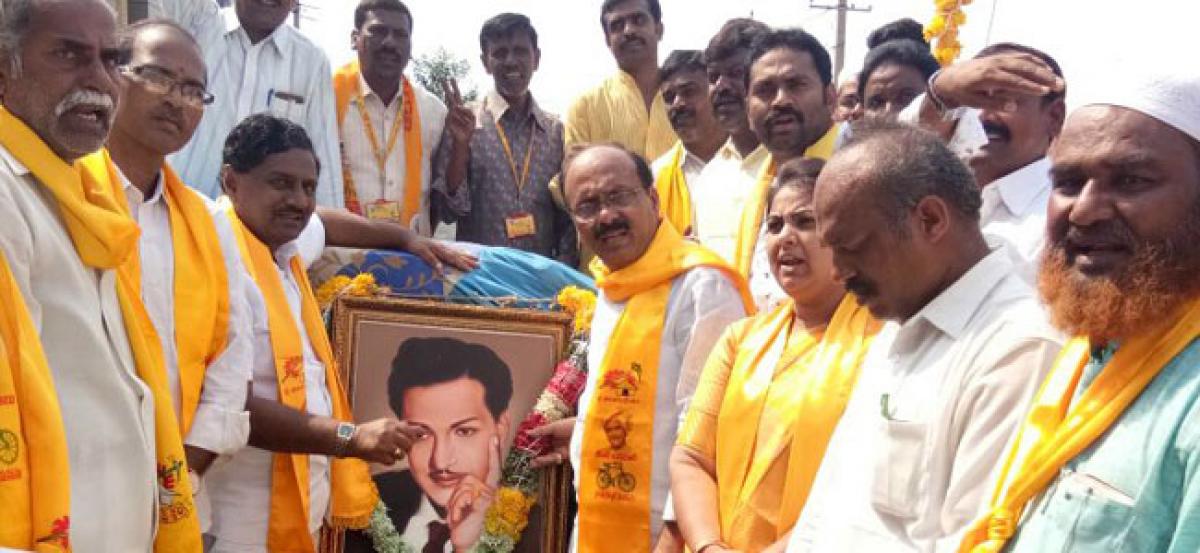 Highlights
While asserting the government's commitment over uplifting the living standards of all communities in the state, Rajampet MLA
- Rajampet MLA and Government Whip M Mallikarjuna Reddy and other TDP leaders pay rich tributes to NTR on the occasion of party formation day
- He says that Atmagauravam of Telugu people is at stake due to the attitude of BJP leaders
Kadapa: While asserting the government's commitment over uplifting the living standards of all communities in the state, Rajampet MLA and government whip M Mallikarjuna Reddy has advised the party activists that it is high time for them to take the party ideals as well as welfare schemes to grass root level and help for TDP to come to power in 2019 General elections.
On the occasion of 37th foundation of TDP, the party leaders have paid rich tributes to the late NTR here on Thursday. He recalled that on 29th March 1982, NTR had established TDP and he was responsible for protecting the self- respect of Telugu people in the country. He said that Chief Minister N Chandra Babu Naidu has been working hard with the same spirit for development of the state. But in recent period, the Telugu Atma gouravam is in danger due to conspiracy hatched by BJP. In the past, Congress had tried to play with the lives of Telugu people by dividing the Andhra Pradesh into two parts. " Congress party had tasted bitter experience and it had failed to secure single MLA in 2014 elections.
Now it is the turn of BJP which had betrayed the Telugu people in SCS issue".
During 2014 elections, the BJP could not found even 10 party functionaries. Because electoral alliance and with the help of TDP, it was able to win 2 MPs, 4 MLAs and one MLC seats by making electoral alliance. After the polls, the BJP had resorted betraying the people of AP for its political advantages. Several party leaders were present.