Chandrababu Naidu striving to make state ODF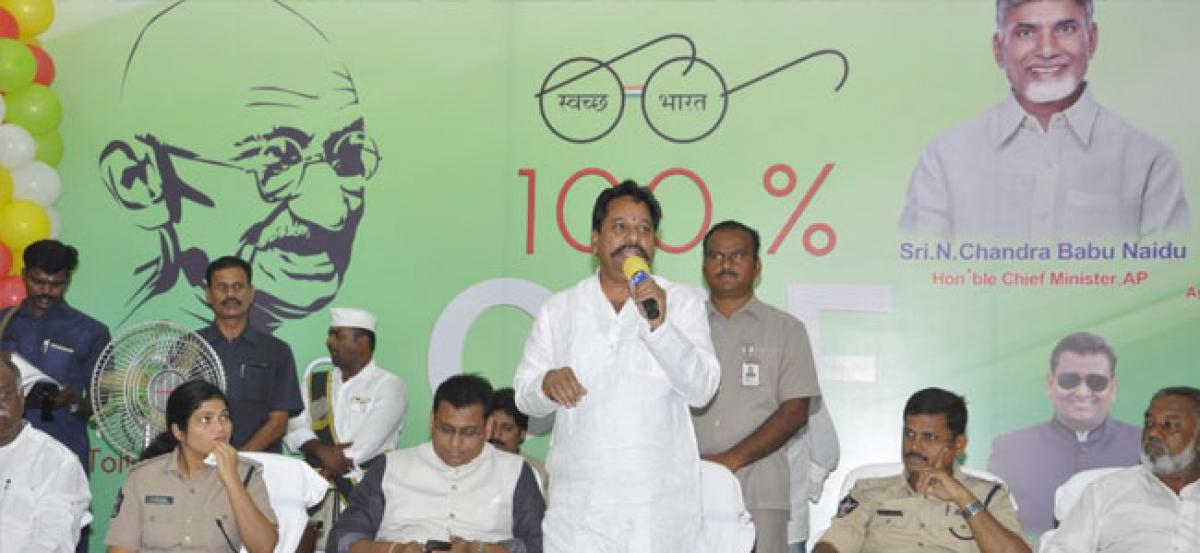 Highlights
 Industries Minister N. Amaranatha Reddy has that Chief Minister N Chandrababu Naidu has been striving to make Andhra Pradesh as Open Defecation Free
- Chittoor district secures first place at national level in the implementation of ODF scheme
- District Police arrange a programme at Palamaneru in this regard
Chittoor: Industries Minister N. Amaranatha Reddy has that Chief Minister N Chandrababu Naidu has been striving to make Andhra Pradesh as Open Defecation Free (ODF). The TDP government is committed to construct individual latrines to each house hold in the state by making huge budgetary allocation to the Centrally sponsored scheme. The District Police department has organised a colourful function at Palamaner and Industries Minister participated as a chief guest.
Superintendent of Police S Rajasekhara Babu presided over the function Addressing the gathering, Amaranatha Reddy has expressed his immense pleasure for achieving fame to Chittoor district at national level in implementing ODF scheme. ``The credit goes to the Chief Minister N Chandrababau Naidu for his outstanding efforts to get first place for Chittoor district in ODF scheme,'' he said.
He lauded that District Collector P S Pradyumna made extra ordinary job in motivating the people for constructing the individual latrines. The Minister made a special reference on the functioning of Chittoor Police. ``It is praise worthy that Chittoor SP Rajasekhara Babu introduced number innovative measures for the welfare of women," he said.
District Collector P S Pradyumna explained the core challenges in achieving the goal of ODF task. All the district officers have paid utmost interest with team spirit for achieving the first rank to the district. He said there was no funds crunch for constructing the individual toilets both in rural and urban areas.
SP Rajasekhara Babu said that community police officers have done excellent job in creating awareness among the rural population for constructing the toilets in their respective areas.
``On par with district administration, the police department also played a prominent role among the rural belt for encouraging the ODF scheme,'' he said. Additional SP Radhika and others were present.