Pawan Demands Chandrababu & Jagan on Railway Zone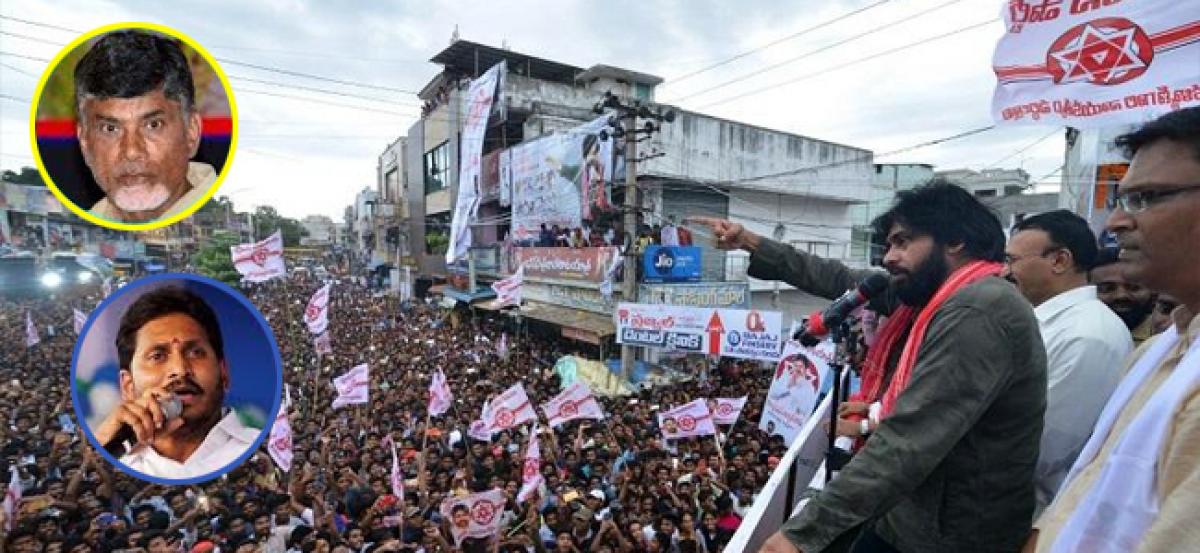 Highlights
Jana Sena leader Pawan Kalyan dared Andhra Pradesh Chief Minister N Chandrababu Naidu and YSR Congress Party President YS Jagan Mohan Reddy join him in the fight for the long pending demand of the establishment of railway zone in Visakhapatnam
Jana Sena leader Pawan Kalyan dared Andhra Pradesh Chief Minister N Chandrababu Naidu and YSR Congress Party President YS Jagan Mohan Reddy join him in the fight for the long pending demand of the establishment of railway zone in Visakhapatnam.
As part of Bus yatra in Tagarapuvalasa area in the port city, Pawan came down heavily on TDP MPs Avanti Srinivas and Murali Mohan for making fun of the demand for special status and railway zone. He is ready to launch an intensified struggle for railway zone and dared Chandrababu and YS Jagan to take part in the agitation.
The film star turned politicial leader said that his party will stand by the workers who lost their livelihoods after the closure of Chittivalasa Jute mill. He demanded the CM to clarify his stand on Jute mill and also Divis pollution. Pawan also targeted state Human Resources Minister Ganta Srinivas for his failure in resolving Jute mill and Simhachalam land disputes.