VYT to distribute clay Ganesh idols in Vijayawada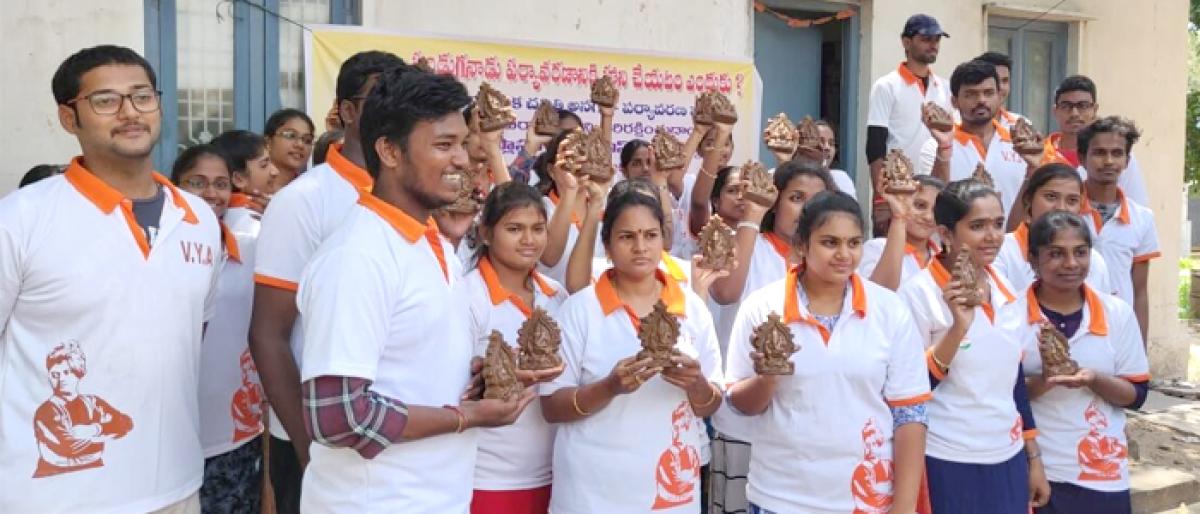 Highlights
The volunteers of Vivekananda Youth Trust VYT took initiative to distribute about 5,000 Ganesh idols made of clay for the upcoming Vinayaka Chavithi on September 13, to prevent the environment pollution with Ganesh idols made of Plaster of Paris POP and other materials which are harmful to environment
Vijayawada: The volunteers of Vivekananda Youth Trust (VYT) took initiative to distribute about 5,000 Ganesh idols made of clay for the upcoming 'Vinayaka Chavithi' on September 13, to prevent the environment pollution with Ganesh idols made of Plaster of Paris (POP) and other materials which are harmful to environment.

Student volunteers from various degree and engineering colleges participated in Ganesh idol preparation and packing them in paper bags at Freedom Fighter Building here on Sunday.
Speaking on the occasion VYT president Vytla Krishna Prasanna said, "We use various verities of flowers, leafs and fruits for performing the puja.
Whereas these days everyone is going against the basic idea of the festival by erecting huge size of Ganesh idols using POP and other harmful chemicals polluting the environment.
So to create awareness among people to perform the festival in a traditional way, VYT had taken the initiative to prepare Ganesh idols with clay and distribute across Krishna district."
He said that about 350 student volunteers participated in preparing idols with clay and Navadanyalu.