DL set to join YSRCP soon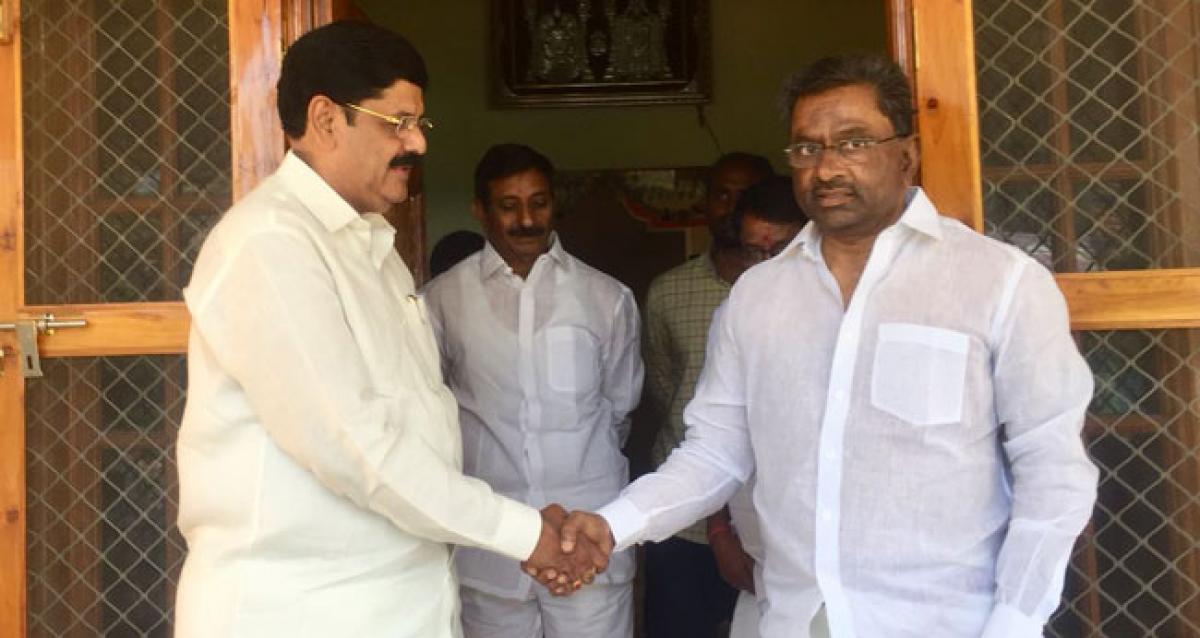 Highlights
The stage is for joining of Congress senior leader and former minister Dr Duggireddy Lakshmi Reddy Ravindra Reddy in YSR Congress Party soon
Kadapa: The stage is for joining of Congress senior leader and former minister Dr. Duggireddy Lakshmi Reddy Ravindra Reddy in YSR Congress Party soon.
According to sources, Ravindra Reddy had taken a decision to this effect in an hour-long meeting with former minister Anam Ramanarayana Reddy, who recently joined the YSRCP, on September 12 at his residence in Mydukur. He will meet Jaganmohan Reddy along with his followers in Visakhpatnam where the Opposition leader is on Praja Sankalpa Yatra.
It may be recalled that D L Ravindra Reddy extended support to the TDP nominee Putta Sudhakar Yadav in 2014 elections owing to his differences with YS Jaganmohan Reddy. Sources said DL had toyed with the idea of joining TDP if he was promised Mydukuru ticket in 2019 elections. But it is learnt that his followers opposed the proposal on the grounds that they can't get on with BC leaders in the constituency.
YSRCP senior leader Sajjala Ramakrishna Reddy invited Ravindra Reddy into the party when he met him along with Y S Vivekananda Reddy three months ago. Sources said a proposal was made to make current Mydukuru MLA Raghu Rami Reddy to nominate to Legislative Council if the seat is given to Ravindra Reddy.
In the last week's meeting with Anam Ramanarayana Reddy, Ravindra Reddy is said to have decided to take a plunge and joint the YSRC. A native of K.Sunkesula village in Mydukuru mandal, Ravindra Reddy began his political career as an independent MLA from Mydukuru constituency in 1978.
A close associate of Y S Rajasekhar Reddy, he joined Congress and won on the party ticket in 1983, 1989, 1994,2004, and 2009 elections. He was a minister in Nedurumalli Janardhan Reddy, Kotla Vijaya Baskar Reddy, Rajasekhar Reddy, N Kiran Kumar Reddy cabinets. He was sacked Kiran Kumar Reddy for his comments against him.