Raghuveera to take part in 'Intinta Congress'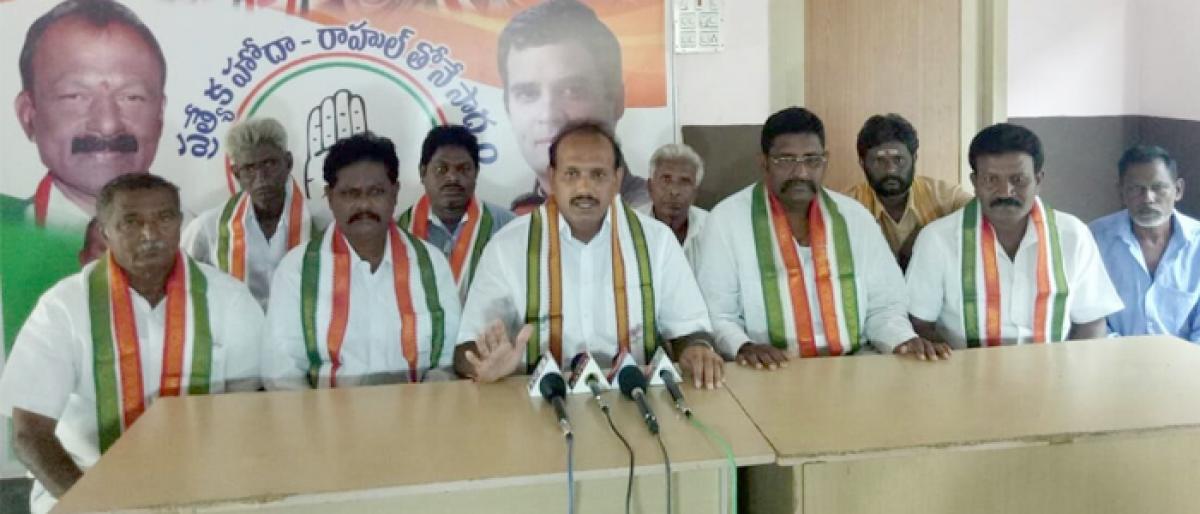 Highlights
APCC president N Raghuveera Reddy will take part in the Intinta Congress programme in Kanigiri town on October 25 from 930 am onwards under the leadership of the Assembly constituency convener Pasham Venkateswarlu
Ongole: APCC president N Raghuveera Reddy will take part in the 'Intinta Congress' programme in Kanigiri town on October 25 from 9.30 am onwards under the leadership of the Assembly constituency convener Pasham Venkateswarlu.
Announcing Raghuveera's tour schedule at a press conference here, Prakasam DCC president Eda Sudhakara Reddy on Tuesday appealed to the party leaders, activists and residents to make the programme a grand success.
On Tuesday Sudhakara Reddy participated in 'Intinta Congress' programme in Chinna Malleswaram Colony of second division of Ongole.
While appealing to the residents to support the party, he distributed the manifesto and pamphlets to them.
The DCC chief told them that if the Congress was voted to power it would implement the Special Category Status and other assurances given at the time of State's division besides creating jobs to youth.
He accused the BJP, TDP and YSRCP of 'confusing' the people during the last four years.
Among those who accompanies Reddy were town president Vedaprakash, PCC secretary Rajasekhar, G Lakshmi Reddy, mandal president T Bujji, district unorganised workers organisation chairman P Venkateswarlu, Minority chairman S K Rasool, division president S Venkateswarlu.