New twist: Jagan attacker hospitalised after chest pain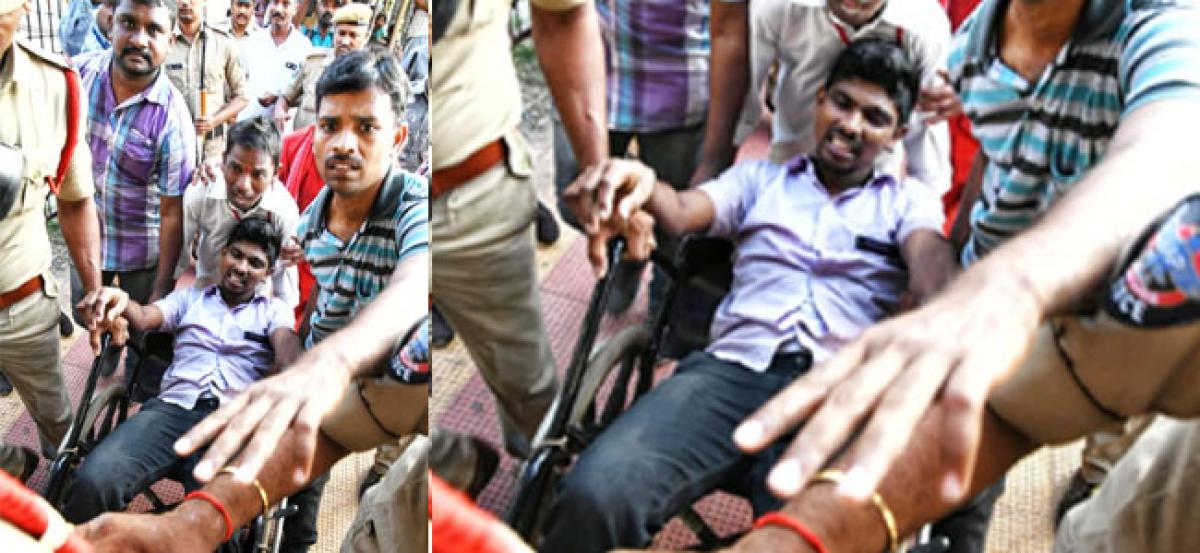 Highlights
The investigation into the sham attack on YS Jagan Mohan Reddy at Visakhapatnam Airport last Thursday took a new turn on Tuesday with the accused in the case, J Srinivas, shouting that there was a threat to his life and that he wanted to share some facts with people as he was being taken to hospital by the police
Visakhapatnam: The investigation into the "sham" attack on YS Jagan Mohan Reddy at Visakhapatnam Airport last Thursday took a new turn on Tuesday with the accused in the case, J Srinivas, shouting that there was a threat to his life and that he wanted to share some facts with people as he was being taken to hospital by the police.
The Special Investigation Team (SIT), which was interrogating Srinivas, rushed him to hospital in a wheel chair from Airport Police Station after he complained of chest pain, when he began shouting on seeing reporters. When Srinivas complained of chest pain on the fourth day of his interrogation, the police had him examined by a doctor who advised them to shift him to King George Hospital for further medical investigation.
According to sources, Srinivas suffered from body pains. When he was arrested on October 25 after attack on Jagan Mohan Reddy at the airport, the accused was healthy. However, on Tuesday, the police shifted him to KGH by lifting his hands and walking him to a wheel-chair.
When asked about why the health condition of Srinivas appeared to have deteriorated, the police said that he was tired of four days interrogation.
"We took him to the hospital in a wheel chair because when an accused complains of chest pain, using wheel chair was the most natural way to transport him. We have taken enough care of him.
When we were questioning him during the last four days, he appeared quite comfortable and healthy. However, when he complained of pain in his chest we called the doctor who in turn advised us to take him to KGH. We followed doctor's advice," one of the police officers who accompanied Srinivas to the hospital, told The Hans India.
After admission, doctors at the KGH began doing all medical investigations. According to the doctors, Srinivas was mentally tired. "At present his health condition is stable. However, we are conducting further medical tests on him," one of the doctors attending on him said.
Srinivas, later speaking to news channels, said that there was no one behind him and that he is an ardent fan of Jagan Mohan Reddy and the late YS Rajasekhar Reddy. He described Rajasekhar Reddy as God. He said that attempts were being made to kill him for reaping political benefit but did not elaborate on it.