BJP's Dharma Deeksha seeking High Court in Rayalaseema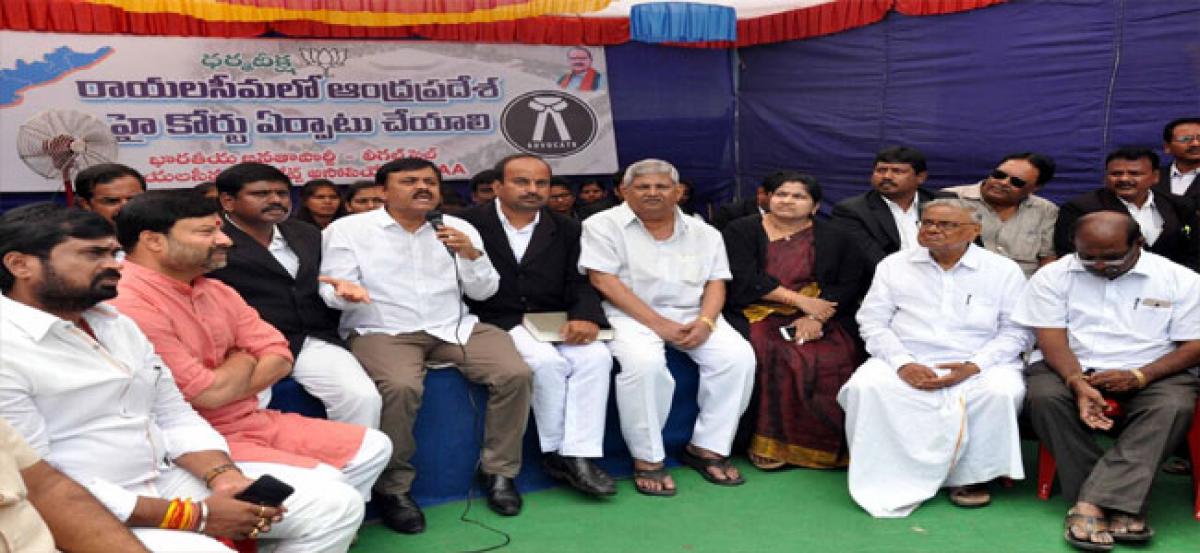 Highlights
BJP observed Dharma Deeksha infront of court complex here on Saturday to bring pressure on the State government for the establishment of AndhraPradesh High Court in Rayalaseema region
Tirupati: BJP observed `Dharma Deeksha' infront of court complex here on Saturday to bring pressure on the State government for the establishment of AndhraPradesh High Court in Rayalaseema region. The speakers at the protest meeting resented the injustice being done to the backward region by the successive governments and questioned how long thebetrayal of the region would continue. Addressing the gathering, BJP spokesperson and Rajya Sabha MP GVL Narasimha Rao flayed Chief Minister N Chandrababu Naidu by saying that Naidu did nothing to the region and is concentrating only on Amaravati development.
Observing that that only decentralisation of power and development alone ensure progress of all the regions in the state, he accused the Chief Minister of adopting Capital city centric approaching leaving the people of other regions into lurch. ``Naidu has been claiming that he is the person who single handedly developed Hyderabad to become international city and now changed tune only to recite Amaravati development betraying Rayalaseema and also his own district Chittoor,'' he said. Referring `Sri Bagh pact', he stressed on the government to take steps for the establishment of AP High Court in Rayalaseema.
He observed that locating High Court in a place other than the state capital is not new. UP High Court is functioning from Allahabad instead of Lucknow, the state capital, he saidBJP state spokesperson G Bhanupraksh Reddy and district secretary Samanchi Srinivas said that the party will launch an agitation to force the government to set up High Court in Rayalaseema. Party senior leader and former state president C Ramachandra Reddy, state executive member and senior lawyer KothapalliAjaykumar and others also spoke.