Ganta Srinivasa Rao launches Vizag Junior Literacy Fest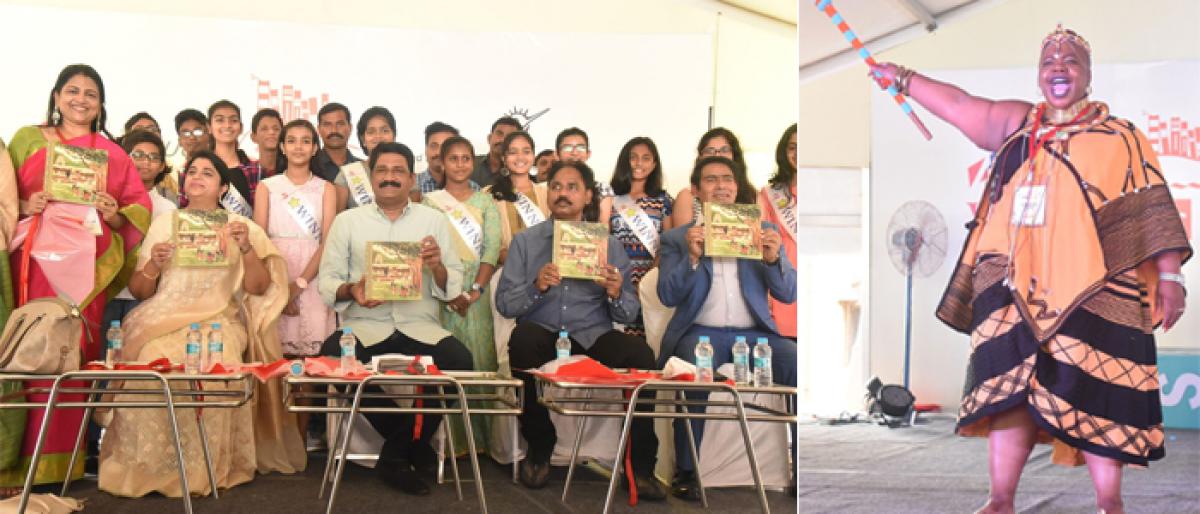 Highlights
To create more interest and enthusiasm among school going children on various innovative ideas and subjectwise thinking, a group of NGOs conducted a Vizag Junior Literacy Fest at Hava Mahal here on Saturday
The festival will unlock innovative ideas among school going children and create interest and enthusiasm on subject-wise thinking
Visakhapatnam: To create more interest and enthusiasm among school going children on various innovative ideas and subject-wise thinking, a group of NGOs conducted a 'Vizag Junior Literacy Fest' at Hava Mahal here on Saturday.
Inaugurating the festival, HRD Minister Ganta Srinivasa Rao welcomed the idea of organisers and suggested them to conduct Literacy Fest as an annual fest and in a bigger way. The Minister announced that his ministry would sponsor the event every year hereafter.
Talking about the various district, state, national and international events being organised in Visakhapatnam, the Minister said that the Port City was now hosting every day one event covering all the disciplines.
"At present, the students at the school level are competing for 10/10 GPA points and paying their restless efforts to achieve their subject wise goals only.
This type trend must be changed and the young minds should not become mechanical and the minds should be shaped with innovative ideas and develop with multiple skills," the Minister said. Unless the students should develop with a responsible citizen with good behavioural science, there would not be good society built up, Ganta Srinivasa Rao said.
Margadarsi Private Limited, Managing Director Sailaja Kiran, Navayuga Industries Managing Director Ch Mohan, Literacy Fest organisers Sandhya, Priya, Sonali, Ch Venkata Krishna and a large number of students from various schools were present.
Bongiswa Kotta-Ramushwana from South Africa, who is a storyteller for past one and half years and presently working at Freedom Park Heritage Institution, enthralled the audience with her performance on storytelling with an attractive examples and various signs.