TDP legal cell activists lay siege to Kanna Lakshminarayana house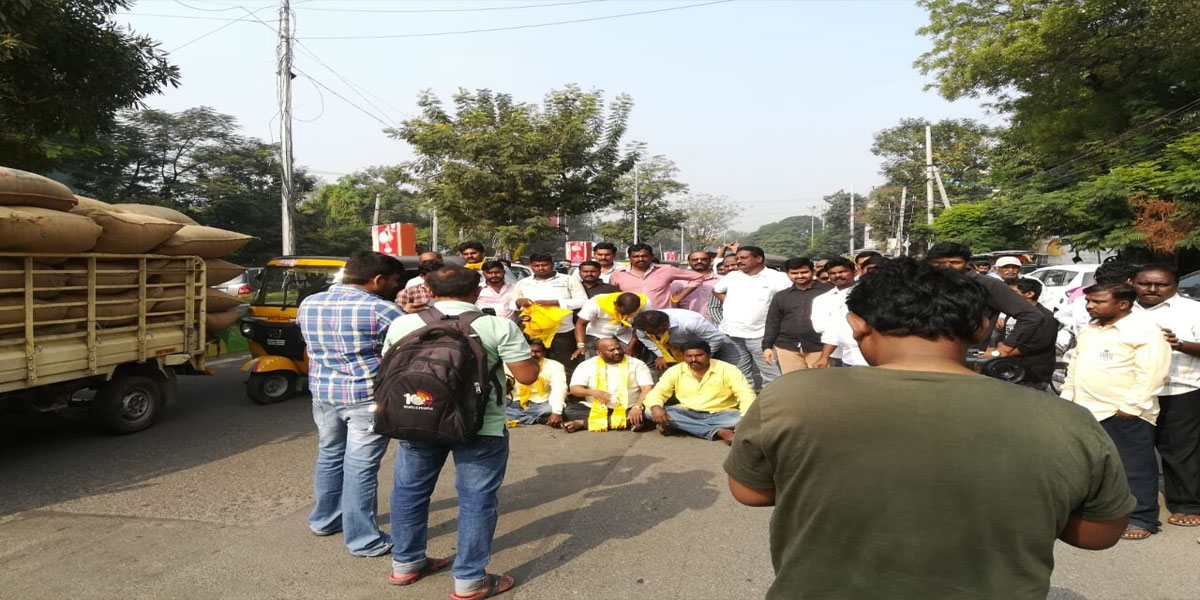 Highlights
A group of TDP activists tried to lay siege to the residence of BJP State president Kanna Lakshminarayana at Kannavarithota in Guntur city on Saturday in protest against the the BJP activists obstructing Chief Minister N Chandrababu Naidus convoy in Kakinada
Guntur: A group of TDP activists tried to lay siege to the residence of BJP State president Kanna Lakshminarayana at Kannavarithota in Guntur city on Saturday in protest against the the BJP activists obstructing Chief Minister N Chandrababu Naidu's convoy in Kakinada. About 25 TDP legal cell activists came from Vijayawada to Kanna Lakshminarayana's residence and raised slogans against Prime Minister Narendra Modi and Kanna Lakshminarayana and tried to gain entry into BJP State president's house. Immediately, the BJP activists who came to meet Lakhsminarayana, prevented them from entering the house. The TDP legal cell activists sat in protest before Kanna's residence and raised slogans against him.
Subsequently a scuffle ensued between the TDP and BJP activists. Tension prevailed at Kanna's residence for some time. Later, the police swung into action and stopped the TDP activists. Nagarampalem police who swung into action brought the situation under control. Speaking to the media, the TDP activists said that they came to give a memorandum to BJP State president Kanna Lakshminarayana and added that the BJP activists obstructed them. When the TDP activists staged the protest at Kanna Lakshminarayana's residence, the BJP State president came out of the house.

Speaking to media, Kanna alleged that following instructions of Chief Minister N Chandrababu Naidu and Minister for Panchayat Raj Nara Lokesh, the TDP activists came to his house to kill him and said that he would lodge a complaint with Union Home Minister Rajnath Singh over the attempt of the ruling party leaders to barge into his house in Guntur city. He pointed out that earlier the TDP activists tried to attack BJP president Amit Shah and YSRCP president Y S Jaganmohan Reddy and Jana Sena chief Pawan Kalyan. He urged Governor ESL Narasimhan take steps to control the situation.
Meanwhile, the BJP leaders lodged a complaint at the Nagarampalem Police Station and demanded action against the TDP workers Guntur West DSP P Sowmya Latha said,"The TDP activists came from Vijayawada city and protested before Kanna Lakshminarayana's residence in Guntur city. BJP activists prevented them from entering Kanna's house. Activists of both parties took part in protests. BJP activists lodged a complaint against the TDP activists. Police officials are examining the complaint. "