BCA visits expo of Amaravati villages in Vijayawada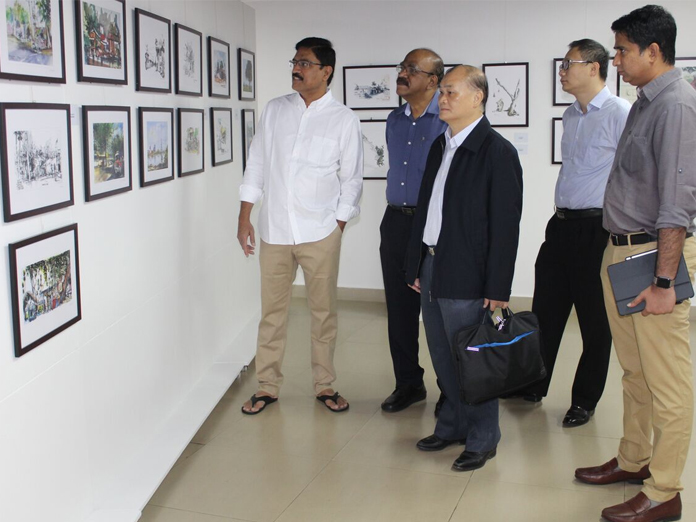 Highlights
Building Construction Authority from Singapore visited the monthlong exhibition of Amaravati Villages held at Cultural Centre of Vijayawada and Amaravati here on Friday
Vijayawada: Building Construction Authority from Singapore visited the month-long exhibition of Amaravati Villages held at Cultural Centre of Vijayawada and Amaravati here on Friday.
Koh Lin Ji, Director, BCA, Cheng Ji, Executive BCA, Jaya Paul, India Head of BCA visited the exhibition.
Y Harish Chandra Prasad, founder, Malaxmi Group, explained the visitors about the exhibits done by Urban Sketchers from Singapore.
The exhibition of Amaravati sketches was earlier inaugurated by Lim Thuan Kuan, High Commissioner, Singapore in New Delhi.
He said apart from reminiscing the past and present, the exhibition sought to raise awareness of exciting possibilities under the government-to-government memorandum of understanding between Singapore and Andhra Pradesh, and develop more in-depth knowledge and friendship between the people of Amaravati and Singapore.
A group of twenty-six sketchers from US, four sketchers from India, including Andhra Pradesh, visited 29 villages in Amaravati and documented its heritage, culture, and landscapes before the infrastructural and economic development of the area as the new Greenfield Capital City of Andhra Pradesh took place.
A total of 90 sketches are exhibited along with specially curated archaeological artifacts associated with the history of Amaravati from CCVA's extensive collection.
The exhibition will be open for the public at CCVA until January 31, said Chief Executive Officer Dr E Sivanagi Reddy.