Bhogi celebrated with fervour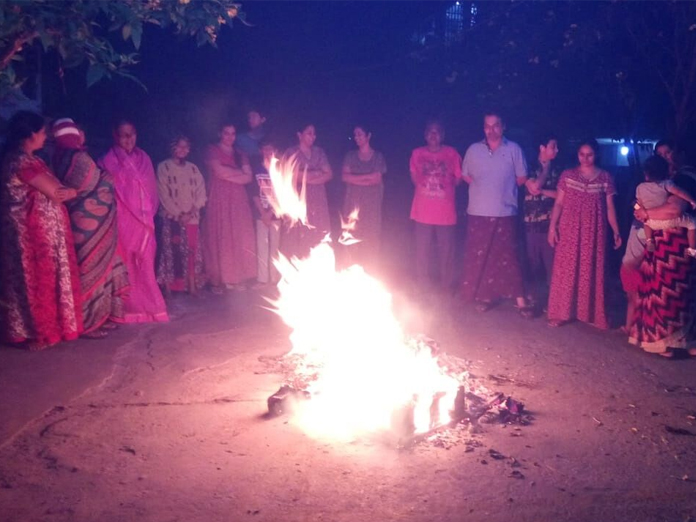 Highlights
The Prakasam district people celebrated Bhogi with gaiety and religious fervour on Monday The junctions of various roads were seen lit with the Bhogi Mantalu and the people cheer around them since early morning
Ongole: The Prakasam district people celebrated Bhogi with gaiety and religious fervour on Monday. The junctions of various roads were seen lit with the Bhogi Mantalu and the people cheer around them since early morning.
The children supported their parents and grandparents in bringing out the unnecessary and broken furniture, papers along with the wood specially bought for the campfire.
The women arranged pots filled with the water to heat and used them for the bath of children. They blessed the children by showering Bhoigipallu on them.
The temples like Chennakesava Swamy temple and Saibaba temple received a large number of devotees and the priests offered blessings to them.
Minister Siddha Raghavarao and his family celebrated Bhogi at their residence.
They wished the public to have a happy and prosperous life ahead and wanted the farmers have a happy and fruitful year.
The Ongole MLA, Damacharla Janardhana Rao presided over the Rangavalli contest held at the municipal high school and distributed gifts to the winners. He wished that the Sankranti festival brings all happiness to the public.
The former minister and YSRCP leader, Balineni Srinivasa Reddy participated in the Bhogi celebrations organized by the Lions Club at Lawyerpet and CVN Reading Room and said that Sankranti is the festival that marks the culture and tradition of Telugus.
He said that the festival brings together the young and old and wished the festival also brings health and wealth to the people.