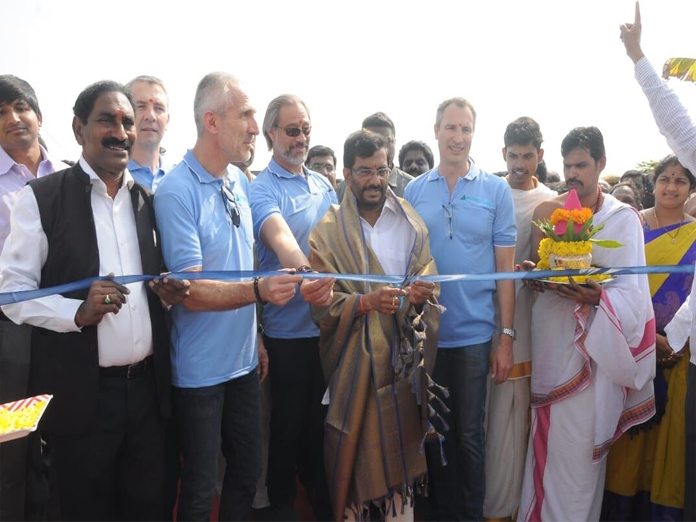 Highlights
Agriculture Minister Somireddy Chandramohan Reddy inaugurated the Broodstock Multiplication Centre at Chennayapalam on Monday The Minister said that production of broodstock is first of its kind in India and BMR Group, in collaboration with Blue Genetics of Mexico and France, is starting BMC for production of specific pathogenicfree broodstock
Nellore: Agriculture Minister Somireddy Chandramohan Reddy inaugurated the Broodstock Multiplication Centre at Chennayapalam on Monday. The Minister said that production of broodstock is first of its kind in India and BMR Group, in collaboration with Blue Genetics of Mexico and France, is starting BMC for production of specific pathogenic-free broodstock.
The intervention of BMR group is certainly an effort to reduce dependency on foreign countries in the aqua sector, said the Minister and he interacted with the Mexican and French scientists for ensuring quality post-larvae for better yields to the farmers.
The delegates comprising of hatchery owners, aqua culture professionals, feed dealers, shrimp exporters, aqua scientists, representatives of Coastal Aqua Culture and Fishery department officials.
Addressing the gathering, Chairman of BMR Group Beeda Mastan Rao has outlined the vision of Chief Minister Chandrababu Naidu in developing the aqua culture in the State which has been contributing 70 per cent of the country's shrimp exports to various destinations across the globe.
Rao also explained on importance of establishing the Broodstock Multiplication Centre in India and advantages of transport, import duties, quarantine and cubical availability, saving the foreign exchange outflow, reduced stress on broodstock production now suitable to the Indian climatic conditions. Jean Marc Pinsault and Fred Grimaud from France; Carlos Pineda and Dr Pinada Gustavo from Mexico; Dries Agneessens from Belgium were present.