Sago worm dishes set to tickle taste buds of tourists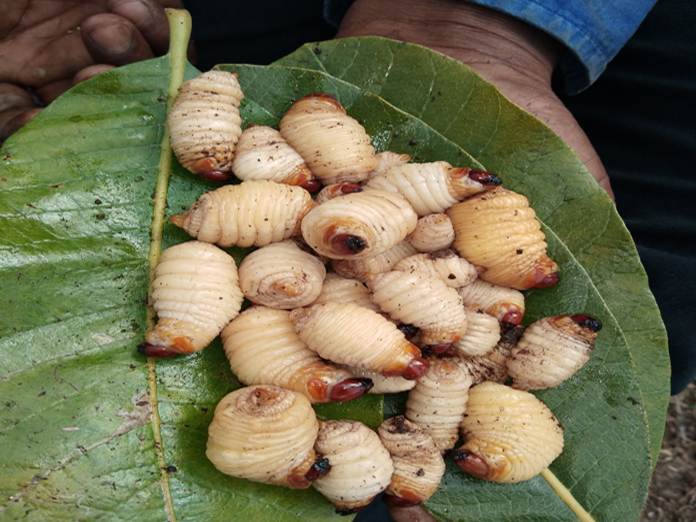 Highlights
A new dish prepared with Sago worms Boddiga under the nonvegetarian category, which also consists of rich proteins, was now trending at Vizag Agency areas and creating mouthwatering among the tourists
Visakhapatnam: A new dish prepared with Sago worms (Boddiga) under the non-vegetarian category, which also consists of rich proteins, was now trending at Vizag Agency areas and creating mouth-watering among the tourists.
The dish was invented as a replacement of prawns which were generally found among water bodies. Whereas the Sago worms were delicious and rich in content of proteins.
According to the sources, the Sago worm is the larvae of red palm weevil, a species of snout beetle that is botanically known as Rhynchophorus ferrugineu, this insect belongs to the family of Dryophthoridae, sub-family Rhynchophorinae, and the tribe of Rhynchophorini.
G Sarawathi, a Primitive Tribal Group community women and a resident of Patakadwada village falls under Burj panchayath of Hukumpeta mandal near Araku- Sunkarametta Valley (who was on hunt along with their men on the range of hill near Gali Konda area in Araku valley) said, "We don't have any road connectivity from our hamlets to bring sea foods and feed our children.
Although government is providing various schemes, those were not reaching us completely due to lack of road connectivity. We should travel 12 kms by foot on a slopy hills range to reach our mandal headquarters or any markets.
So, instead of walking so far we are opting for substitute for those food by replacing them with forest natural products like palm potatoes, sago worms and other stem products available on the hills. These products will keep us active and more healthy than the other supplements available in the market."
Speaking to The Hans India, Professor in Foods, Nutrition and Dietetics department of Andhra University R Rajeswari said that since food security is presently posing a major problem in several underdeveloped and developing countries, many people are now resorting to alternative food sources.
Several countries like Africa, South America, Mexico and Asia see insect-eating as a common practice as most of these edible insects are easily available for human consumption.
The Sago worm is also an excellent source of magnesium, calcium, zinc, iron, potassium, phosphorus, fatty acid, lipid, dietary fibre and carbohydrate. Due to high dietary fibre found in these worms, they can serve as a great source of dietary roughage. As a result, they aid easy digestion of food and helps to prevent constipation and flatulence, she added.
Poorna Lokesh, a tourist at Vizag agency, said the Sago worms were mostly consumed by the Chinese and Japanese people as these worms were good in taste. They consume such variety dishes at hilly places during winter under the cover of fog had added more pleasure.
Some tribal leaders appealed to the State government to come forward in encouraging the cultivation of Sago worms to generate more income among tribals and help in serving enough and best dishes to tourists in Agency areas. Sago worms will be popular in Araku Valley on the lines of Bamboo Chicken and Biryani if the government encourages them, they added.