Rosatom, Ministry of Hydrocarbon and Energy of Bolivia sign MoU for peaceful uses of atomic energy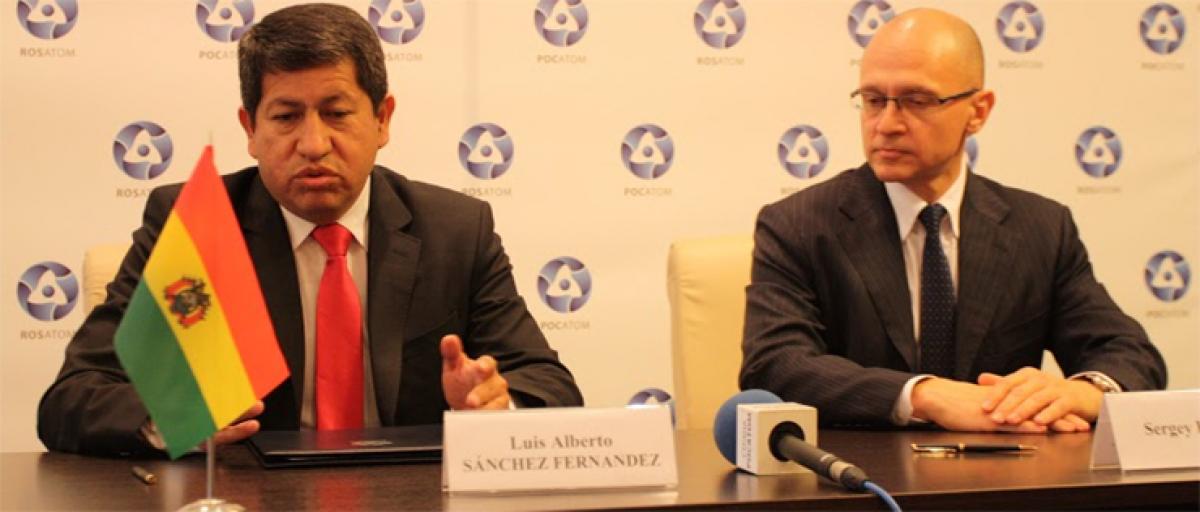 Highlights
On Thursday Russian State Atomic Energy Corporation \"Rosatom\" and the Ministry of Hydrocarbon and Energy of Plurinational State of Bolivia signed a Memorandum of Understanding on cooperation for the peaceful uses of atomic energy
On Thursday Russian State Atomic Energy Corporation "Rosatom" and the Ministry of Hydrocarbon and Energy of Plurinational State of Bolivia signed a Memorandum of Understanding on cooperation for the peaceful uses of atomic energy.
From the Russian side the document was signed by General Director of Rosatom Sergei Kirienko, from Bolivian side - Minister of Hydrocarbon and Energy of Plurinational State of Bolivia, Luis Alberto Sanchez.
The memorandum involves the following areas of cooperation between the parties: use of radioisotopes and radiation technologies and their application in industry, medicine, agriculture and other fields; providing training and education personnel in various fields of peaceful uses of nuclear energy; assistance in creation and development of infrastructure for the management and regulation of Bolivian nuclear program; the potential construction of nuclear science and technology center with the necessary infrastructure for the use in science, medicine, industry and agriculture on the basis of the research reactor, cyclotron, the installation of gamma radiation, a complex of laboratories; nuclear, radiation and physical security; holding consultations about the possibility of the construction of nuclear power plants of Russian design in Bolivia; development of programs in the field of public acceptability of nuclear power projects, including through the provision of appropriate information centers, etc.
The memorandum suggests further elaboration of the above-mentioned areas in cooperation. For this purpose in the nearest future the parties will determine the authorized persons, whose task will be to develop specific mutually beneficial projects.
Among the immediate tasks the parties also agreed to hold consultations on the possible development and signing of an intergovernmental agreement on cooperation in the field of atomic energy for peaceful uses.