Can India repat GDP growth Prospect in 2015-16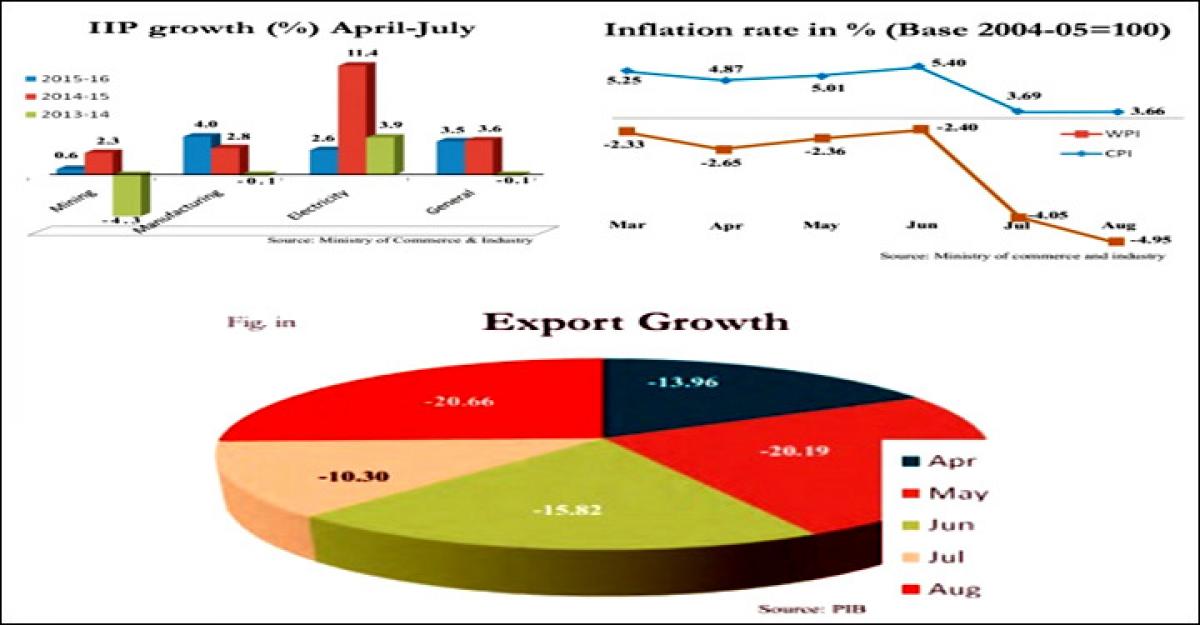 Highlights
India has shown good performance last year on account of growth in GDP. Can India repeat its last year's performance as the fastest growing economy in the current year? The world at large believes that it will.
India has shown good performance last year on account of growth in GDP. Can India repeat its last year's performance as the fastest growing economy in the current year? The world at large believes that it will. The International Monetary Fund (IMF) has kept its faith on Indian economy and has suggested in its July World Economic Outlook Update that the country will be the world's fastest growing economy for the second consecutive year in 2016 with 7.5% GDP growth even as it lowered the global economic growth forecast to 3.3%. The same report has projected China's GDP growth at 6.8%.

Likewise the World Bank's latest Global Economic Prospects (GEP) said, "With an expected growth of 7.5% this year, India is, for the first time, leading the World Bank's growth chart of major economies." The Asian Development Bank (ADB) has appeared even more optimistic and has projected India's GDP growth at 7.8% for 2015-16 but has cautioned that delay in reforms relating to land acquisition and the Goods and Services Tax (GST) may hamper growth. The bank has lowered its growth forecast for China to 6.8% for 2016 in the same report.

If the rating agency Moody's Investors Service has lowered India's GDP growth projection to 7% for 2015-16 from 7.5% projected earlier or Morgan Stanley has cut its projection to 7.5% from an earlier estimate of 7.9%, they have still remained optimistic compared to most major economies including China. The poor monsoon rainfall for the second consecutive year, has led many foreign brokerage firms to lower their forecasts of the Indian GDP. They have cited below normal monsoon rainfall and subdued demand for the country's exports as major reasons for the downward revision. Swiss brokerage firm UBS, too, has revised downwards India's GDP growth projection to 7.1% from 7.5% projected earlier on account of weaker external demand prospects.

Prospects in Manufacturing production
Many rating agencies may have shown confidence in India's growth prospects and have pegged its GDP growth at around 7% for 2016, but New Delhi seems more optimistic. The government is aiming for an 8-10% annual GDP growth through supply-side measures to increase the capacity of the country.

This would require the country's industrial sector to contribute increasingly to the GDP as the contribution of agriculture would be limited due to bad monsoon. With industrial production for July witnessing significant rise, the finance ministry claims that the manufacturing sector is slowly emerging as the leader of industrial growth and the economy is improving steadily. In the first four months of the current year, the manufacturing sector output rose 4% as compared to 2.8% in the same period a year ago.

Another significant development is the sharp rise in the production of capital goods, which forms the base of industrial growth. Capital goods production increased sharply in July this year – up 10.6% against a contraction of 3% in the same month last year.

But what must be more encouraging is that Indian industries have shown confidence in the economy and have implemented more new projects this time. As many as 42 IEMs with an investment of Rs.10,754 crore were implemented in July 2015 compared to 28 IEMs involving an investment of Rs.1,833 crore implemented in the same month last year. Between January and July 2015 as many as 1,171 IEMs were implemented with an investment of Rs.2,19,022 crore against 1,072 IEMs implemented with an invest-ment of Rs.31,677 crore in the corresponding period last year.

Emboldened, industry associations are hoping that growth will pick up further with the rise in demand in the coming festive season. There is a potential to take this growth to a higher level with the help of more supportive policies for stimulating domestic demand and exports. What is important is that the growth has been far more broad-based this time – as many as 12 of the 22 industry groups in the manufacturing sector have recorded positive growth last July.
Declining trend in Inflation rate continues to ease out




Even as Indian industries are slowly regaining their confidence following measures taken by the Modi government, they have another positive to look forward to – the inflation rate has reduced giving hope for a low interest rate regime.

The wholesale price index (WPI) inflation fell at a faster than expected annual rate of 4.95% in August, its tenth straight decline. Prices of manufactured goods that has about 65% weightage in wholesale price, fell 1.92% in August on year-on-year while fuel and power prices declined 16.5%.

The more crucial consumer price index (CPI)-based retail inflation, which the RBI takes as reference point in deciding its policy rates, continued to decline, being 3.66% in August compared with 3.69% in July.




However, one inflation battle isn't over yet. Food inflation remains sticky even though the overall inflation seems to be inching downwards. Food inflation measured on Consumer Food Price Index rose slightly in August at 2.20% compared to 2.15% in July 2015. Even wholesale prices of a number of food articles including wheat, pulses, onions, milk, and eggs increased in August. There are apprehensions that food inflation may go up in a deficient monsoon scenario since agriculture in major parts of India still depends on rain water. According to government estimates, the monsoons are likely to end up 12-14% deficient this year.

While lower inflation rate has raised hope of a rate cut by the RBI, it may force the RBI Governor Raghuram Rajan to be more cautious. Whether Rajan actually cuts policy rate or not will be known before this edition of the magazine is in the market, but what is significant is that low inflation has already done its job by improving the sentiments of consumers and industrialists.

Export declines due to global slowdown but CAD remains low
If higher industrial growth and sliding inflation rate have given hopes for the revival of demand conditions in the economy, the fall in exports is causing serious concern to the government. India's merchandise exports declined for the ninth straight month in August to USD 21.27 billion – down 20.66% compared to $26.80 billion shipped in the same month of last year.

Concerned over persistently weak demand, exporters have been seeking incentives and a cut in borrowing costs to make their goods more competitive in the international markets. Faced with unchecked fall in exports, the commerce department has reportedly sought fresh government support and has asked for more funds for the Merchandise Exports from India Scheme (MEIS) for reviving the interest subsidy scheme for select sectors. It must be noted that merchandise exports account for more than 17% of India's GDP.

Although imports declined in August – down 9.55% to USD 33.74 billion, trade deficit increased on a year-on-year basis and stood at USD 12.48 billion in August compared to USD10.67 billion in the corresponding month of last year.

The cumulative merchandise exports during April-August 2015 declined 16.17% to USD 111.09 billion as against USD132.53 billion in the corresponding period last year caused by global economic slowdown, fall in oil prices, and appreciation of the Indian rupee.




Oil imports in August at USD7.36 billion dropped over 42% over the same month last year at USD12.81 billion, owing to plunging crude prices. Non-oil imports at USD26.38 billion were, however, higher over August of last year by 7.0%. India's total exports last fiscal were nearly USD 30 billion lower than its target of USD 340 billion.

Following the sharp fall in exports, India's trade deficit widened to USD12.5 billion last August from USD 10.7 billion in the same month a year ago. This increase in the current account deficit (CAD), however, is not considered a threat yet. In fact, the RBI expects the CAD at around 1.5% GDP in the current year. The CAD narrowed down to 1.2% GDP for the quarter ended June 2015.

Maybe a part of this decline in merchandise exports would be compensated through higher domestic demand, which has shown signs of revival. After all, India has led the consumer confidence index in the second quarter of 2015. According to global information and insight provider Nielson, India's consumer confidence index increased further from 130 in the first quarter to 131 in the second quarter of 2015 followed by 122 of Philippines and 120 of Indonesia.

Three in five (65%) respondents polled, said this is a good time to buy things they want and need India led the global top 10 countries for this parameter, the report said.

Improvement in demand conditions would surely, help our manufacturing sector to generate more output but at the same time this would increase the responsibility of the government. As industrialists, both at home and abroad, have repeatedly demanded that India has to expedite reforms and resolve issues relating to land acquisition and implementation of the GST quickly.

Such measures may not necessarily help India to beat China in GDP growth, as the global media is touting, but they would surely help it to stay at a high growth trajectory.

G.Rajendera Kumar,
Deputy Statistical Officer