Beleaguered real estate bogged down by weak demand and muted sales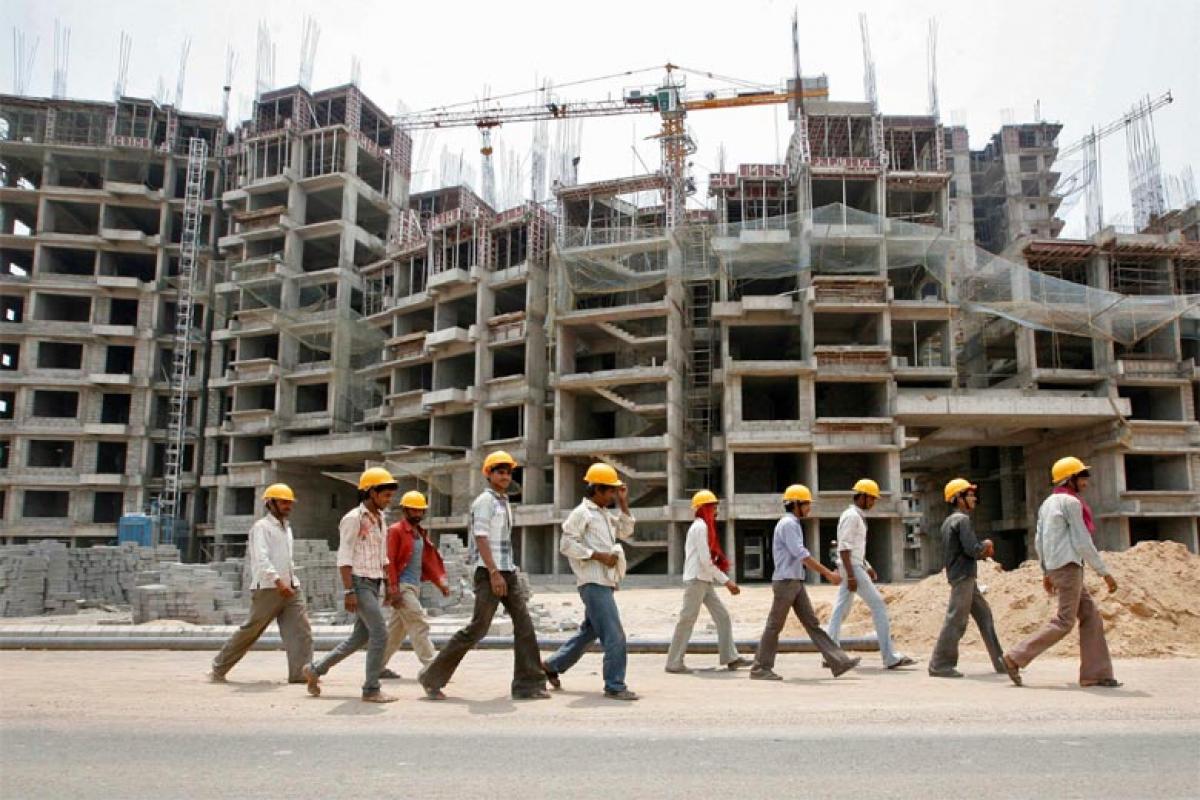 Highlights
The hopes of an early turnaround of the beleaguered real estate sector, kindled by the installation of a stable, reform-oriented government headed by Prime Minister Narendra Modi, were belied in 2015.
New Delhi: The hopes of an early turnaround of the beleaguered real estate sector, kindled by the installation of a stable, reform-oriented government headed by Prime Minister Narendra Modi, were belied in 2015.

The fund-starved sector continued to be bogged down by weak demand and muted sales. As the year draws to a close, Despite some signs of revival, the delayed reforms continues to take a toll on the business sentiment, and it may take long before the sector gets stabilised with healthy long-term sustainable growth.
The realty sector reeled under fund crunch that has proved to be its biggest bane over the last few years.
According to Crisil, India's top 25 developers, making up for 95 percent of the sector's capitalisation, face the risk of refinancing Rs.3,000 crore ($452 million) of debt.
These fund woes, besides delayed regulatory permissions, were responsible for large scale project delays and resultant cost escalations, badly affecting the sentiment of property buyers and investors.
Similarly, Liases Foras said out of the total space of 3.2 billion square feet under construction across 25 cities, about 34 percent of the space valued at Rs.165,064 crore (1.32 percent of GDP) was delayed by over a year.
In this grim backdrop, the year saw the rise of a cautious and discerning buyer taking a backseat in the property market, largely concerned about the safety of his investment.
Even the investors -- disillusioned and dejected by the stuck investments and falling returns -- withdrew from the market.
So much so that even the luring marketing schemes like subsidised home loans, EMI waiver till possession and other discounts on registration, car parking and club fee offered through the year, failed to entice buyers.
The demand-supply mismatch further gave upper hand to buyers and investors.
On the investment front, it was a year of record inflow of foreign direct and and private equity investments, with the investments by the latter touching a record high of $14 billion till October, 2015.
Funding to income yielding office segment also surpassed residential real estate. In 2016, too, commercial and residential in top seven cities, is expected to continue getting major private equity funding, while retail will gain traction.
Amid large-scale delivery defaults, slow sales and huge unsold inventory, residential real estate like last year, remained in the slow lane.
Luxury real estate was badly hit, though affordable housing segment gained some ground.
There were however some green shoots especially in cities like Mumbai, Bengaluru, Hyderabad. The year 2016 may however see some revival, with greater impetus to low- cost housing.
On the retail real estate front, it was a no-show with hardly any quality retail space added to the stock. Though no significant quality mall space is expected to be added next year, we may yet see the positive trend of emerging Tier II aNd Tier III markets.
There was a big boost to office space absorption of 3.5 million square feet, the second highest after 2011, with rise in rents across cities, especially in certain segments in in Tier I cities. The year 2016 is expected to see consistent increase in demand driven by IT/ITES, like this year.
As regards reforms, Ot was a year of mixed fortunes for realty industry. For the fund- starved sector, there was a foreign equity bonanza, waiver of entry and exit barriers, raising of approval limit for the Foreign Investment Promotion Board limit from Rs.3,000 crore to to Rs.5,000 crore, doing away with area restrictions of 20,000 square meters and capitalisation of $5 million, besides allowing investment repatriation before project completion with three-year lock-in.
The government also fast-tracked environmental clearances. However, key reforms like bills on real estate regulator, pan-India goods and services tax regime and arbitration, and policy measures like single window clearance to check delays and price escalation, and ensuring ease of doing business, got stalled, leading to dip in business sentiment.
The first full-fledged budget of the Modi government also failed to provide necessary fillip.
Except for a couple of good initiatives like making realty investment trusts viable with provision of pass through tax for investments and rationalisation of tax gains, and allowing foreign investments in alternate investment funds, it failed to address the core issue of increasing affordability and supply of low-cost housing.
In a further setback, the budget, instead of removing service tax on affordable housing, hiked it from 12.36 percent to 14 percent, besides marginally raising excise duty.
As property buyers increasingly demand value housing, timely project execution and right quality with right pricing hold key to revival of real estate.
With the government focusing on reforms like Real Estate Regulation, GST and Arbitration Acts,aimed at strengthening sector fundamentals instead of offering sops, the new year will provide the much needed push to realty. A series of policy measures for catalysing business and investments like progressive and predictable tax regime, rationalisation of labour laws and single window clearance for ease of doing business are underway.
And with further drop in interest rates and rise in uffice rentals in the coming months, the year 2016 may herald a new era for retail investors.
On the mortgage reforms front, apart from further cuts in interest rates, RBI's proposed reduction in minimum risk weightage on individual housing loans for low-cost homes, will boost affordable housing which is key to real estate revival.
With commercial real estate set to gain further momentum, real estate sector is headed for a well- regulated, transparent and consolidation phase with healthy and sustained growth over medium to long term.
Realty Highlights for 2015
*Record PE investments of Rs.18,300 crore in first three quarters of 2015.
* RBI liberalise FDI and ECB norms
*Rise of property portals with emerging trend of online home sales
*Entry of institutional investors in retail real estate
* Corporate land deals pick up in sluggish real estate market
* Shift from investments in physical to financial assets.
* Crucial reform bills like Land Acquistion Bill, Real Estate Regulation Bill, GST Bill, Arbitration Bills stuck in parliament.
* REITs fail to take off due to unfavourable realty tax regime.
* Not a single IPO launched
*Slump in new project launches
* High demand for ready-to-move homes while under-construction homes take a beating due to high delivery defaults
* Real Estate Sentiment Index dips