Infosys Q3 profit up 6.6%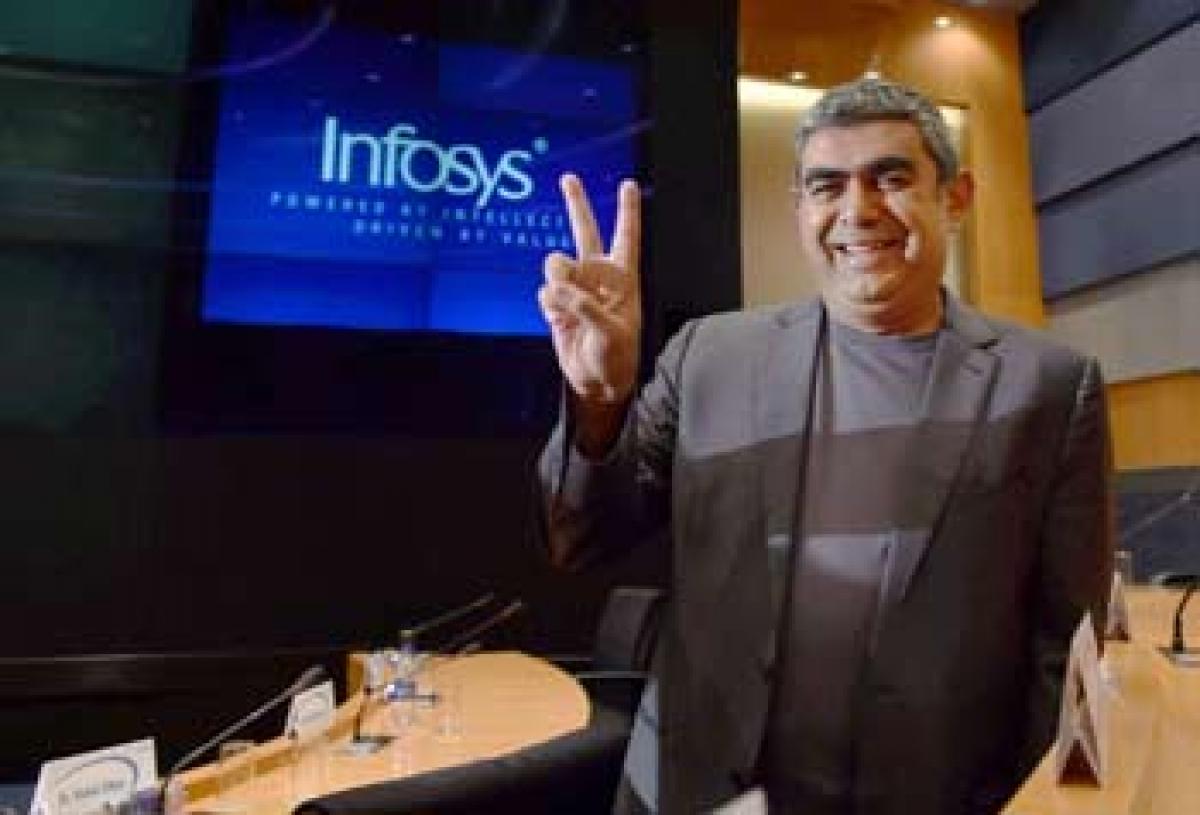 Highlights
Lauding the buzzing Indian start-up ecosystem, Infosys chief Vishal Sikka said these are healthy signs for the economy but \"wished\" that \"bigger startups\" have more respect for profit margins.
The firm raises annual revenue guidance Wish bigger startups respect profit
Bengaluru : Lauding the buzzing Indian start-up ecosystem, Infosys chief Vishal Sikka said these are healthy signs for the economy but "wished" that "bigger startups" have more respect for profit margins. "I think it is a good thing, although frankly I wish that the bigger start-ups have more respect for profit margins, that would be a good thing," he said.
Sikka, however, did not specify any names. Over the past two years, investors have pumped in billions of dollars into hundreds of startups, many of which have grown into thriving businesses. However, many analysts believe that growth for some of them, especially in the eCommerce segment, has come at the cost of investor money that has been burnt to acquire customers through deep discounts.
"The start-up movement in India is absolutely a very healthy sign. It is a very positive sign of a growing economy, of innovation, of an innovative youth culture and that's a very good thing," he said. He added that more can be done to encourage this, both at the government and corporate level.
Infosys Ltd has reported a better-than-expected 6.6 per cent rise in its third quarter net profit and raised its annual revenue growth forecast. Consolidated net profit rose to Rs 3,465 crore, or Rs 15.16 per share, in October-December as compared to Rs 3,250 crore, or Rs 14.22 a share, in the same period a year ago, Infosys said in a statement. India's second-largest software service exporter also raised its annual revenue growth forecast on stronger demand for high-margin automation and other services.
Sales in dollar terms are set to grow between 8.9 per cent and 9.3 per cent in the year ending March 31 as compared with an earlier guidance of 6.4 per cent to 8.4 per cent. Infosys forecast is in contrast with its bigger rival Tata Consultancy which on Tuesday posted a 0.3 per cent decline in third quarter dollar revenue on seasonal holidays, furloughs in the US and floods in Chennai, and may struggle to end this fiscal year with even an 8 per cent growth.
Infosys Chief Executive Vishal Sikka, who was brought in about one-and-a-half years ago to chart a new strategy, said the strong performance was aided by the firm's innovative solutions and the new technologies it has adopted. "This combination helped us deliver encouraging results despite the traditional seasonality of the quarter and the additional headwinds, and will strengthen the execution of our strategy towards consistent profitable growth," he said.
Consolidated revenues in October-December rose 15.2 per cent to Rs 15,902 crore from Rs 13,796 crore in the year-ago period. The October-December period is generally the weakest quarter for Indian IT players due to furloughs at client sites and a prolonged holiday season. In dollar terms, Infosys posted 0.4 per cent jump in net profit to $524 million during the third quarter, while revenue was up 8.5 per cent to $2.4 billion. The company's net profit was higher 2 per cent from Rs 3,398 crore in July-September 2015 quarter, while revenues grew 1.7 per cent from Rs 15,635 crore in the second quarter of FY 2015-16.
"We have been able to navigate the quarter better than our earlier expectations. We will continue to focus on enhancing operational efficiency through multiple levers in the coming quarters," Infosys CFO M D Ranganath said. Infosys, under the leadership of Sikka, is targeting an aspirational goal of $20 billion in top-line by 2020.
During the quarter, Infosys added 75 (gross) clients taking the number of active clients to 1,045. On the hiring front, the software giant added 5,407 people in the October-December 2015 quarter to take the total headcount to 1,93,383. It has been able to bring down attrition rates (annualised consolidated) from 21.3 per cent in December 2014 and 19.9 per cent in September 2015 to 18.1 per cent for the quarter under review.