Some measures are delayed, but none hit a complete road block: Jaitley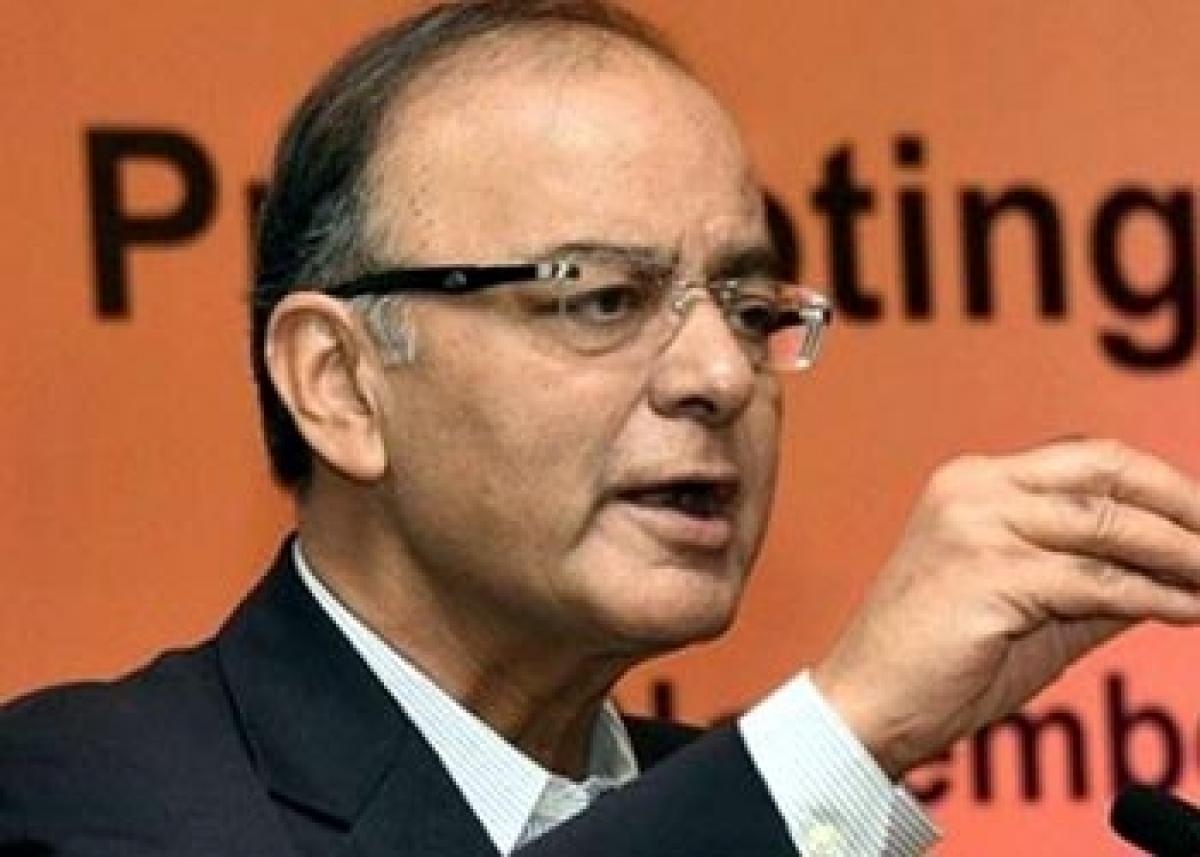 Highlights
Confident of utilising the headroom available to the Indian economy, Finance Minister Arun Jaitley on January 21, said it needs some additional growth engines and the focus now is on reviving private investments.
Davos: Confident of utilising the headroom available to the Indian economy, Finance Minister Arun Jaitley on January 21, said it needs some additional growth engines and the focus now is on reviving private investments. Inviting foreign players to invest in the infrastructure space, he exuded confidence that the stuck reform measures like GST would go through as the numbers in the Upper House will change favourably soon. No reform proposal has actually got stuck for long so far despite India being a 'noisy democracy', he said.
Jaitley was speaking at a breakfast session on 'India -- The next growth engine of the world', organised by industry body CII and consultancy BCG here on the sidelines of the WEF Annual Meeting. "We have a very noisy democracy... But I am finding that there are more people who want to support the growth and the others are very minuscule minority... Any economy needs multiple engines of growth," he said.
"In the past we had fewer such engines and we need a few more. Public investment is one that we are doing. We are concentrating on infrastructure and for the first time in history we have been able to rationalise the subsidies," the Finance Minister added.
According to him, people are eventually going to pay for the goods and services they want to buy and for the weaker sections technology would be used to ensure that the benefits reach the right target group. Noting that a series of reform measures are pending, Jaitley said some of these become symbol of whether India would be able to cross this obstacle or not.
"India is a noisy democracy but I am sure that we would be able to get all of them through. Some measures have got delayed but none of them have actually hit a complete road block," he added.
In days to come India will have to focus on reviving private investments, Jaitley said, adding, "we are asking people from all over the world to become partners in India's infrastructure growth story".
"I have always said the current rate of 7-7.5 per cent is not our real potential and we have potential to add 1-1.5 per cent. There is still head space that we have and I am sure we would be able to reach that," he said.
On GST, Jaitley said the good news is that all states are on board and all political parties, except one, are also on board.
"The paradox is that the party which drafted GST is not on board. But then the numbers in Rajya Sabha are going to favourably change soon and I am hopeful that the GST would be through," he added.
Emphasising that the reform process has a key role for states, the Finance Minister said:
"We used to talk about cooperative federalism but I am happy to see now that states are competing with each other to attract investments. "Most of the states that grow will actually add to the country's growth rate." He added.
"We, of course, have our own challenges. There are 55 per cent people in agriculture and that sector has not enough for these many people. The sector itself needs to be strengthened and then we had two bad monsoons. "We were expecting to grow over 8 per cent, but inadequate monsoons not only led to agriculture production falling but the consumption power of rural economy also got hit."
Stressing that opening up the economy completely is another area of focus, Jaitley said, Railways was one of the touch-me-not sectors, operated entirely by the government.
"In railway infrastructure, we have allowed private sector participation and the next they are going to raise funds through bonds etc. Next, we are going to modernise the train stations and these are the causes that have been welcomed by the country."
On Defence, he said it was "completely closed although most of the purchases were from outside the country. We have opened up that sector and a lot of activities are happening there". Further, Jaitley said.
"We are conscious of the fact that the government alone cannot do everything. We are bringing weaker sections to the formal banking sector to help them become entrepreneur."
Another area was image of India on tax issues and the things have changed on that front and nobody now talks about that, he noted. According to Jaitley, India is developing an entire ecosystem to ensure that Indian companies start innovating and those innovative platforms are also used by foreign entities.
"I was thinking whether there should be a question mark or a full stop for the topic. Once BBC's Mark Tully said there is no full stops for India. That was probably a wishful thinking at that time, but not anymore," Jaitley said. He noted that there are broadly two areas "which I can still see are work in progress but I can't see a reason that they can't be concluded". Elaborating, he said: "First is ease of doing business.
The time taken for setting up the business has been considerably reduced. A number of steps that we have taken will take us significantly up on the rankings of the World Bank and the WEF for ease of doing business.
"The clearance processes have been fast tracked in a big way, including for FDI proposals. Another bottleneck was years and years (taken) for environmental clearances and that has been taken care of."
To a question on problems in the banking sector, Jaitley said, "The public sector banks' issue has been piling up for years and the situation has now become that they have NPAs at a level that is a matter of serious concern".
"We have started working on that. The government is committed to recapitalise the banks. I had earlier committed and now I am willing to add to the earlier proposal. The government will be bringing down its equity to 52 per cent. The first tranche has been announced and the second would come in a couple of weeks," he said.
Jaitley said the second area is how to address the problems of affected sectors and the government has started work in this regard.
He added: "Two of the sectors, highways and sugar, have already started showing signs of turnaround. There are three other sectors where there are problems. One critical sector is steel but the problems are mostly due to external factors.
"The second sector that caused stress to banks is the power sector. It was mostly due to states-related issues and therefore we have come out with a new programme for that. Then RBI has done well in pushing banks to start making the recoveries and the last couple of weeks have seen a flurry of activities on banks."
On strengths of India, he said that more important than the large population that the world cannot ignore, what is working in favour of India is a large middle class, new skilled manpower coming up and the emergence of a new aspirational class. At the session, CII Director General Chandrajeet Banerjee said India is indeed the bright spot in the world economy and it can very much become the next engine for the global growth. General Electric Vice Chairman John Rice, who was also on the panel, said his group has a huge presence in India and for it, the country has been strategically important for a long time.
"The time is now for India with the (Narendra) Modi government in place. There are certainly a lot of things that you would not like to have in a perfect world but the Indian story is going great. A lot of people are waiting to invest in India and this is the time to do it," he said. Rice also talked about a major project of GE that has finally come through after a wait of 20 years. Referring to his comments, Jaitley said, "GE's locomotive plant is a matter of great significance. It was a decision which was in waiting for a long time. They had proposed to build plants in most backward of the states...".
According to Rice, the pace of decision-making has improved in India. "What is important is moving the things continuously and opportunities are huge... When government talks about 'Make in India', from our perspective it is becoming very real.
"Five years ago, it was all about BRICS and now it is about one country of this block. When we talk about going faster, decision making processes, our experience is that the country which puts in place a clear vision is the one which gets the investment. India has got the market, resources and all the ingredients to make it happen," he noted.
Meanwhile, Jaitley said the financial inclusion programme has been a huge success and the response immense. For 'Start Up India' campaign, "we had made preparations for about 2,000 people and we got requests from about 1.5 lakh participants and I was left thinking whether we should have organised the event in a stadium rather than in an auditorium," he said.