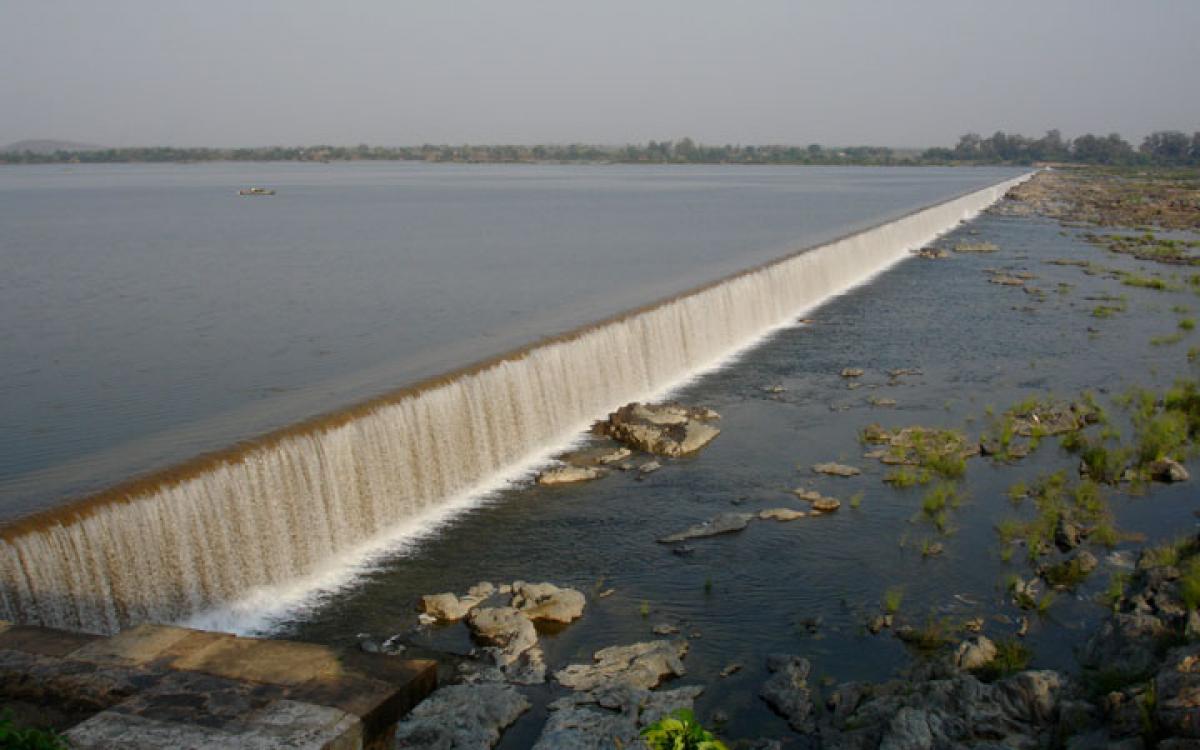 Highlights
In a bid to finance the ambitious irrigation programme estimated to cost over Rs 1 lakh crore, the Telangana government is looking to other financial resources to raise the funds besides the development banks and budget supports. The proposed irrigation projects on various rivers including Krishna  and Godavari are expected to provide water resources to over one crore acres of farm land besides pr
In a bid to finance the ambitious irrigation programme estimated to cost over Rs 1 lakh crore, the Telangana government is looking to other financial resources to raise the funds besides the development banks and budget supports. The proposed irrigation projects on various rivers including Krishna and Godavari are expected to provide water resources to over one crore acres of farm land besides providing drinking water to all the rural and urban households across the state.
This would be the state's massive flagship infrastructure initiative to achieve saturation solution to farmers and drinking water issues in rural and urban regions which is being weaved into a business-cum-welfare model. As the state's Chief Minister K Chandrasekhar Rao points out in one of his Budget review meetings, the state government is spending over Rs 45,000 crore towards welfare activities, which is over 40 per cent of plan outlay. It needs to maintain the development tempo in both, rural and urban economies, only by way of promoting agriculture, services and industrial activity thus creating and distributing the wealth in rural and urban economies. Otherwise, people may have to live on the borrowed wealth i.e., doles from government permanently.
The precise thinking of the government, on one hand is to twine the development-push with the welfare-activity to promote a seamless and equitable distribution of generated wealth and on the other hand to attract global and domestic infrastructure funding institutions, who are always focused on promoting economic activity and create huge assets besides return on investment.
One may call it 'public, private partnership' or 'welfare financing', the investments are being attracted to these projects. For instance, the financial institutions like HUDCO, NABARD and LIC have already endorsed their intention to invest in various State-led water-cum-irrigation missions. "The potential lies on huge asset creation," says a financial expert.
Most of the water projects – minor tank revival, irrigation and drinking water – are successful in rising finances as state and central financial institutions are coming forward to fund these projects. Even in some cases, the commercial banks are also showing interest, say officials.
It is to understand that Allahabad Bank and Bank of India have already approached the government for funding the flagship schemes like providing piped water to homes in the state. However, it is not new for the commercial banks to form consortiums to fund such projects, Andhra Bank had led a consortium in 2004-05, to fund the irrigation agenda in the erstwhile Andhra Pradesh.
Getting investment (or loan) from commercial banks and development banks is tough, as the government needs to satisfy them in term of return on investment. But it would be win-win-situation as the banks need not written-off as non-performing assets, since there is sovereign guarantee to these loans or investments, says a banker.
Innovative funding models
Interestingly, the government has altered the design by enhancing the scope of irrigation and infrastructural development in the Kakatiya Mission, which has attracted the funding institutions. Also in case of Mission Bhagiratha, the government plans to throw open for banking finance.
As these projects are being developed as long lasting assets and seen from the perspective of financial viability and low risk, may even fit in contours of the RBI. More so, the concept of infrastructural financing is fast catching up, the bankers may feel financing of irrigation projects well be rewarding proposal.
"As core sector funding is showing more risky these days with raising NPAs, funding irrigation and drinking water projects with government backing, is seen as a safe and low risk area for which we may need to get RBI endorsement," say local bankers. The Reserve Bank may even advise the Central government to hold back grants, in case the States fail to repay the loan. In addition to local resources the Telangana government is considering rising finances from World Bank besides other international development banks like ADB, BRICS Bank etc, which offer low interest funds.
In fact, Telangana's drinking water projects received kudos from Hudco for its contribution in the infrastructure development and even suggested to other states to emulate similar model to ensure healthy and safe drinking water to their villages and towns.
Irrigation infrastructure
The Telangana government found huge potential in water infrastructure development and plans to exploit its share of waters in rivers Godavari and Krishna, which is in the order of 954 TMC and 754 TMC (including surplus waters), respectively.
Now, the government is focused to get financial support for completing all projects on Krishna and Godavari. Its projections have found acceptance in global financial quarters looking at an opportunity in BOT deals in the irrigation sector.
In the stride to promote water projects on Krishna and Godavari, the government has taken up 34 major and medium irrigation projects at an estimated cost of Rs 1.30 lakh crore and is keen to complete all of them in the next three to four years.
With that agenda the governments thrust to sourcing finance from all quarters including banks, domestic and global financial institutions may reflect in the Budget document to be presented soon. Coupled with other financial avenues the State government is also focusing on to the central sponsored funding schemes like Pradhan Mantri Krishi Sinchayee Yojana (PMKSY) which covers agriculture and irrigation sector for delivering optimum development in all the districts.