NETGEAR Bestowed with Four Innovation Awards at Consumer Electronics Show 2016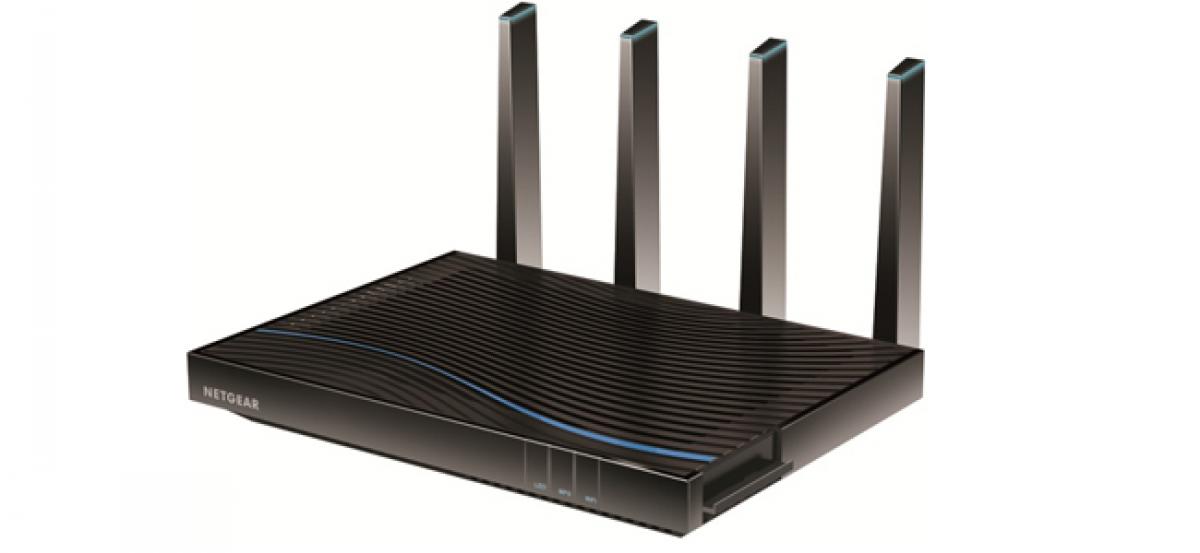 Highlights
At the 2016 International Consumer Electronics Show, NETGEAR®, Inc.(NASDAQ:NTGR) (www.netgear.com), a global networking company that delivers innovative products to consumers, businesses and service providers,
~ Wins accolades for products that power your lifestyle by making it easier for mobile and smart home devices to connect anywhere in your home at the fastest AC WFi speeds~
New Delhi : At the 2016 International Consumer Electronics Show, NETGEAR®, Inc.(NASDAQ:NTGR) (www.netgear.com), a global networking company that delivers innovative products to consumers, businesses and service providers, unveiled new additions to its award-winning product lines that power high-performance connectivity for all your devices throughout your smart home. At Marriott Las Vegas, NETGEAR had highlighted new Nighthawk® WiFi routers and extenders, Arlo™ Smart Home security products, new powerline and PowerLINEWiFi adapters, fast cable modem products, and ReadyNAS® storage.
Four NETGEAR products were on display in the CES® 2016 Innovation Awards Showcased at the Sands Expo centre. These honorees had been evaluated by the Consumer Electronics Association (CEA®) for their exceptional engineering, aesthetic design, and innovative qualities. The NETGEAR winners include:
1. Nighthawk X8 AC5300 Smart WiFi Router (R8500)
2. Nighthawk X4S AC2600 Smart WiFi Router (R7800)
3. Nighthawk AC1900 WiFi Cable Modem Router (C7000)
4. CM600 High Speed Cable Modem
"As we prepare to celebrate our 20th anniversary in 2016, our commitment to being the first to bring you the best in whole-home connectivity solutions continues," said Patrick Lo, founder and CEO of NETGEAR. "Whether it is Wi-Fi, Powerline, Ethernet, Cable DSL or LTE, we combine the most powerful and cutting-edge networking technologies into the most innovative product designs to suit your needs."
On this occasion Subhodeep Bhattacharya, Regional Director, India & SAARC, NETGEAR said,"In today's mobile age, high-performance WiFi is something that you cannot do without."
"The foundation of the Smart Home is the underlying high-performance network that boosts it. So, if you want to access HD Internet content at-the-moment, you need WiFi that reaches everywhere you are, at the speed and signal strength you need for streaming, gaming, home security, and working remotely," he added.
Here are some highlights of CES-related product announcements from NETGEAR www.netgear.com/ces:
Pushing WiFi Performance for Improved Mobile Experiences
Launched at CES,Nighthawk X8 AC5300 Smart Wi-Fi Router (R8500) (www.netgear.com/R8500), delivers astonishing Internet performance with combined Wi-Fi speeds up to a blistering 5.3Gbps* (1000Mbps + 2166Mbps + 2166Mbps), a new record for a home router.
The Nighthawk X4S AC2600 Smart WiFi Router (R7800) (www.netgear.com/R7800) is another 2016 CES Innovation Award winner. With dual-band WiFi and supporting Wave 2 WiFi features including quad-stream, MU-MIMO, and 160MHz bandwidth, Nighthawk X4S is an ideal router for 4K HD streaming and gaming.Its powerful dual-core 1.7GHz processor provides extreme 802.11ac WiFi speeds up to 2.53Gbps* (800Mbps + 1733Mbps). It maximizes connection speeds for sending data to multiple mobile devices simultaneously, with 160MHz-capable mobile devices able to enjoy up to twice the throughput provided by other routers.
NETGEAR has continued to enhance the feature set of the 2014 CES Innovation Award-winning Nighthawk AC1900 Smart WiFi Router (R7000) (www.netgear.com/R7000).A new firmware release is planned soon that will directly support NETGEAR Arlo™ security cameras without requiring a base station. This makes it much easier for current and new NETGEAR Nighthawk customers to add the award-winning Arlo cameras to your home network.
Eliminating Internet Dead Zones in Your Home
The new NETGEAR Nighthawk X4 AC2200 WiFi Range Extender (EX7300) (www.netgear.com/EX7300) is the industry's first AC2200 wall-plug range extender with MU-MIMO technology which maximizes the range of your existing WiFi router up to 10,000 square feet so you can enjoy streaming and gaming throughout your home. It's launching withthe NETGEAR AC1900 WiFi Range Extender(EX6400) (www.netgear.com/EX6400), which offers asimilar feature set to enhance range and performance for your mobile connected devices, but at a different speed and price.
At twice the speed of previous 500Mbps powerline products, the industry-first NETGEARPowerLINEWiFi™ 1000Adapter Kit (PLW1000) (www.netgear.com/PLW1000) uses blazing-fast Gigabit powerline technology compliant with the HomePlug® AV2 standard to send data through your home's electrical outlets for plug-and-play Internet connectivity even in the hardest-to-reach areas of your home.
The new PowerLINE 1000 Adapter Kit (PL1000) (www.netgear.com/PL1000) enables you to use existing electrical wiring in your home to broaden the reach of your wired Internet connection to support home theatre, game consoles, PCs, or home security devices in any room, at Gigabit Ethernet speeds.
Protecting Your Home and Your Content
NETGEAR had demonstrated its newly-available Arlo™ Q 1080p HD Security Camera with Audio(VMC3040) (www.Arlo.com) as well as the 2015 CES Innovation Award-winning Arlo Wire-Free Security System with HD Cameras. Easily connecting directly to your existing WiFi network, Arlo Q gives smart home security its biggest IQ boost yet with brilliantly detailed 1080p high-definition video, two-way audio communication, customizable sound or motion alerts, built-in night vision capabilities, and an industry-leading 7 days of free cloud storage for videos to make sure your most important motion-triggered recordings are automatically saved for later viewing.
Upgrading Your Cable and DSL Network Performance
The new AC1600 WiFi Cable Modem Router (C6250-100NAS) (www.netgear.com/C6250) integrates a high performance WiFi router with a built-in CableLabs®-certified DOCSIS® 3.0 cable modem that supports the highest data tier plans offered by major U.S. cable Internet providers like Comcast XFINITY® and more. With 16x4 channel bonding for ultra-fast Internet cable download speeds up to 640Mbps** along with best-in-class, simultaneous dual-band 802.11ac WiFi speeds up to 1.6Gbps* (300Mbps + 1300Mbps), you can experience smoother streaming of HD videos, movies and music, more responsive online gaming, and faster file downloads even during peak usage hours.
At CES, NETGEAR also showcased two 2016 CES Innovation Award honourees from its Cable Family. The CM600 High Speed Cable Modem with 24x8 channel bonding supports the industry's fastest cable Internet download speeds up to an incredible 960Mbps.** The Nighthawk AC1900 WiFi Cable Modem Router (C7000) combines 24x8 channel bonding with incredibly fast WiFi speeds up to 1.9Gbps* (600Mbps + 1300Mbps).
NETGEAR has also announced its new V7610 VDSL Wave 2 WiFi Gateway for service providers that deliver more effective access bandwidth to small business locations, enabling HD IPTV, IP voice, and high-availability Internet. It is the world's first 4x4 802.11ac VDSL Gateway using Broadcom®'s 4366 chipset. It combines a built-in fast VDSL modem with next-generation Wave 2 WiFi technology and MU-MIMO capability to improve streaming to multiple, simultaneous mobile device connections.