New Rolls-Royce Phantom debuts in South India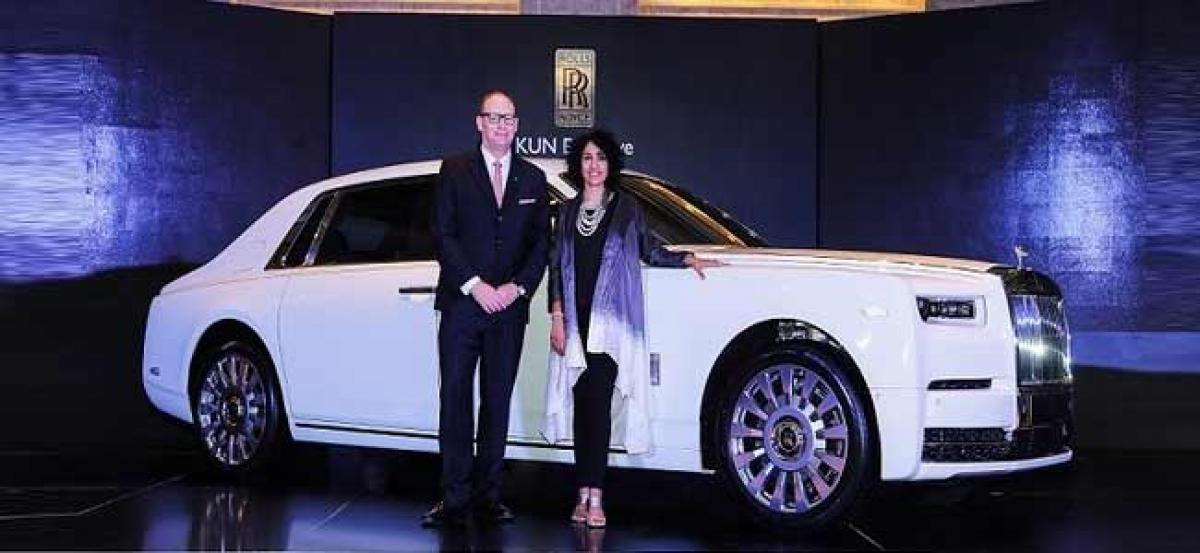 Highlights
The eagerly-anticipated New Phantom from Rolls-Royce Motor Cars made its debut today in South India, at an event held in Chennai with the sole authorised Rolls-Royce Motor Cars dealer for Chennai and Hyderabad, KUN Exclusive.
Chennai (Tamil Nadu) : The eagerly-anticipated New Phantom from Rolls-Royce Motor Cars made its debut today in South India, at an event held in Chennai with the sole authorised Rolls-Royce Motor Cars dealer for Chennai and Hyderabad, KUN Exclusive.
Since 1925, Phantom has been the ultimate ceremonial chariot, conveying some of the world's most influential men and women to defining moments in history. Rolls-Royce cars were the preserve of Maharajas in India. Legend has it that the Maharaja of Mysore ordered seven cars at a time, while The Last Nizam of Hyderabad, Sir Mir Osman Khan Siddiqi Asaf Jah VII, purchased over 50 Rolls-Royce motor cars over his lifetime.
Rolls-Royce's tireless 'strive for perfection' has resulted in the constant refinement of this pinnacle luxury item - with New Phantom now taking the centre stage of India's super-luxury arena.
"Phantom has always been a sign of success and a symbol of authority in India. New Phantom is the latest iteration of the revered flagship of the Rolls-Royce brand, with a bold yet elegant design underpinned by engineering attention to detail. It is a moving showcase of luxury, world-class technology and handcrafted quality," said Vasanthi Bhupati, Managing Director for Rolls-Royce Motor Cars Chennai and KUN Exclusive.
"For well over a century, Rolls-Royce has been a global icon for luxury manufacturing excellence, with India an important part of the brand's history. New Phantom has again been reinstated as 'The Best Car in the World,' setting the new benchmark in India for authentic, bespoke luxury. It is yet another original masterpiece discerning Indians have come to admire," said Paul Harris, Asia Pacific Regional Director, Rolls Royce Motor Cars.
Cutting-edge innovations include a new exclusive 'Architecture of Luxury', an all-aluminium spaceframe designed to underpin every future Rolls-Royce; great enhancements in technology, drive train, suspension and driver assistance systems to produce a peerless 'magic carpet ride'; and a new, world-first 'Gallery' that allows owners to personalise a moving art piece.
New Phantom offers a thoroughly contemporary design interpretation of Rolls-Royce DNA - one that symbolizes the sheer power of presence. The new space frame, exclusive to Rolls-Royce and which will underpin all future Rolls-Royce models, is lighter, yet 30 percentage more rigid than its predecessors.
A next-generation four-corner air suspension system, state-of-the-art chassis control systems, 130kg of sound insulation, double-laminated glass and dual-skin alloys across the bulkhead ensure New Phantom is the pinnacle of comfort and quietness. When Rolls-Royce's acoustic test engineers reviewed the results of road and vibration tests, the sound levels were so low; they had to check if their instruments were calibrated correctly.
An all-new, 6.75 litre twin-turbocharged V12 engine delivers an effortless 563hp and 900Nm of torque from just 1,700rpm, spiriting New Phantom from 0-100km/h in a mere 5.4 seconds with the help of its seamless 8 speed, Satellite-Aided transmission.
In addition, New Phantom is equipped with the 'Flagbearer' - a stereo camera system integrated into the windscreen that sees the road ahead and adjusts the suspension proactively. Its headlights are equipped with the latest laser light technology, providing a 600-metre range of light at night to ensure safe travel.
A divine selection of materials has been placed thoughtfully throughout the interior of New Phantom. As a result, being inside New Phantom is akin to entering a luxury hotel 'suite' with passengers being cocooned in the finest leathers and veneers. All four doors can now also be electrically closed from the exterior via touch sensitive door handles.
A curated selection of rear seating options is available on New Phantom, from the lounge to individual formats. Technology is discreetly hidden throughout the car until required, leaving only the visual majesty of wood, leather and billeted metal for all to admire.
The centre piece of New Phantom is 'The Gallery' - a wholly contemporary and luxury reinterpretation of a motor car's dashboard and instrument panel area.
An application of glass runs uninterrupted across the fascia of the New Rolls-Royce Phantom, providing an unprecedented opportunity to present commissioned artwork. The initiative has come from an understanding that the marque's patrons are increasingly collectors of fine and contemporary art.
The Architecture of Luxury, The Gallery, The Magic Carpet Ride, the best possible materials in the world and peerless Rolls-Royce design and engineering combine to create the New Rolls-Royce Phantom, resetting the benchmark not only in the automotive arena but as the world's leading luxury item. As the next chapter in Rolls-Royce's story begins, the New Rolls-Royce Phantom points the way forward for the global luxury industry.
Each New Phantom is expected to be bespoke, with customers tailoring their specifications. A Rolls-Royce customer can choose from 44,000 exterior colours and request personalised designs from the company's team of bespoke designers.
Pricing in India for Phantom (Standard Wheelbase) has been officially announced from Rs 9.5 crores, with Phantom Extended Wheelbase from Rs 11.35 crores, inclusive of a four-year service package and regional warranty, 24-hour roadside support. Pricing depends on customer specification, with all Phantoms built bespoke.
Interested in blogging for thehansindia.com? We will be happy to have you on board as a blogger.