MSME lending will intensify in future: Dena Bank chief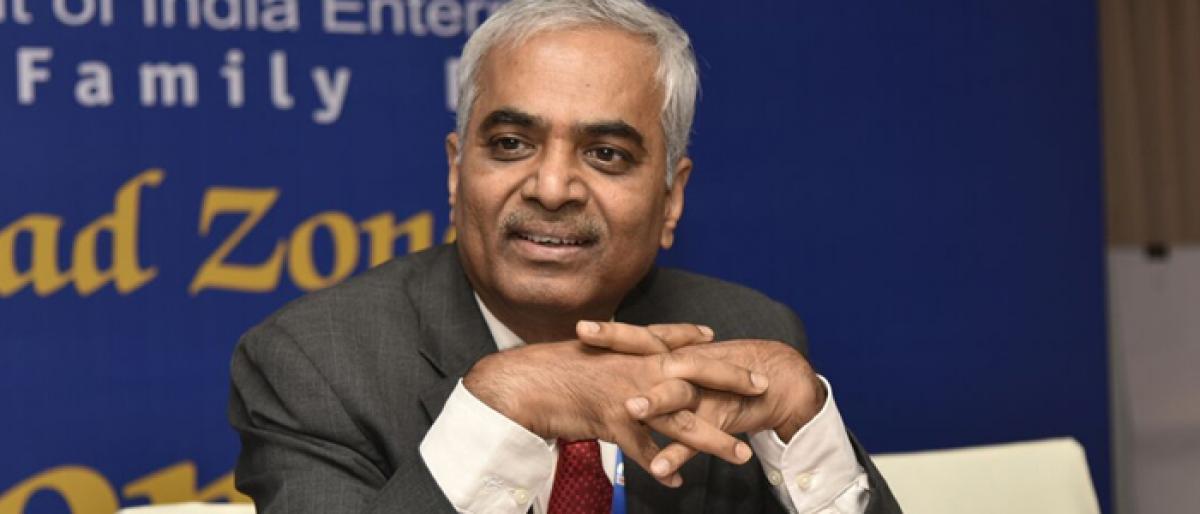 Highlights
Ahead of the Reserve Banks board meeting on November 19 that might figure discussions on easing liquidity measures for MSMEs in addition to other issues, MSME lending by banks will intensify in the future, said K Sekar, CEO MD, Dena Bank
​Hyderabad: Ahead of the Reserve Bank's board meeting on November 19 that might figure discussions on easing liquidity measures for MSMEs in addition to other issues, "MSME lending by banks will intensify in the future", said K Sekar, CEO & MD, Dena Bank.
Speaking to The Hans India on Monday, Sekar, who was in the city for a zonal meeting of the bank, said: "A majority of the public sector banks have specialized in MSME lending historically including Dena Bank, Vijaya Bank and Bank of Baroda."
"When these three banks are amalgamated into one single entity which will be the second biggest lending Bank in India, the MSME sector which is relatively risk free when compared to the corporate sector has huge business potential," he added.
Sekar said that the bank expects to bring down gross non-performing assets (NPAs) to 15 per cent by March 2019, from existing 22-23 per cent, which will help it reduce losses and added, the resolution of NPAs of several corporate customers are in advanced stages at the National Company Law Tribunal (NCLT), or towards asset restructuring and one-time settlement.
"We hope that we will settle most of the cases by March 2019. Huge accounts are in advanced stages of resolution. By March 2019, our gross NPAs will come down to 15 per cent (from Rs 16,000 crore to Rs 10,000 crore)," said Sekar, who joined the bank in September as its MD and CEO.
He said that the bank has not added any NPAs in the last two quarters, and in September quarter, it reduced slightly. "We have been loss making in the last three years, and we need to come out of that. Huge NPAs are reasons for the loss. Fortunately, most corporate customer cases are either in the advanced stages in NCLT, ARC, or bilateral OTS," Sekar said and added, Dena Bank is working to improve its CASA (current accounts and savings accounts) ratio, which will positively affect its profitability.
"We have 40-41 per cent CASA ratio. With more focus, we are trying to take it to at least 44-45 per cent. So, both NPA reduction and CASA improvement will improve the profitability of the bank," he said, while hoping to "turn the corner" by 2019-20. In September 2018, the government had announced the merger of state-owned Bank of Baroda (BoB), Vijaya Bank and Dena Bank, to create the country's second largest lender, after the State Bank of India.
Sekar said Dena Bank is also working towards amalgamation with BoB and Vijaya Bank, for which a steering committee of the three entities is holding meetings every week. "We have formed a steering committee which is meeting every week to decide on which areas to concentrate, which to harmonise, and timelines for various steps," he said. Sekar further said that timelines for merger will be decided in the next two-three meetings.
The bank has 26 branches in Telangana and 28 in Andhra Pradesh as on date.