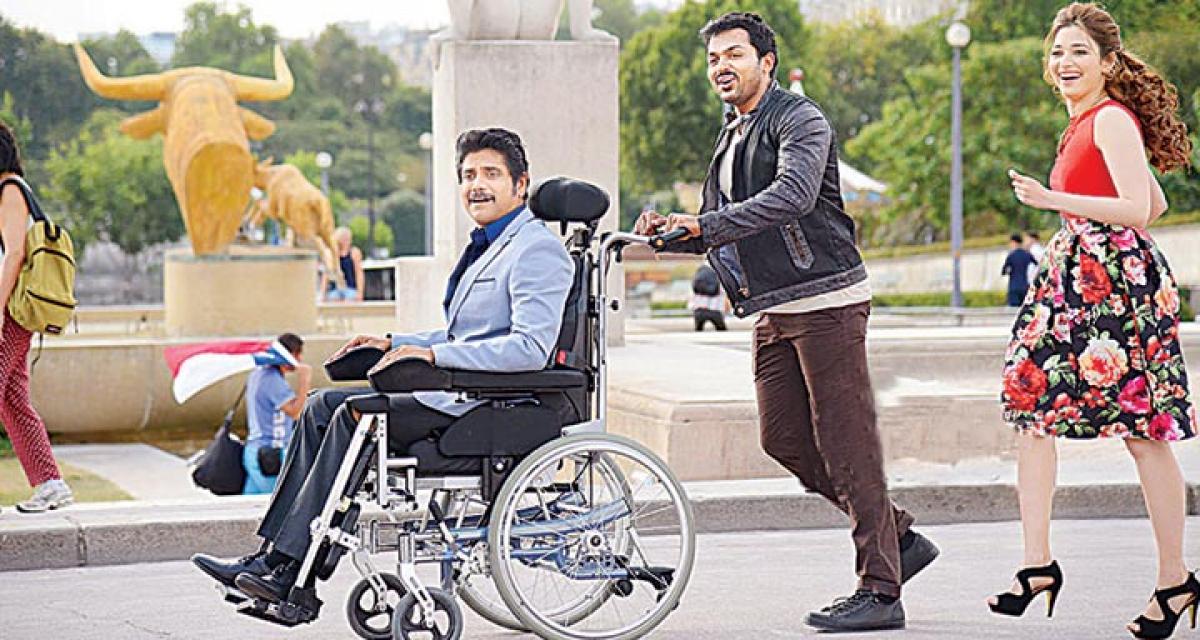 Highlights
From a remake point of view, the choice of a French original 'The Intouchables'is indeed an interesting twist. Of course, questions would arise about...
From a remake point of view, the choice of a French original 'The Intouchables'is indeed an interesting twist. Of course, questions would arise about its suitability to the masala Telugu movie milieu. The 2011 release, which was the second-highest box-office hit in France, revolved on just two male characters a paraplegic businessman and a convict out from jail and the warm vibes they share.
This curiosity factor, the pre-release USP for the film, is primarily what the 158-minute film seeks to fulfil. Director Vamshi Paidipally, operating under a framework which needs to be elastic and consensual at once to cater to film audiences in two languages of neighbouring states, however, sticks to the original theme.
He interpolates it with the necessary addition of characters to pad up the melodrama and emotional portions. Kudos to him, for sticking to the original film as he shows the developing bond between the hugely affluent, paraplegic tycoon (Nagarjuna) and a slum-dweller jail returnee (Karthi) who is appointed as his caretaker, a personal choice of the former.
Such a rich, genteel environment obviously would not work for the paisa vasool fans and hence come in the standard fixtures–the heroine (Tamannaah), secretary to the rich businessman with tight-fitting western costumes, the friendly legal brain (Prakash Raj) and Karthi's family, with a hard-working, emotionally high strung mother (Jayasudha)–to keep the charmer grounded in domestic troubles, which he sorts out.
Obviously, this adds up to a good 45 minutes to the original film's length, affording opportunities for the director to balance and counterbalance his top two male characters, before and after the interval. Here is where one sees that Nagarjuna generously concedes space and screen time to Karthi, a popular name in both Tamil and Telugu film industries.
The latter effortlessly performs his character, one which reluctantly accepts doing menial tasks and unconsciously impacting his crippled master with a different, devil-may-care approach to living life. As long as their interactions are shown, the film has a lovely zing to it. After the intermission break, an acid test for many such films, this flick too takes time to warm up as the director indulges the senior hero to allow him his flashbacks to show the kind of a dynamic guy he actually was before fate cruelly felled him.
If this is how the director wanted to satisfy fans of Nagarjuna, he may not have done it that well, as it looks sort of forced and superimposed on the narrative. Pandering to his lady-killer image, by bringing in two young things Anushka and Shriya, the director massages egos and nothing else.
All the same, the consistent appeal of Karthi, who wins over his boss's strict secretary and gets accepted in his household as a son who can deliver, gives him the edge in the performance battle. If the film manages to strike a chord among Telugu film patrons, it could be more for this Tamil star who speaks Telugu with a Dravidian twang.
Film Name : Oopiri
Cast : Nagarjuna, Karthi and Tamannaah
Direction : Vamshi Paidipally
Genre : Drama
Likes : Karthi with his cool dude performance, Nagarjuna who lends a quiet dignity to his role
Dislikes : Sluggish second half
Subscribed Failed...
Subscribed Successfully...