Behind the scenes: Pawan's Sardaar Gabbar Singh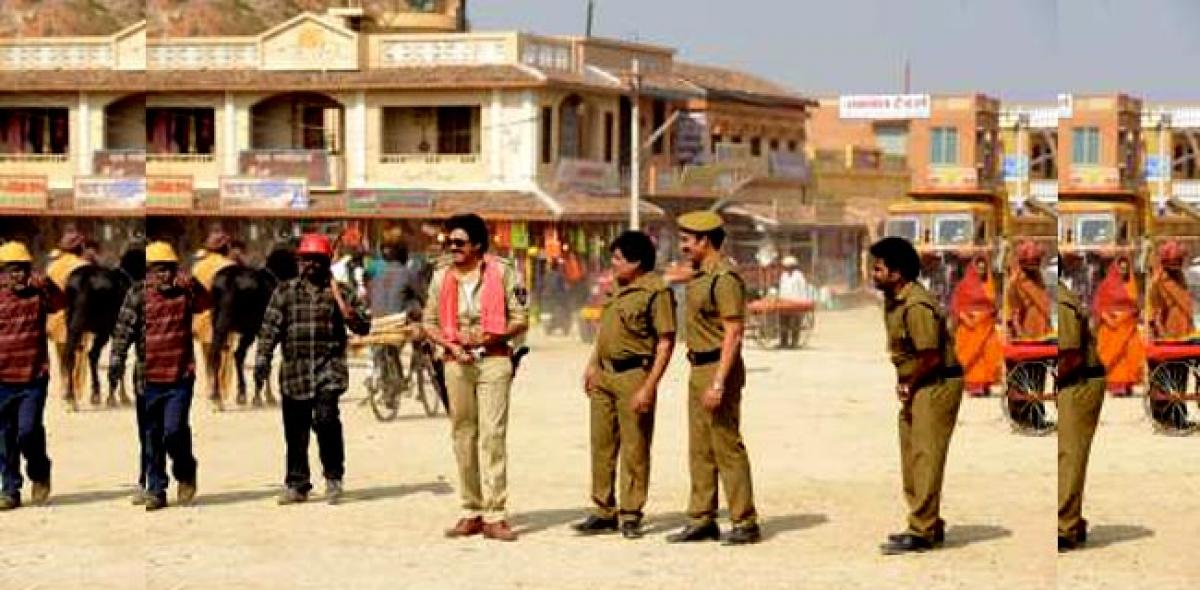 Highlights
After a series of turns in the muddled lanes of Jubilee Hills, there is a dead-ended, muddied road which lead you to old, deserted \'Bhoot Bungalow\' with barren land where Pawan Kalyan\'s Sardaar Gabbar Singh is predominantly shot in a specially erected set - Rattanpur town.
Brahma, The Creator of Rattanpur
After a series of turns in the muddled lanes of Jubilee Hills, there is a dead-ended, muddied road which lead you to old, deserted 'Bhoot Bungalow' with barren land where Pawan Kalyan's Sardaar Gabbar Singh is predominantly shot in a specially erected set - Rattanpur town. The set features an elaborate railway track, an overhead water tank, market including Govindram hair saloon, Dhaba, Kirana shop, Scrap shop, Post office, Library, a group of houses and what not!? Art director Brahma Kadali is the creator of this Rattanpur set.
Ever wondered what kinda toil that gets in building huge set like Rattanpur in star-studded film like Sardaar?
After much deliberation and considering several aspects like how many scenes would be shot, where the scenes begin and from which way characters enter, a miniature of Rattanpur set was made by Brahma Kadali taking inputs from Pawan Kalyan who provided story, screenplay for Sardaar. After making few corrections, the final miniature was made. Once the miniature was ready, the creative team went onto hunt for an ideal location with less greenery so that sky is clearly visible. That's how they finally zeroed in on the land besides Bhoot Bungalow. Once the place is finalized, the miniature is brought to the location and discussed again on how the set looks like.
Nearly 350 truckloads of soil was dumped on to the site initially to level the ground. At least 300 to 500 people worked day and night for 45 days to erect the set of Rattanpur which is considered as one of the fastest built sets. Though the art direction team was given a time of 70 days, the team managed to make it in just 45 days. One of the biggest challenges for the art director is to bring total fresh look to the location given that Gabbar Singh was shot earlier in the same location.
RATTANPUR : Absolutely Authentic
The total set is built such that Govindram Saloon and Police Station as its centerpiece. From the signal lights to the railway gate to the railway track and goods bogey with supporting platform, each and everything on the set looks absolutely authentic. The platform is built properly to position the goods bogey. With slightly western touch, the set is built keeping the Indian nativity intact.
The Rattanpur set costed approximately Rs 5 Crore.
SGS is shot in Rattanpur set in around 40 working days. Major portions, including climax and Kalyan's introduction song in the film, are shot in the set.
Eco-friendly Set for Sardaar Gabbar Singh!
Empathizing with the ecologists, the makers of Pawan Kalyan's Sardaar Gabbar Singh have come up with an environment-friendly set for the film. The village set of Rattanpur, which plays a pivotal role in the film, is built without causing any damage to natural resources in the locality.
Writer-actor Pawan Kalyan who himself is a great tree lover and environmentalist, insisted not to cut any tree, plant or even a branch. This indeed was a big challenge for art director Brahma Kadali. "Not a single tree or a branch is cut to erect the massive set of Rattanpur. The existing trees and plants have been retained without causing any damage and these trees have become part of Rattanpur's landscape," shares art director Brahma Kadali who earlier worked for Gabbar Singh as well. Around 350-odd trucks of soil is dumped into the land to level the surface. Despite this, the makers of SGS ensured trees are unaffected.
Pawan Kalyan, shares a special bonding with Rattanpur set. Even after the shoot is completed for the day, Pawan likes to spend within the set for at least two hours. That's the kinda bond he share with the Rattanpur set. And so producer Sharrath Marar and the whole cast, crew who love to pass the time on the set after the shoot. This is not all.
Mega Star Chiranjeevi, Director Trivikram Srinivas, Art Director Thota Tharani are few of the luminaries who visited the sets of Rattanpur. "Usually, it's hard-to-please Thota Tharani garu. Unless it's something special, it doesn't impress him. As soon as he walked into Rattanpur set, he liked it. After through examination, he appreciated me. This compliment I'd cherish for the rest of my life," says delighted Brahma Kadali. He adds that Mega Star Chiranjeevi, Director Trivikram too fell in love with the set of Rattanpur.
Billed to be an out and out entertainer laced with right doses of action and romance, the principal shooting of Sardaar GabbarSingh is predominantly shot in Rattanpur set.