Shahrukh khan in Aap ki Adalat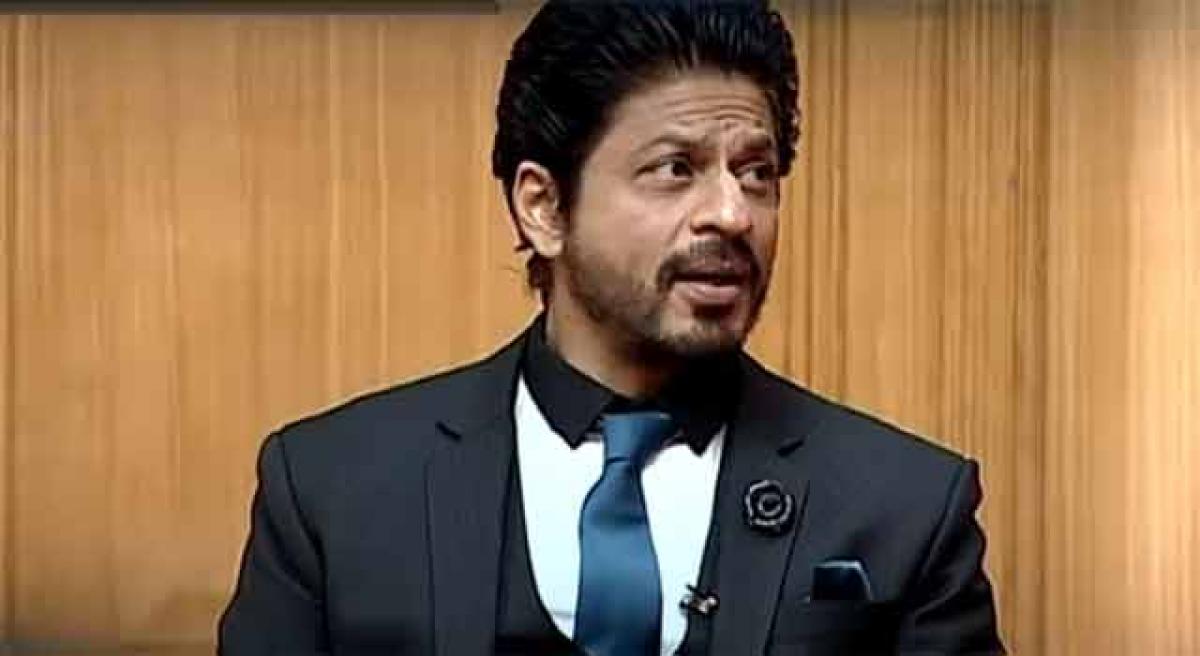 Highlights
Superstar Shah Rukh Khan has said that people should support Narendra Modi as Prime Minister, because he has been chosen by the nation with majority. 
New Delhi: Superstar Shah Rukh Khan has said that people should support Narendra Modi as Prime Minister, because he has been chosen by the nation with majority.
Replying to questions from Rajat Sharma in the show 'Aap Ki Adalat' to be telecast on India TV on Saturday night, Shah Rukh Khan said: "I would like to state here very clearly, when we chose a leader of our country, whoever may be, as great as Mr Modi, all we have to do is to support him. Our nation has chosen him with a majority, so we have to support our leader and take the country forward and not be negative.
"May be in politics, people might have made comments (on intolerance), but we are not politicians, we are entertainers. In a certain way, we are someone whom children look up to and think they'd like to be successful as I am. So I'll never like to talk things, which will not be in our nation's interest."
Asked by Rajat Sharma whether there was a perception that he had friends in the Congress, who wanted to fix Modi, Shah Rukh Khan said: "Meri kya majaal, kisiko fix karoon. (How dare I think I can fix anybody)..You know me over the years, I am apolitical, though I have friends everywhere."
The Bollywood superstar clarified that his comment in the wake of 'intolerance' controversy in November last year, was torn out of context.
"I had only advised the young not to be intolerant in matters relating to regionalism, religion, caste, colour and creed. My father was one of the youngest freedom fighters. How can I think this country has not been fair to any of us? A man like me, who has got everything from this great country, I'll be last one to complain.
"My family itself is a mini-India. My wife is Hindu, I am a Muslim by birth, and my three children follow three religions. So how can I think of my country like this?"
On comments against him in the social media, Shah Rukh Khan said: "Sometimes I feel very said, I even feel like crying, that I should be made to say that I belong to this country, I am a patriot. I am a patriot, rather we all are. We do not have to compete with others to say we are patriots.
"I get very sad sometimes when I am supposed to explain each and every time how good a patriot am I. ...I will tell all young people to be tolerant, be happy, work hard and take this nation forward. Small, petty matters should not harm our nation's interest.
"We should just move forward with positivity as we live in the greatest country in the world. We are one of the safest and most beautiful nations of the world. We should not tie up ourselves in petty obscurantist issues. ...Whether my film (Fan) is a hit or not, I want to say for the last time, I will not repeat it again, that there is no patriot greater than me in this country. (Mujh se bada deshbhakt is desh me koi nahin hai).
"Our country, our motherland, Bharat Mata, we all love it, why should we have a talk like this..I am the most proud Indian in the world because nobody has got more from this country than me...I hope I can work for the greatness of my nation and so does my family."
The superstar revealed that he never charges fees for acting in films.
"I never take money for acting in films. I only charge fees for endorsements, for events and live shows. I only tell producers to pay me whatever they wish, if the films do well (at the box office). I don't take acting in films as business. This is my greatest thing that I can do to act in films.
"My biggest hope in my life is that more and more people watch my films and be happy, and one day I will make a film in India... I am a big nationalist in such matters... which people of the world can watch and say that this film was made in India. So I want to be a part of that."
Shah Rukh Khan said that he was presently doing 20-21 brand endorsements, and his live show concert business was thriving.
Asked whether he had claimed 22 years ago in Aap Ki Adalat show that he was a better actor than Amitabh Bachchan, Shah Rukh Khan said: "That was my overconfidence as a youth. 22 years later I have now realized that I had then no idea what makes a great actor, that was because of lack of education. My arrogance was sheer childishness. Even now at the age of 50, I sometimes appear to be childish".
Asked by Rajat Sharma whether he still thinks he is the greatest actor, Khan smiled and replied: "Woh toh duniya manti hai (well, the world accepts that). Jo sach hai, woh sach hai (truth is truth)".
On his latest film 'Fan', the superstar said, he lost 7-8 kg weight to play the double role of a 25-year-old fan, Gaurav.
"I had to put special prosthetic makeup on my face for 3-4 hours daily, my eyes were dilated, VFX was used for a cleaner skin so that I can appear young. I had to change my voice modulation too."
Shah Rukh Khan humorously said: "If I do not get award this time for my role in Fan, I will snatch away the award, or start crying."
Shah Rukh Khan in Rajat Sharma's show Aap Ki Adalat will be telecast on India TV on Saturday April 16 at 10 pm. The repeat telecast will be made on Sunday April 17 at 10 am and 10 pm.