Honour for Telugu woman in UK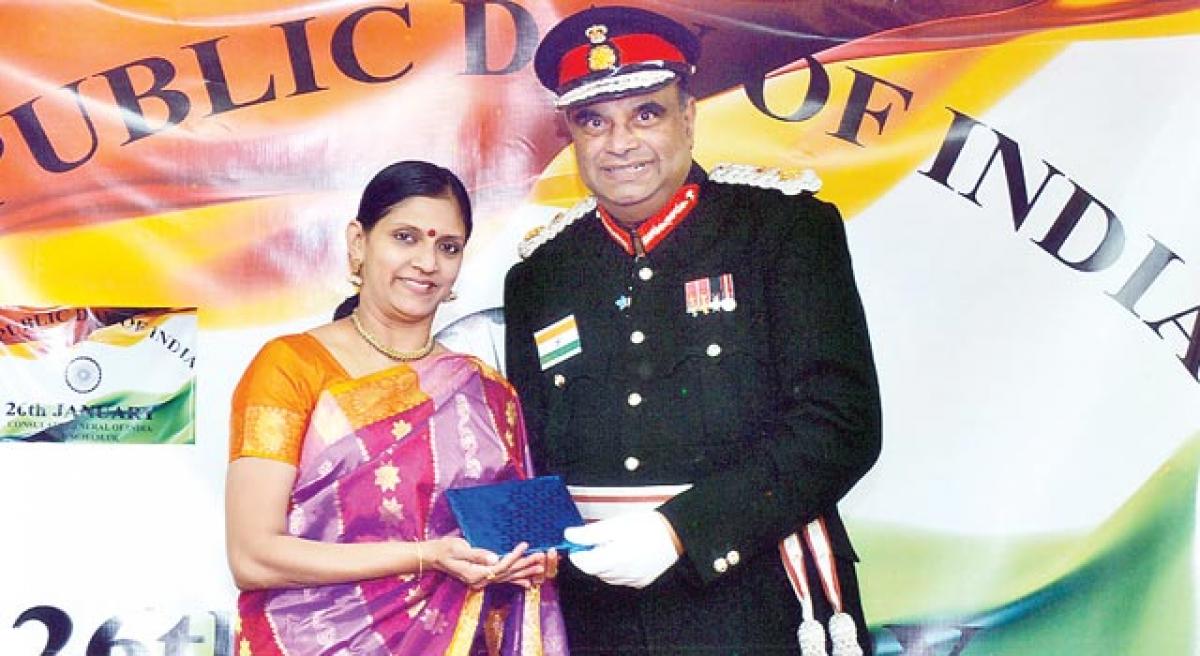 Highlights
A double post graduate by education, she currently teaches at the University of Sunderland in London. She received accolades for her role as liaison officer during the first ever Afro Asian Games conducted in India in Hyderabad and for her role in training the All-India ticketing staff of Jet Airways and Air Sahara as these two leading domestic airlines of India started their international operati
Hyderabad: Excelling in one's own full time profession is noteworthy. Shining at a unique pursuit besides the day job is even more admirable. Being brilliant and reaching outstanding milestones at multiple talents is however intensely commendable.
Ragasudha Vinjamuri hails from Hyderabad and has significantly contributed to Travel and Tourism Management education field before moving to the UK in 2004.
A double post graduate by education, she currently teaches at the University of Sunderland in London. She received accolades for her role as liaison officer during the first ever Afro Asian Games conducted in India in Hyderabad and for her role in training the All-India ticketing staff of Jet Airways and Air Sahara as these two leading domestic airlines of India started their international operations.
In addition to being a teaching professional, she has also made stellar contributions to Indian culture and heritage in Britain as a dancer, trainer, writer and journalist.
Four performances at the British Parliament House is a creditable milestone in her inspirational journey so far. She was also invited by the British Prime Minister to participate in Diwali celebrations at 10 Downing Street.
She was the first Telugu artiste to perform the inaugural dance piece for the 14-year-old huge and prestigious Diwali at Trafalgar Square celebrations, which sees an attendance of more than 25,000 people.
She attributes her success to her parents and gurus. She learnt dance from Sangeet Natak Academy awardee Guru Dr Uma Rama Rao in Hyderabad. Her training and choreographic work involving children and young adults in public context has received several acclaims.
She has the distinction of representing UK as Cultural Coordinator and performer at the United Nations Convention on Bio Diversity and during World Telugu Congress inaugurated by President of India Pranab Mukherjee.
She has been conferred awards for her contributions to Indian culture and art, latest being the title 'Nrutya Nagaja' by Telugu Association of Switzerland. She has performed during several festivals and at prestigious venues in Britain, Germany and Switzerland.
She has established Sanskruti Centre to impart cultural education to the young, and stands out to be the first to train and perform Telugu folk dances such as Lambadi dance, Koya dance, Kolatam dance etc in the UK.
Sanskruti was one of the official welcome partners for the visit of Indian Prime Minister Narendra Modi to the UK. She also conducts workshops in various schools in the UK on importance of Dance and Story Telling in Hinduism. In the UK, Religious Education forms part of school curriculum.
She has published several articles, stories and poems in different publications in India, Mauritius, UK and USA, including her poems book Kavita Ragasudha brought out by popular writer late i Bharago. She has translated Telugu stories and poems into English for the University of Wyoming, USA.
Recently, her book including transcription of 300-year-old Telugu text present on palm leaf folios in the possession of British Library was brought out at a function at British Parliament.
The event was hosted by British MP Bob Blackman. She has also researched and published how and when Telugu and Marathi languages were taught in the UK way back from in 1840s, much before managed migration from India began.
She has also researched about a rare brief work of popular poetess Tarigonda Vengamamba of Tirupati. She will soon publish this work which is currently unavailable in India.
Subscribed Failed...
Subscribed Successfully...