Enterprise with unique mission to protect environment from e-waste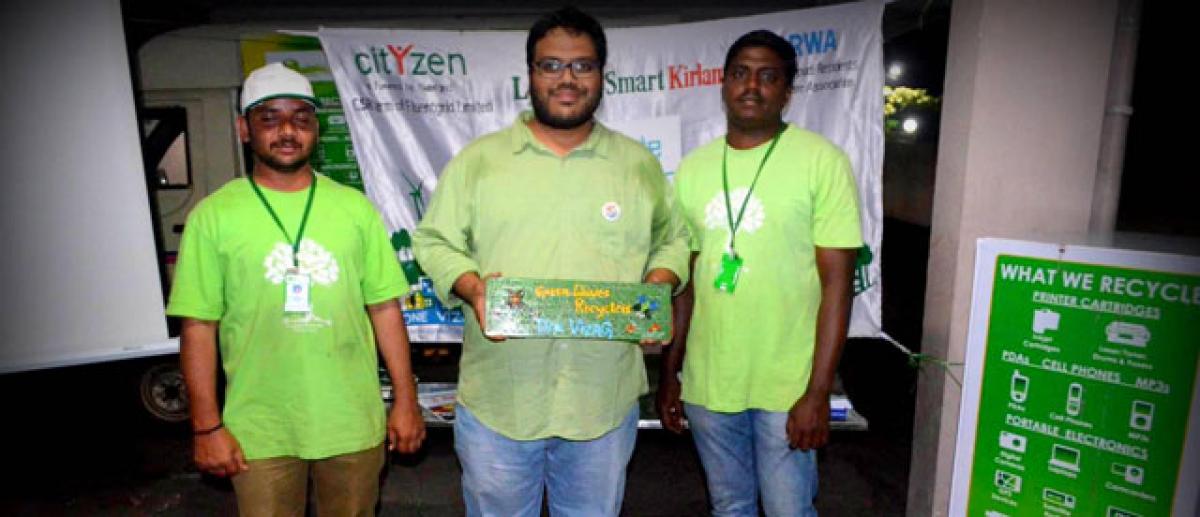 Highlights
Youth today, after completing their studies, nurse ambitions of joining a good company, earning a five-figure salary and settling down to a luxurious life.  But, Potluri Anil Chowdary, who did his Masters in Environmental science, after completing B.tech Chemical engineering from a reputed institute, and later pursuing MS in resource management in New Zealand wanted to use his qualifications produ
Youth today, after completing their studies, nurse ambitions of joining a good company, earning a five-figure salary and settling down to a luxurious life. But, Potluri Anil Chowdary, who did his Masters in Environmental science, after completing B.tech Chemical engineering from a reputed institute, and later pursuing MS in resource management in New Zealand wanted to use his qualifications productively for the benefit of the society.
Anil Chowdary while pursuing resource management in New Zealand imbibed knowledge and insight on recycling methods and protecting the environment from hazardous metals and materials. With this objective, he launched the Green Waves Environmental Solutions in 2016 to collect E-waste and handling unit.
The usage of electronic gadgets and instrument has increased by 1000 times in the past twenty years. Every home has minimum of two mobiles phones, chargers, laptops, tablets, televisions, tape recorders and some other articles. If any one of these articles becomes defunct, the public dump them and purchase new ones.
The electronic articles have some hazardous metals like Led, Mercury, cadmium which pollute the soil, air and water. To prevent this problem, Green Waves embarked on a mission to go to every door step in Vizag, Vizianagaram and Srikakulam districts to collect e-wastage recycling them. The dangerous material from the electronic goods is removed and later it would be sent for recycling.
Green Waves Environmental Solutions is the first unit in Andhra Pradesh authorized to collect and dismantle electronic waste from residential, commercial and industrial areas of the state and send it to the Mumbai based recycling company - Eco Reco E waste recycling limited. Green Waves is also conducting awareness programmes in every town in this North Andhra region apart from advising the public to not to dump their useless articles in dust bins and instead drop them in a special bin which are being provided in certain places.
The firm also has agreements with Divis, Vizag port, Fortune hotels, Hospira, Vijaya Sri, Gitam University, Coromandal Fertilizers, Seven Hills Health care, Hinduja power corporation ltd, Gammon India, Fluent grid and some other firms handling of E-wastage. The e-waste collected from Corporates, government organisations, SMEs, educational Institutions, retailers, Individuals, and other sources are segregated and sorted.
For proper storage of e-waste they arrange storage bins and storage racks at the work place. Workers selected by Green Waves are imparted training on dismantling of e-waste by Eco Reco E-waste Recycling Limited in Mumbai in its factory for five days under a 40hour program. The major objective of hammering and shredding operations is size reduction and separation of steel, plastics, PCBs, non-ferrous metals, glass etc.
Fragments of plastic, ferrous and nonferrous material, glass are sent to secondary recycling industry while other remaining materials are sent to registered e-Waste recyclers for treatment and recovery. Dismantling operations are a dry process. Green Waves has 30 employees and to date has collected around 45 tonnes of e-wastage. On average they are collecting around 4 tonnes of wastage and sending them for recycling.
Explaining his objective, Anil Chowdary said, "Of course those might be waste for the owners but we find some valuable parts in it and re install them in some other devices and sell them at a low price. This is our income source and we even get some income by selling iron, mercury led, plastic, wires, iron too. If I was working with any foreign firm I would have earned a huge salary, but I might not get professional satisfaction. Now I am happy with my team and I feel proud for playing a role in environmental protection.
By Koppara Gandhi