Dealing with Rohingya crisis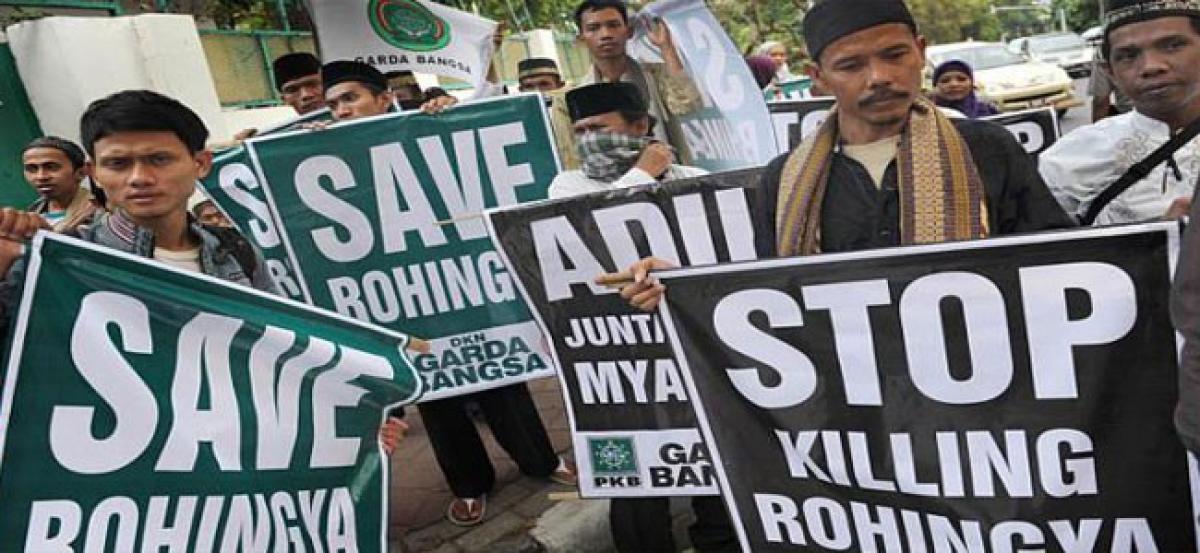 Highlights
As suspected, the Rohingya crisis has attained the contours of a full-blown humanitarian crisis largely due to the cold shouldering given to it not only by the local Myanmar Government but also due to the criminal silence of the world at large. Fearing Buddhist backlash and the wrath of her Generals, Noble Laureate Daw Aung San Suu Kyi, the State Counsellor, is allowing the State to persecute mill
As suspected, the Rohingya crisis has attained the contours of a full-blown humanitarian crisis largely due to the cold shouldering given to it not only by the local Myanmar Government but also due to the criminal silence of the world at large. Fearing Buddhist backlash and the wrath of her Generals, Noble Laureate Daw Aung San Suu Kyi, the State Counsellor, is allowing the State to persecute millions of Rohingyas in the North West region of the country.
The hapless stateless populace is pouring into neighbouring Bangladesh unable to bear the violence unleashed by the Army and those who are trapped in the Rakhine State are facing a slow but certain death. Thousands of children have crossed the threshold limits of starvation and left to the mercy of elements only to be consumed sooner.
Indian Prime Minister Narendra Modi should step in and use diplomacy as a tool to stop this defiling of human life. India's concerns over ISIS infiltration are justified and no one says overrule them. But here is where a statesman like Narendra Modi, aspiring to play a major role not just in the region but in today's world itself, should intervene.
India has always been compassionate to the cause of refugees with its 'Sharanagati' concept. Any true believer in Hinduism trusts in 'Sharanagati' and extends shelter to those seeking it. Rohingyas today are seeking shelter of the world away from their misery and are in no position to even think of an alternative.
They are seeking life from the jaws of death. It ill behoves for a country like India to remain insensitive in this case. Modi should also know that these 'nowhere-people' really could become a menace if shunned by everyone by picking up arms. Continued silence over the issue could only strengthen the suspicion of a section that India is only willing to allow their persecution because of their religious identity. For a country aiming at playing a bigger role in the region this silence would not help.
Though India is not a signatory to the 1951 Refugee Convention or the 1967 Protocol with no domestic legislation passed even to protect refugees, it has always been a refugee receiving country in South Asia.
Tibetans, Tamils, Partition Refugees, Chakmas, Bhutanese refugees, Afghans, Rohingya, Somalian, Congo and Sudan refugees have been allowed to make India their home in the past. When lakhs in the neighbourhood are fleeing to perceived safety, do we push them back to death and debasement. We should adopt a rights-based approach and stop the manslaughter in the neighbourhood.
As for the intel inputs, the government could work out a plan certainly in tandem with the Myanmar and Bangladesh governments to identify the vulnerable sections. Protocols could be put in place to secure the receiving nations. The militants have already declared a one-month long ceasefire in Rakhine State. Time for India to step in and persuade Myanmar government to halt all military action and also for implementation of a need based approach to handle the crisis. Let Rohingyas live first and in dignity. Everything else next please.