The battle lines are drawn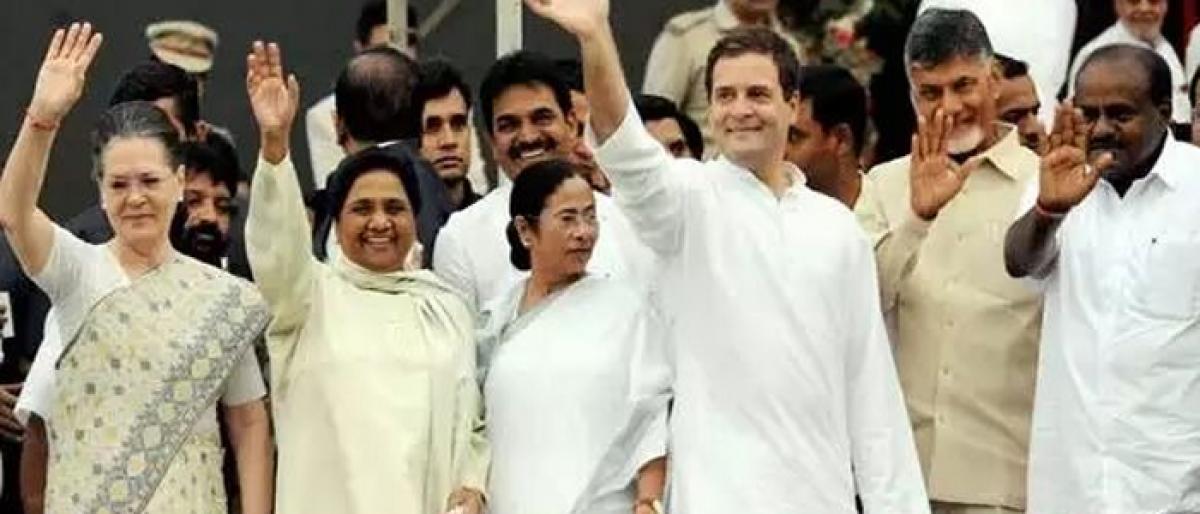 Highlights
Did the opposition parties fail to get their act together to get their candidate elected as Deputy Chairman in Rajya Sabha Did they squander away the opportunity to garner a few more votes in favour of their candidate Has it exposed the opposition weakness as claimed by the BJP
Did the opposition parties fail to get their act together to get their candidate elected as Deputy Chairman in Rajya Sabha? Did they squander away the opportunity to garner a few more votes in favour of their candidate? Has it exposed the opposition weakness as claimed by the BJP?
Though for past one month all political parties had been working out strategies, the BJP undoubtedly succeeded in its election management and Harivansh Narayan Singh of JD(U) got elected. A post poll analysis indicates that there are many reasons for the defeat of the opposition candidate just as there are many reasons for the death of Karna in the epic Mahabharata. But then the Rajya Sabha elections have now cleared the mist and have given a peek into the future as to who would go with whom post 2019 elections. It has also clearly exposed the fence-sitters who claim to be opposing BJP as public posturing but for all practical purposes are with BJP and would be the new allies in case BJP-led NDA falls short of absolute majority.
Before we take a look into what could have gone wrong for the opposition, one also needs to read between the lines. The BJP which is now patting its own back that it has exposed the opposition and has proved that it cannot come together has also sent signals that what matters for it is winning elections, come what may, and for that anyone can be sacrificed. This now raises the big question. The BJP, it should be noted, did not field its own party candidate for strategic reasons.
It must have felt that if it fielded its own candidate, it may not be able to muster the support of parties like Biju Janata Dal and Shiv Sena. The Shiv Sena of late has been adopting a tough posture against the BJP. Now both can say they supported the JD(U) candidate, and not the BJP candidate.
The big question which needs to be closely watched is what will happen if the BJP-led NDA fails to get absolute majority in 2019? Finding new partners is a very difficult task. Though TRS and YSRCP have leaned towards the BJP in the Rajya Sabha elections, politics being a dynamic situation, no one knows what posture TRS would adopt after the elections, and presuming that it would go with NDA, still that would not be enough in terms of required numbers.
The TRS at present is adopting a soft attitude towards BJP hoping that it would succeed in extracting some benefits from the Centre in terms of certain clearances like the new zone system, funds for irrigation and other projects. The Prime Minister Narendra Modi too has been assuring them that the Centre would examine their requests and has been able to find time to meet the Chief Minister K Chandrashekar Rao as well as TRS MPs, though nothing seems to be taking a concrete shape yet.
On the day the TRS voted in favour of the BJP supported candidate as Deputy Chairman Rajya Sabha, the Union Minister Nitin Gadkari announced in Lok Sabha that there was no question of according national status to Kaleshwaram or for that matter any other project. Polavaram project was the last one he stated. Hence it now remains to be seen how effective the TRS MPs lobbying will work in favour of the state. On the other hand, the Centre has been allocating huge funds to states like Gujarat. The states in north too have been assured of massive funds but when it comes to South it's all glib talk and no action.
When it comes to hand-holding of the truncated state of AP, the Centre says it has no funds. The youngest state Telangana too is struggling to get what is due to it from Centre. The TS has taken up ambitious and lifeline projects like Kaleshwaram, Mission Bhagiratha and other irrigation and welfare projects. But the Centre has refused to extend an helping hand. This certainly makes one wonder why BJP is discriminating against these two southern states, in particular.

The BJP has now launched an offensive against TDP saying that it is going with its arch-rival party the Congress against whom NTR had waged a constant and unrelenting battle. But then in war and politics enemy's enemy is always your friend, and this is the philosophy of all parties including the BJP. Till recently, BJP president Amit Shah had been targeting Odisha Chief Minister Biju Patnaik. He called the four-time Chief Minister a 'burnt-out transformer' while describing Prime Minister Narendra Modi as 'powerhouse' last year. He later described Patnaik as a leader "bereft of ideas." Patnaik has since introduced a slew of schemes and invoked Odisha pride to maintain his position.
This is how electoral politics works and the BJP has probably realised that it may need the BJD after the polls. The BJP has set its eyes on Odisha after increasing its vote share in the 2017 panchayat polls to 32% from 15% five years earlier. It finished second after the BJD in terms of seats. Congress came third. Encouraged, BJP chief Amit Shah set a target of winning 120 of the 147 assembly seats in Odisha next year.
What needs to be understood is that the BJP-supported candidate has won the election by a margin of just 5 votes. The Trinamool Congress led by Mamata Banerjee and the TDP have sent clear indications that they are willing to walk the extra mile to see that BJP does not come back to power or should it again succeed in its electoral management, it does not get absolute majority. The TDP certainly will not have any open understanding or alliance with Congress at national level.
In fact, even the so-called Mahagatbandhan will not take form. But each of the regional parties which are opposed to BJP will work to see that the saffron party loses in their respective states. The Rajya Sabha elections have helped in drawing the battle lines and a rough positioning of armies.